Dame Eileen Sills defends decision to carry out national guardian role part time
Promises to work with regulators to give the position power
Says role is more important than ever because quality "could be challenged" in current financial climate
The new "national guardian" for NHS whistleblowers has said her decision to combine the job with an existing role as a chief nurse gives her "credibility" by keeping her in touch with the front line.
Last week Dame Eileen Sills, chief nurse at Guy's and St Thomas' Foundation Trust, was appointed by the Care Quality Commission as the first "national guardian for the freedom to speak up".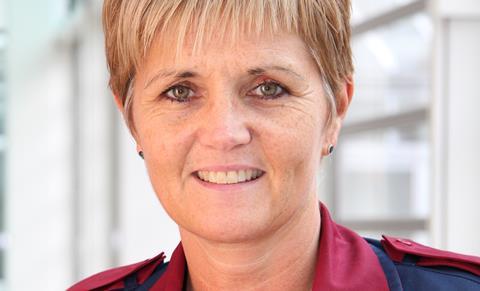 However, the fact that she will be in the role two days a week while continuing to work at the London trust for three days a week was criticised by some NHS staff and prominent whistleblowers.
In an exclusive interview with HSJ and sister title Nursing Times, Dame Eileen defended the decision.
"I understand what it's like to provide frontline care – I work clinically every Friday, I have a really good relationship with the most junior members of staff in our organisation," she said.
"I think that brings me [and] our organisation credibility… I don't think you can sit in this role and not understand what it's actually like to provide care on the front line, sometimes how difficult it is to be able to speak up, how difficult it is in the environment they work in.
"You can lose your identity very quickly when you become disconnected from the frontline and that matters to me. So that's the reason I applied for the post on the basis of wanting to do two roles."
Dame Eileen said she "completely" understood why some people were critical but pledged to devote enough time to "deliver both jobs".
She said: "I'll do it in the hours it takes me to do it in – and actually the only [people] it matters to then probably are myself and my family.
"If it takes me near enough the hours of doing two full-time jobs then in terms of the start it will be worth it."
Dame Eileen said she would review how effectively the national guardian's office is fulfilling its functions and how well she is balancing the two roles every six months.
"I will be the first person to say if it's not working," she added.
The national guardian is not responsible for investigating individual whistleblowers' concerns, but will highlight cases where they have not been properly dealt with.
The role was a recommendation of Sir Robert Francis' 2015 review into the treatment of whistleblowers.
While the position lacks statutory powers, Dame Eileen said it would have teeth by working with other arm's length bodies.
"We will be reviewing the process [trusts have] followed. That will be fed back to organisations and if the organisation fails to take on the recommendations… then I'll have the ability to feed that into the regulators," she said.
Three priorities would guide her work in the first year, she said. These are:
connecting with the network of local whistleblower guardians at NHS trusts;
becoming a "repository for good practice"; and
setting out clear criteria for what cases the office will review and how.
She said the role would be more important than ever because in the current climate of funding pressure the balance between finances, performance and quality "could be challenged".
She added: "Some time when things go wrong it's because of the context [people are] working in. When the pressure is on to deliver, people then batten down the hatches, don't they?"
Whistleblower guardian insists frontline connection gives her 'credibility'
1

Currently reading

Whistleblower guardian insists frontline connection gives her 'credibility'

2