Stuart Rose: 'You can't get anywhere unless people believe you'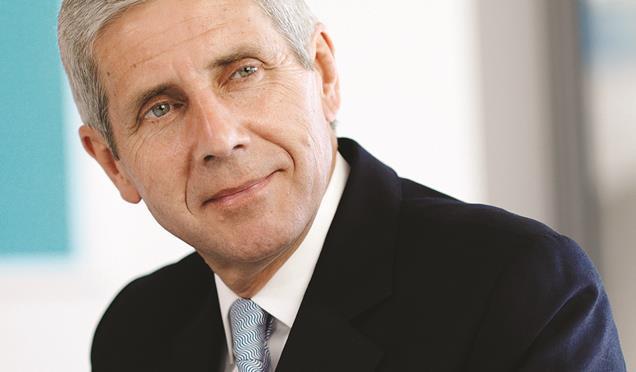 Outspoken, controversial and never dull, Sir Stuart Rose is a retailer's retailer. He tells George MacDonald about the mess he inherited in 2004, the highs and lows of his time in charge and his plans for the future. This interview first appeared in HSJ's sister title Retail Week in 2011.
Sir Stuart Rose paces, hand extended in welcome, through his office. It's a big office. No surprise there.
He's the usual immaculately dressed bundle of energy, firing off wisecracks, asides and observations in his familiar machine gun style.
But there's a big difference in surroundings from his old ninth floor eyrie at Marks & Spencer's Paddington Basin headquarters. There he was surrounded by secretaries, fellow directors, buyers, merchandisers and marketers but here, in premises owned by his pal Charles Dunstone, he and his PA Julie are pretty much on their own at present.
The Holland Park property seems an appropriate base for Rose to launch himself on the next stage of his business life - a blank page ready for the writing of a new chapter.
Rose, whose unique mark on the industry was last night recognised with the Oracle Retail Week Award for Outstanding Contribution to Retail, has worked at retailers ranging from home shopping group Argos to fashion giant Arcadia but is umbilically linked in the minds of many to M&S.
It was where he began his career and it has been the pinnacle of it so far.
He joined as a management trainee in 1972 and returned as chief executive in 2004 to defend the famous high street name from a raid by Rose's most-of-the-time friend and occasional adversary Sir Philip Green.
Opportunity knocks
Although regarded as the retailer's king over the water in a period of drift running up to its hour of need, Rose, who clearly holds M&S dear, plays down the idea that running the famous chain was his obsession.
He had left in 1989 and insists he did not spend the intervening years plotting a return as boss. But having in the meantime sold Arcadia to Green and unsuccessfully attempted to buy Debenhams, Rose was looking for his next challenge. M&S was an obvious candidate.
"I don't know if I was keen to do it," he reflects. "I think the more simplistic and truthful reason is I thought I could help the business at a very difficult time. I think the business had got itself in a mess and I didn't see any reason why I wasn't as qualified as the next person to know how to fix it - arrogant, but that's how I felt."
In fact Rose had, as he puts it, been "pushing against the door" for the M&S role for six months before being hired, but it was slammed in his face. "Had there not been a bid I probably wouldn't have got in because the board were actively lobbying against me," he says.
But once installed with the backing of non-executive director Paul Myners, Rose had clear ideas of what was necessary. He and his colleagues in arms - marketing mastermind Steve Sharp and strategic brainbox Charles Wilson - rebuilt M&S on its original foundations, forged anew. Quality, value, service, innovation and trust were Rose's watchwords, and helped him restore profits of £1bn once again for M&S.
"I wanted to take the best of the old but update it for the present and future," he says. "It's easy for me to repeat those words by rote, but those five words were good touchstones."
Full steam ahead
He switches to the vernacular to describe the situation he believes he inherited and that he wanted to change: "We had shit product, shit shops and shit service."
Store environment and infrastructure - which he admits in retrospect he would have liked to have improved faster - were also priorities, as well as online growth. But change had to begin with product.
"Where would I start if I was revamping any business? The product," he says. "You can have great looking shops. If you don't have great product you can't sell in them. But you can sell great product in fairly ordinary looking shops.
"I had one benefit. I knew the organisation. I had a pretty good feel for what the business ought to be and what the customers wanted from it, it wasn't as if I was parachuted into a strange and alien place."
Key to success was the ability to bring people with him. That meant teamwork, he says, and listening to others.
"It's nearly always the case that people [working in a business] have got it. They know what's right, they know what's wrong and they know what should be done."
Some accuse Rose of having an autocratic streak, an accusation that angers him. "I completely refute that," he says. "I can be decisive, I can be brutal, but the decisions are usually driven by a collegiate need or feeling that something needs to be done."
He compares himself to the conductor of an orchestra, dependent on the skills of all the musicians around him, then switches metaphor.
"You can't get anywhere in this business unless people believe you.
"I can go to the top of the hill and say come on chaps, let's go to the top of the hill, to then look behind me and find they're all at the bottom, staring and thinking 'silly arse'. You need to get people to believe why it's a good idea to go to the top of the hill."
King of the castle
The fact that Rose got to the top of the hill in business once seemed unlikely. As a young man he enjoyed the high life and didn't take things too seriously. That changed in his mid-20s, when his mother committed suicide.
"I don't think that was the total catalyst but it was a growing up moment," he recalls. "I suddenly thought to myself how do you want to spend your life, Stuart? I looked around and thought I was probably at least as good as other people in the business - if they could make it why couldn't I?"
The rest is retail history, a climb through the ranks of the industry at a variety of companies, culminating in the famous return to M&S. Throughout retail, and for Rose, M&S holds a totemic position and not just because of its dominant market share in clothing or pioneering initiatives in food.
"It is iconic in what it stands for," maintains Rose. "People regard it as the thread of constancy on the high street and it stands for values that even in 2011 still have resonance.
"Do people understand the word quality in 2011? Yes. Value? Yes. And do they want to trust somebody, particularly in this climate where all our historic touch points of trust are being questioned?
"At a time when banks have not been trusted, the police aren't trusted like they used to be, teachers aren't respected like they used to be, people want to hold on to something.
"Retail is as close to the consumer as you can get. People see what this company stands for and it's really important. I think people felt, good old M&S, you can trust them to do the right thing and they won't rip you off."
And the closeness of that connection with consumers was central to Rose's defence against Green's bid. Although he'd had conversations, before joining M&S, about joining Green's team, Rose thinks M&S's rightful place is as a public company.
"It's too important to be a private company," argues Rose. "I'd have been immensely rich if I'd taken up Philip Green's offer. I could have pocketed a lot of money but I made a choice."
He acknowledges that private status would have made it easier to change M&S, away from scrutiny by the commentariat and the City. And despite his conviction that M&S should be on the public market, that caused him high-profile problems - particularly when he assumed the role of executive chairman and became embroiled in corporate governance controversy.
Rose remains convinced that he did the right thing, despite the attacks that followed. He says he delivered what he promised when he combined the roles - sorting out management succession, piloting the company through recession, then leaving.
It was a bruising time, Rose admits, but he does not lose sleep over it. "Nobody died, nobody robbed the bank, nobody lost a fortune and the business is in better nick than it was," is his answer to his detractors.
Blazing a trail
Like Sir Terry Leahy, Rose is one of a generation of retail leaders that worked their way up from the bottom. Rose says that career path is still open to youngsters starting on the shopfloor today.
"When I went in, retail wasn't in the top echelon of professionalism," he says. "It's a profession now - intensely competitive, aggressive and exciting and a true meritocracy. I do believe you can join as an infantryman and rise to the top."
So what are his tips for success?
He thinks back to the 1980s when he jumped ship from M&S to Burton and replies: "If you're any good and you're feeling thwarted, go and work somewhere else.
"I was the first relatively senior person to leave M&S of my own volition. I had self-belief - some would call it arrogance - and I didn't believe the company would push me forward so I left."
Having left, learn, he advises, recalling his time working for then-Burton boss, the colourful Ralph Halpern - as famous for his peccadilloes as his retail prowess.
"Ralph Halpern taught me things I never knew about - I don't mean salacious things, I mean business things," says Rose. "I went through shutting shops, acquiring shops, rescue rights issues, I went through firing people."
When Burton was split into Arcadia and Debenhams, a decision Rose disagreed with and that left him out in the cold career-wise, it was once again time to move on. "I left, I backed myself," he says. "My last tip is believe in yourself."
Moving on
As Rose considers his next career direction, he looks back on his time running M&S with pride but knows the retailer has further to go.
He says: "I'm not being falsely modest, but I don't like the word legacy. What have I left M&S? I have left M&S in a considerably better place than I inherited it - that is my win. I've left it as a public company - that is my win.
"I have left it fully repaired in my view but - and that's but with a capital B, U and T - Marc Bolland and the team I left behind have now got to show they can grow the business.
"Before, it was nearly in terminal decline. Now, if it was a patient, it's had the surgery. It's had the intensive care. It's out of bed and it's fit for action but it's got to run the marathon of competition - that's what Marc's got to do."
Rose has not decided what to do next but hopes to pop up in additional roles to those he already has, such as non-executive director of Land Securities and adviser to private equity firm Bridgepoint.
"I don't believe that if you have accumulated a lot of knowledge and you reach the age of 60 then suddenly you're on the heap," he says. "I think I have got some skills, I have certainly got energy.
"I'd like to test myself, maybe in a tangential sort of way. But I'm never going to take a job I don't want."
Even his critics would agree that, whatever else, Rose really wanted the top job at M&S. Few would begrudge him his place in retail's annals.