Newcastle and Liverpool CCGs call for NHS allocations to account for size of social care cuts
HSJ analysis of accounts indicates greatest cuts generally in the north east and parts of the north west. Read full analysis here
King's Fund assistant director warns against recognising care cuts in CCG funding
Two of England's biggest clinical commissioning groups have called for NHS England to account for the huge cuts to some councils' adult social care spending in deciding NHS allocations for the coming years.
Liverpool and Newcastle Gateshead CCGs said the severe reductions in recent years, which are widely expected to continue, were driving increased demands on the NHS.
HSJ analysis of information from councils' accounts indicates that, of NHS England's 13 sub-regions, Cumbria and the North East; Lancashire and Greater Manchester; and Cheshire and Merseyside have seen the biggest cuts in recent years. We also examined data from the Health and Social Care Information Centre.
NHS England is expected to announce CCG allocations covering three or four years next month, after total NHS funding is set in Wednesday's government spending review. The CCGs that are the farthest behind their current target allocations, and so are likely to receive the biggest increases, tend to be in the South, Midlands or London.
Liverpool CCG finance director Tom Jackson told HSJ it was expecting council adult social care spend to be halved in the next few years, meaning "20,000 individuals in receipt of a social care package will need to be reduced to 10,000". This would increase NHS demand, he said.
Mr Jackson said: "It is clear that we have an overt [national] integration agenda and the Five Year Forward View directs us towards supporting social care services.
"Whilst inclusion within a health allocation process may be challenging… pace of change [in allocations] should accommodate the reality facing local integrated health and social care economies."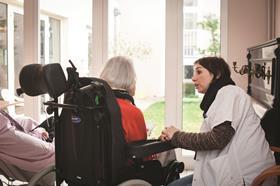 Newcastle Gateshead CCG chair Guy Pilkington said councils in the North East had tried to protect services from "disproportionate" cuts in grant funding, but "unfortunately we are now seeing many key functions… under threat".
"[The] knock-on effect on the NHS is enormous, whether in discharge planning, intermediate care settings, supported living options, reablement services or prevention," he said.
Dr Pilkington said health and social care integration was accelerating so it "makes sense to include local authority social care allocations [and] public health when deriving a 'place based' [NHS] target allocation, based upon 'equal access for equal need'".
"Account should be made of the budget changes overall, otherwise we will find growing tension as hard pressed parts of the system attempt to support each other." Dr Pilkington also said the "regions with poorer health outcomes… have faced the greatest reductions in funding for social care".
Richard Humphries said the pattern of cuts shown by HSJ echoed earlier findings for total council spending that "the most deprived areas tended to have the worst cuts". However, he warned that accounting for social care cuts in NHS allocations would be a "slippery slope". "That would be the NHS taking responsibility for underfunding of social care. I don't think that's sustainable in the long term," he said.
He added there should be a move to "single place based budgets", but this required a proper government funding settlement across both.
NHS England has been approached for comment.
Exclusive: CCGs call for NHS allocations to account for social care cuts
1

Currently reading

Exclusive: CCGs call for NHS allocations to account for social care cuts

2