A "common language" and clearer understanding of each other's roles can improve the "fraught" relationship between clinical directors and general managers in the NHS, writes Kerrie Montoute
"Fraught" and "tense" have been used to describe the relationship between clinicians and managers in the NHS. This is mainly due to government-instituted reforms over the years, notable ones being the landmark NHS management inquiry of 1983, widely known as the Griffiths report, and the recent reorganisation of the NHS, requiring £20bn in efficiency savings.
'Both clinical directors and general managers highlighted accessibility, visibility and close proximity as being essential'
These reforms have affected the clinician-manager relationship to varying degrees. However, the need for clinical directors and general managers in the NHS to work together could not be more critical time.
The working relationship of these two groups has to be, at a very basic level, functional in order to implement service improvement initiatives and navigate the current financial challenges facing the organisation.
It is against this backdrop that I carried out a study examining the relationship between clinical directors and general managers, using semi-structured interviews.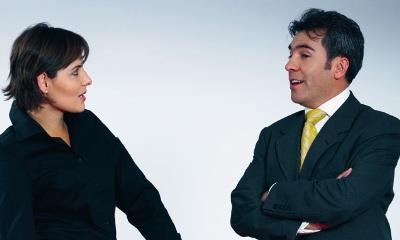 Marriage material
The research involved 20 participants − 11 clinical directors and nine general managers − from foundation and acute trusts, some of which are part of an academic health science centre, with seven pairs working in the same directorate/division. Both the professional groups were asked about the facilitators and barriers in their respective working relationships and how this relationship could be improved.
The main facilitators of fostering a positive relationship highlighted by both groups are trust; mutual respect and support; accessibility; visibility; good communication; close proximity to each other; effective team working; mutual interdependence and friendship.
One clinical director described trust and friendship as being critical to facilitating positive relationships. They emphasised the need to have clear and open conversations, without secrets, so that you don't land each other in trouble.
Another said mutual respect and support of each other was imperative, comparing the relationship to a marriage, as two people have gone into the relationship and need to make it work.
In fact, one clinical director said roles were complementary: "If you don't have competent management, you're in trouble and as a clinical director, if you don't have a competent general manager you will not succeed however brilliant you are".
Lack of clarity
Both clinical directors and general managers highlighted accessibility, visibility and close proximity as being essential. Close proximity was described as sharing an office, "being down the corridor" or sharing a kitchen area. These arrangements facilitated informal catch-ups throughout the day and enabled meaningful conversations to take place outside a formal setting.
The barriers to the working relationship identified by the two groups were organisational changes; leadership/managerial styles; unclear organisational structures and lines of accountability; lack of time, trust and understanding of each other's roles; lack of proper communication; and physical distance.
'One manager said, "general managers are held 100 per cent accountable and sackable for any slight or failure"'
One general manager explained one of the major problems was around the clarity of purpose about his role and responsibilities and those of his peers. He also compared the different management models of the trusts within the academic health science centre, describing the former as having a management model focused on "manager supremacy" and the latter appearing to have a model focused on "medical supremacy".
He elaborated on the paradox in the medical supremacy management model, saying: "General managers are held 100 per cent accountable and sackable for any perceived or real slight or failure", thereby not linking accountability and responsibility in a coherent or credible way.
This view was endorsed by a clinical director who worked in the same organisation. He said clinical directors were viewed as "pretty untouchable" by the trust senior management so if the axe was going to fall it would fall on the general manager.
Adverse impact
One clinical director, who had the benefit of working in trusts within the academic health science centre, said the recent organisational restructuring in institutions translated into them "swapping" organisational structures, which adds to the complexity of effectively operating across organisational boundaries and within clinical academic/programme groups.
Two general managers described the leadership/managerial styles of their respective clinical directors as having an adverse impact on their working relationship.
The first worked with two clinical directors and described the first one's style as "under development" and the other's as "talking a good game" but seemingly unable to implement what is required for the service. This led to the question of whether he really wanted to be a clinical director.
The second general manager, who had worked with three clinical directors, described a relationship with the clinical director that worked "less well". The director fully bought into the clinical leadership model where the "clinician is the leader", which prevented them from appreciating the contribution others could make to support them in their role.
Some of the factors identified to improve the dynamic between clinical directors and general managers were spending more time with each other; having a better understanding of each other's roles; clear directives and priorities from trust executive/senior management; robust and "fit for purpose" organisational structures and strengthening lines of accountability for clinical directors; close proximity and being on the same site; development of a "common language"; and the creation of joint leadership programmes and away days.
Joint leadership programmes
One of the most compelling recommendations for improving the relationship between clinical directors and general managers came from a clinical director who said developing a common language was key, not only in enhancing the relationship between them but also in identifying future clinical directors.
'Developing a common language between these two groups can be facilitated by a two-pronged approach'
He also advocated that this common language would be essential for interacting with people outside the directorate/division due to the interdependent relationships.
He said: "I think there are some things that you can do because the senior and future potential clinical directors need to have their skills honed before they become clinical directors.
"It's about what's the common language that you acquire to converse with your general manager; budget sheets; business planning; business cases; aspects of knowledge of how to run a business that you may have had relatively little exposure to before becoming a clinical director.
"So I think there are things that we could be doing, teaching and training people who are interested in an environment where professional managers are to develop this common understanding and take the business forward. I think in that respect one could be potentially better prepared for working together."
Developing a common language between these two groups can be facilitated by a two-pronged approach. This involves instituting a comprehensive management and leadership programme for clinical directors and developing joint management training programmes and events.
Learning the lingo
The leadership training programme for clinical directors can be based on the components established by the medical leadership competency framework developed by the NHS Institute of Innovation and Improvement and the Academy of Medical Royal Colleges.
In particular, in the area of managing services, developing practical business management skills and teaching the "lingo" of managers should be addressed.
In addition to this, the development of joint training would provide an opportunity for clinical directors and general managers to interact, which would help them to understand each other's perspectives and enable clinical directors to solidify the practical knowledge gained.
There are examples from across the country where these types of programmes have been endorsed. Namely the North West Leadership Academy's multidisciplinary clinical leadership development programme called Leading Together (which was developed in partnership with the British Association of Medical Managers, Organisational Development Services and Impact Consulting); the North Western Deanery medical leadership programme; and the paired leadership development programme designed and piloted at Imperial College Healthcare Trust.
The data evaluating the effectiveness of these types of programmes and outcomes achieved is encouraging. However, it is ultimately up to trusts' senior management teams to develop and endorse these, to facilitate positive working relationships between the two professional groups who represent a major part of the leadership structure in the NHS.
Kerrie Montoute is a research network manager at the NIHR South East London Cancer Research Network