Beyond denial
Just like most others, the NHS has largely been in denial about the scale of the coronavirus crisis.
Whilst formal planning and preparations have been going on for several weeks, for many staff the real urgency and seriousness of the situation has only hit home during the last fortnight.
According to the statistical modelling, we are still just in the foothills of the pandemic, yet the scale of seriously ill covid-19 patients has already threatened to overwhelm London's hospitals.
That same wave, followed by bigger waves, is almost certainly now heading towards other regions. Local leaders in the North West have been told they are likely to be seven to 14 days behind London in terms of a surge in cases. This week has felt like a calm before the storm, with anxiety levels rising each day.
More deaths than Italy at the same stage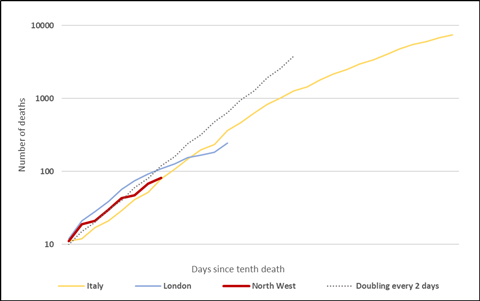 Cumulative reported deaths related to coronavirus, on a logarithmic scale. Correct to March 27th. Source: NHS England daily announcements, Worldometer.
Frighteningly, the regions appear to be less well equipped to withstand their surge than the capital, as they have older populations who will be more vulnerable to the virus, and significantly fewer critical care beds per head of population. Morecambe Bay and south Cumbria look particularly vulnerable.
Providers have been doing what they can to prepare; cancelling electives and face-to-face outpatient appointments; giving rapid intensive care training to all those staff freed up as a result; lowering discharge thresholds to get more patients out of hospital; and raising admission thresholds to curb the numbers coming in.
Critical
But there is only so much local leaders can do. Ultimately, this will come down to the amount of (level 3) critical care capacity that trusts are able to provide.
At the start of March, the North West had around 540 adult critical care beds (roughly 7.7 per 100,000 population, to London's 9.8 per 100,000), and the modelling seems to suggest around 2,500 may be needed.
Trusts can go some of the way to achieving that; by repurposing wards and theatres, rapidly giving crash courses in critical care and anaesthesia to non-specialist staff; and working with local partners to get as much care into the community as possible.
David Levy, medical director for NHS England and Improvement's regional directorate, also confirmed to North West Tonight a potential "field hospital" similar to the one being created in London could be built in a large venue such as Manchester Central (better known as the G-Mex). He said they would need to finish assessing existing NHS and private hospital capacity before that decision was taken (he wasn't asked why that assessment hadn't started several weeks ago and been finished by now).
However, the success of these plans will be heavily reliant on nationally-run supply chains, for the high-tech equipment needed to operate these beds.
Getting to a surge capacity of 2,500 not only means beds and staff, it means thousands of ventilators, feeding pumps, drip stands, volumetric pumps, syringe drivers and more.
This is high tech equipment that can't easily be produced, and every healthcare system in the world is trying to buy them at the same time. The government suggested yesterday that up to 4,000 ventilators could soon be ready to be deployed across England, but clearly many more will be needed.
The same goes for personal protective equipment and testing equipment, which is being controlled nationally. It is essential to prevent a staff revolt and to stop as many as possible from having to self-isolate.
Command and control
Dr Levy's TV appearance on Wednesday night demonstrated the big role being played by the regional directorate. As in other regions, the North West team is very much now in command and control mode, with key decisions and issues being run through Dr Levy, regional director Bill McCarthy, and performance director Graham Urwin.
Providers tend to think that's the right approach, as it helps simplify the messaging and remove ambiguity. But some commissioners feel they've been wrongly cut out of the picture.
One texted me this morning: "They are missing a huge opportunity here for CCGs to coordinate a lot of what they want to do nationally. This isn't all about hospital, most people are isolated at home, so we have more of chance now to care in the community than ever before. Top down and bottom up not meeting anywhere in the middle."
The NHS is still finding its feet in this crisis, but the role of commissioners and "system leaders" is something to think about as this develops.
North by North West will focus on the region's response the to coronavirus until the pressures from the outbreak subside. Analysis of the progress of Greater Manchester's devolution project will resume at that point.