The winners of the HSJ Efficiency Awards 2012 were revealed on Tuesday.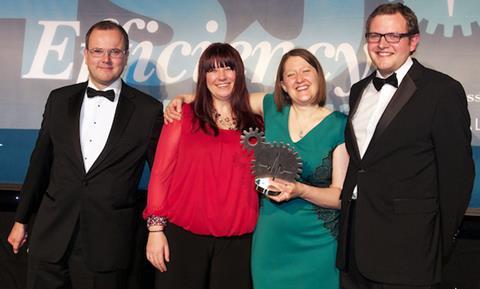 Croydon Primary Care Trust
The HSJ Efficiency Awards, in association with Health Trust Europe, identify and reward the organisations that have delivered tangible improvements in healthcare efficiency and cost savings, whilst maintaining the highest levels of patient care.
Announcing the winners, HSJ editor Alastair McLellan said: "In this room is the best evidence yet that some NHS organisations and their partners are reconfiguring services and systems in a way that delivers more for less.
"The efficiency revolution - and these awards - is also demonstrating how departments and functions too often given insufficient focus have significant contributions to make."
Altogether 114 NHS organisations and their partners were shortlisted for the awards, with the eventual winners being announced at the awards evening in London on 25 September.
Download a souvenir supplement featuring all the winners and finalists
For more information about the HSJ Efficiency Awards 2012 visit www.hsjefficiency.com
HSJ Efficiency Awards 2012 winners
Efficiency in Clinical Support Services Bolton Foundation Trust
Efficiency in Commissioning Support Services Croydon Primary Care Trust
Efficiency in Information Technology NHS Forth Valley
Efficiency in Financial Services Winner NHS Dorset
Efficiency in Procurement Tameside Hospital Foundation Trust
Efficiency in Training and Development Cheshire and Merseyside Teaching Primary Care Collaborative
Efficiency in Transportation and Logistics Coperforma (highly commended: South Devon Healthcare Foundation Trust)
Efficiency in Medicines Management NHS Tees
Workforce Efficiency Sandwell and West Birmingham Hospitals Trust
Efficiency in Estates Management County Durham and Darlington Foundation Trust
Communicating Efficiency Leeds and York Partnership Foundation Trust
Efficiency in Acute Service Redesign Pan Birmingham Cancer Network and Sandwell and West Birmingham Hospitals Trust
Efficiency in Administrative and Clerical Services Blackpool Teaching Hospitals
Energy Efficiency Royal United Hospital Bath Trust
Efficiency in Community Service Redesign NHS Sussex