East Cheshire Trust and Arvato UK won the HSJ Value in Healthcare Awards last year in the value and improvement through outsourcing category. Here Rachael Charlton tells how to create the right culture while driving efficiencies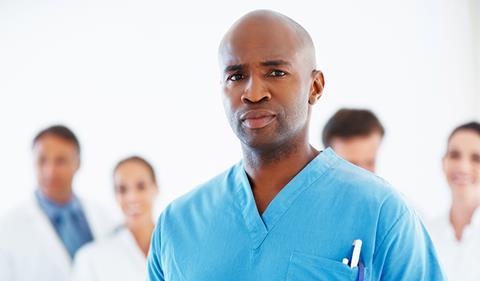 Working as one team is essential
Despite recent government commitments to provide increased funding to the NHS, various economic, health and social factors mean all NHS organisations will continue to face intense pressure to deliver more for less. Trusts have to fundamentally rethink how they provide back office services efficiently in order to protect frontline care.
A logical strategy
Outsourcing is becoming a key strategy in tackling this. More than £35m in IT and back office outsourcing agreements made in quarter three last year alone were made within the public healthcare sector.
Previously, some NHS organisations have been hesitant to hand over back office services to an external supplier because of the specialist expertise required and the unique policies and protocols applied in an NHS environment. Trusts have been wary of engaging with traditional outsourcing, specifically when services are moved out of the organisation to be handled off site, which can make seamless working difficult.
'Outsourcing is becoming an ever present part of the healthcare landscape'
As a team is split up, with some individuals being transferred to a new employer under Transfer of Undertakings (Protection of Employment) Regulations 2006, much of the tacit knowledge needed to deliver efficiency and quality benefits is fragmented into separate teams.
This transfer of knowledge poses issues in delivering an effective partnership that achieves results, specifically if governance systems are not in place to ensure collaborative working.
However, outsourcing is becoming an ever present part of the healthcare landscape. Its ability to drive efficiency through cost reductions, provide access to third party expertise and economies of scale via shared services, and free up department resource to allow focus to fall on more strategic responsibilities, make it a logical strategy.
Maintaining a "one team" feeling is often key to a partnership achieving the desired results. So how can NHS organisations entering into outsourcing partnerships achieve this?
Work as one team
Lessons can be learned from East Cheshire Trust's partnership with Arvato, which was established in 2013, to deliver professional and transactional HR services, including employment relations consultancy, learning and development, and recruitment to the trust and the centre's other established NHS customers.
Some 60 employees were transferred over to Arvato as part of the agreement. It resulted in two teams that were once colleagues, now working for different organisations but required to work harmoniously together as before. From the outset, both partners were well aware of the business impact non-collaborative working can produce. A significant amount of time was therefore invested in putting initiatives in place to ensure a "one team" culture could be maintained.
'It's important that partners' formal and informal communication channels are very well interwoven'
From the beginning, all staff were engaged in the process - from the initial procurement stages to final induction into their new employers. Managers met teams from all prospective outsourced providers to ensure they were comfortable with the look, feel and culture of the partner, taking out any fear factor relating to the future transfer of services.
Regular briefings, staff forums and a generic email account where questions could be sent were set up, together with a joint transition group with representatives from both teams to facilitate a smooth transition.
A staff council, comprising of elected representatives, was established to facilitate communication between both parties. The council was put in place to ensure formal staff engagement, information sharing and negotiation - this is now fully embedded within the partnership.
Implementing new systems
A governance structure was implemented to ensure effective working and to monitor the performance of the partnership. In addition, a joint board was established to set the strategic direction, maximise the framework opportunities, develop the partnership and set out the expected outcomes.
On a regular basis a monitoring group tracked operational volume and performance against KPIs, as well as reviewing the daily delivery of the services including the identification and resolution of issues. Maturity models were developed for each service to assist with this process and provide a baseline against which improvement could be monitored, along with a framework to establish partnership actions year on year.
'Having clear roles, effective engagement and communication between teams on a daily basis is vital to achieve quality of service'
The partnership also conducted biannual reviews to establish and amend plans for focus areas. Not only did this allow for the development of a real partnership bonded by shared goals and outcomes, but it also provided a platform where both parties could listen to each other.
Specialist teams in employee relations, recruitment, and learning and development were formed by the partnership to help improve East Cheshire's strategic performance.
For the learning and development team, this has meant developing resources and support sessions that not only help staff understand the changes that are going on around them, but also help them feel motivated and empowered to deliver positive change themselves.
Open channels
It is important that partners' formal and informal communication channels are very well interwoven. Arvato employees receive our newsletters. In turn, they make sure that their internal communications are fed back into the trust.
This is key to make people feel part of the same team, allowing both organisations to share improvements, expertise and insights across the partner network.
In terms of the day to day communication between each team, it is crucial that these channels are kept open. The majority of the HR processes managed by the partnership are passed back and forth between the two teams. Having clear roles, effective engagement and ongoing communication between both teams on a daily basis is vital to achieve an excellent quality of service.
This collaborative approach has been essential in achieving outcomes for the partnership. These include:
the delivery of 7-10 per cent efficiencies year on year;
a standardised HR model that has succeeded in cutting the number of calls to the trust's HR helpdesk by 25 per cent;
70 per cent of employee relations case calls resolved at first contact using the HR Direct portal and expert advice line;
the partnership supported the trust to achieve 89 per cent in the effective use of electronic staff recording (ESR), a workforce management system, and ESR organisational health check; and
judges at the HSJ Value in Healthcare Awards (the partnership won the value and improvement through outsourcing category in 2014) said they were impressed with the "amazing cultural change" that had taken place at the trust, delivering "demonstrable benefits" to employees and patients.
Addressing future challenges
The partnership's employees remain important in delivering a successful service and they continue to be involved in its evolution. All employees and key stakeholders need to understand:
how the whole network operates;
why our collaborative approach is valuable and beneficial; and
why improving knowledge transfer and learning capabilities is necessary.
We will continue to manage employee engagement and communicate the "one team" culture, so all employees are comfortable with dual organisational allegiances and identities.
Finally, it is important for the leadership team to continue to lead the partnership, balancing out the interests of their own organisation. Culture is often defined from the top and, as leaders, we should ensure the continuation of strategic dialogue and maintain informal, open and honest conversations across all of the key connections in the partnership.
Rachael Charlton is director of HR and organisational development for East Cheshire Trust