Essex success regime proposals will not address workforce or sustainability problems, warn senior medics
East of England Clinical Senate said a "bolder" plan and extended timescale is needed
Success regime said it was "delighted" the senate agreed with its "direction of travel"
Plans for a major acute reorganisation in Essex will not address its financial and workforce sustainability problems and provide "relatively little change to current provision", senior clinicians have warned.
The East of England Clinical Senate said it agreed with the "direction of travel" set out by the Mid and South Essex success regime but a "bolder", more radical plan over a longer timescale would be required to fix its significant financial and workforce issues.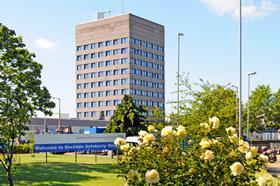 The senate's chair, Bernard Brett, told HSJ that system leaders' desire to try to retain virtually all the current services on all three acute sites was preventing development of a sustainable model, which could require one site to perhaps be downgraded to a variation of a minor injuries unit, to allow the full development of a major emergency centre on another site.
The senate's report, made public last month, said: "The panel felt [moving to this model] would provide relatively little change to current provision and would do little to address workforce and sustainability issues.
"The panel further felt that the changes could be bolder with greater potential benefits if there was less focus on continuing to provide virtually all current services on all three sites."
The report detailed two options for reorganising Basildon and Thurrock University Hospitals Foundation Trust, Southend University Hospital FT and Mid Essex Hospital Services Trust.
The proposals are part of the mid and south east Essex sustainability and transformation plan, which said the area faced a £407m deficit by 2020-21 under a "do nothing" scenario.
The first reconfiguration option, referred to as "red, amber, yellow" would see: one hospital become the major emergency centre, called the "red" site; one "amber" site with daytime emergency department but ambulances transferred to a red site; and the third hospital would be the "yellow" site. This would have a 24 hour walk-in facility, accept day time GP referrals, and have a consultant presence during the day and be able to treat the majority of patients but transfer when necessary.
The second option involves one red site, two amber sites and no yellow sites. The success regime did not propose which type of hospital should be on which site.
However, the clinical senate said taking into account considerations including geography, travel times and current service locations, Basildon would be the "best" option for the red hospital.
Dr Brett said: "The panel thought they had made significant progress at that stage of their planning on what is a hugely challenging task. But to achieve really significant benefits, they had not, at that time, gone far enough."
Addressing the question of what a more radical option could look like, Dr Brett suggested it could involve downgrading the yellow site to a minor injuries unit if the data supported it.
He said the panel "did not have enough data or sufficient local knowledge to come up with firm proposals, nor was this the senate's role" – but "it could, for example, include putting a minor injuries unit on the yellow site with patients with more serious illness being moved to another site either 24/7 or at least overnight".
Dr Brett, a consultant gastroenterologist at James Paget University Hospitals FT, added: "Concentrating more complex patients and appropriate staff and equipment on one site has the potential to improve outcomes and to help attract and retain a high quality workforce.
"[But] this approach will almost certainly fail to address workforce sustainability difficulties if current services are maintained on all existing sites.
"If this were the case this will increase the overall number of staff required and potentially make it even more difficult to attract staff for the so called shortage specialties to the less 'hot' sites."
He continued: "The panel also understood the public, political and media pressures that come with large scale service redesign. These pressures make it more difficult to make significant reconfiguration changes at pace."
Joint medical director for the success regime Ronan Fenton said: "We are delighted that the clinical senate supports our proposed direction of travel for health and care services in mid and south Essex, and we accept the panel's recommendations about further work to make sure that we explore fully the implications of service change for local people.
"We will continue to do this over the next few months as we narrow down the potential options for change. The clinical senate's final report of October 2016 supports the principle of having a designated specialist emergency hospital for more challenging and complex emergency work. It also supports the principle of having a centre of excellence for planned care. The report states that."
Source
Clinical senate report and HSJ interview