Best Places to Work 2015 - community trust winner
Full time Equivalent staff: 2,864
Sickness absence rates: 4.89 per cent
Staff recommending care: 83 per cent
Staff recommending as place to work: 73 per cent

On a recent visit to Cambridgeshire Community Services Trust, health secretary Jeremy Hunt said: "It's clear that their work is the NHS at its best". The trust serves over two million people and pivotal to providing high quality care for this population is the organisation's attitude to staff wellbeing and engagement.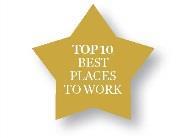 The trust has performed well in the NHS staff survey this year, receiving the highest overall engagement score of any community trust in the country. Anita Pisani, deputy chief executive stresses the importance of a culture co-created by staff. "For the second year running, staff have rated working for the trust incredibly positively, reflecting the fantastic culture and behaviours all our staff have helped create.
"We know that a well engaged workforce is more motivated to provide high quality services and experience greater job satisfaction."
For Cambridgeshire a core part of having an engaged workforce is staff feeling supported and recognised for the work they do. So, each month the trust holds its "Shine a Light" awards. Staff, senior managers, patients and relatives are encouraged to nominate and "shine a light" on those who have displayed outstanding work for the trust. These nominations are reviewed by the executive team which presents the winner with a certificate and vouchers. Their achievement is also shared across the trust and local newspapers. Liz Sloman, a play specialist who recently won the award, says: "I really love my job. It's very rewarding."
In order to improve staff absence rates and ensure that they have a healthy and happy workforce, Cambridgeshire introduced the "live life well" programme in August 2013. Chaired by the assistant director of workforce, the programme was created in collaboration with the corporate team, clinical and staffside champions. As part of this programme the trust now offers personal resilience training, coaching conversation training and has implemented "roving health check kiosks". These kiosks give staff the opportunity to gauge key health measurements such as body mass index, blood pressure and body fat. Since the launch of the "live life well" programme Cambridgeshire has improved its average monthly sickness absence rate by 0.17 per cent.
The trust's occupational health team was also asked to provide a staff service to neighbouring Hinchingbrooke Healthcare Trust. This offered staff access to Rapid Access Musculoskeletal (MSK) treatment and was aimed at those who were regularly off sick due to ongoing illness and medical investigation. The service was such a success that Cambridgeshire has now decided to implement it across its own sites.