Improving the wellbeing of healthcare staff will benefit both patients and employees, but we must all make a commitment to achieving a healthy workforce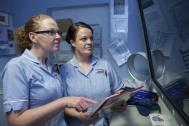 As in other developed countries, employee health and wellbeing is a subject of increasing attention in the UK, in both the private and public sector. We recognise that health and wellbeing of NHS staff is, for a number of reasons, a particular concern.
Staff are our prime resource and they are key to the effective performance of NHS organisations. Ensuring staff health and wellbeing is integral to success in terms of enabling the NHS to meet the challenges it faces today.
These challenges arise in part because sickness absence in the NHS is higher than in the public sector generally and higher than in many organisations in the private sector. This is costly, wasteful and has a significant impact, which is especially felt during this time of financial pressure.
Even more important, however, is the health and wellbeing of staff in ensuring the delivery of high-quality and safe care. Organisations whose prime commitment is to the care, treatment and rehabilitation of patients should be exemplary in caring for the health and wellbeing of their own staff.
Healthy staff, healthy patients
That workplace environments and management culture have a major impact on employees' health and wellbeing is not in dispute but, all too often, what has not received adequate attention is the impact that poor employee health and wellbeing can have on patient care and outcomes.
'There is compelling evidence that he conditions of work and management help to promote individual health and wellbeing'
A movement that recognises the crucial importance of the health and wellbeing of NHS staff has gathered pace. The Boorman review showed that when NHS organisations prioritise staff health and wellbeing, performance is enhanced, patient care improves, staff retention is higher and sickness absence is lower. These observations and initiatives have been given added force by the findings and recommendations of the Francis Inquiry.
The publication of Healthier Staff, Higher Quality Care, a new consensus statement by bodies with diverse responsibilities for the quality and effectiveness of the NHS and the experience of patients, is a widely supported affirmation of the importance of the health and wellbeing of staff to the delivery of high-quality safe care.
The statement gives added weight to the commitments contained in the NHS constitution to ensure that staff are supported in their work, with clear acknowledgement of the responsibilities this brings for occupational health.
The consensus statement also takes up the challenges of the public health responsibility deal – to promote healthy lifestyles and prevent ill health by assessing and controlling the risks to employee health, safety and wellbeing. It also affirms a determination to tackle discrimination, especially the stigma associated with mental health conditions, and reminds us that sustained staff engagement is an indispensible condition of success in these endeavours.
The pledges in the responsibility deal, particularly those related to health at work and physical activity, "articulate a vision that the NHS can aspire to and which would enable the healthcare sector to be recognised as an exemplar".
Working conditions
There is compelling evidence that the conditions of work and management help to promote individual health and wellbeing; unsurprisingly, where those conditions have been ignored or neglected, the effects are manifested as impaired wellbeing, often comprising stress and its consequences.
'This is not the responsibility of employers alone. There is a growing recognition of the importance of staff engagement in these endeavours'
For over a decade this has been highlighted in the work and efforts of the Health and Safety Executive. The HSE management standards' approach to risk assessment is designed to help employees and their representatives manage these issues sensibly and minimise the impact of work-related stress on business and on employee wellbeing.
A notable feature of NHS staff health measures is their variability. As the Audit Commission and other analysts have shown, there are wide differences between NHS organisations, different staff groups and locations.
These differences and variations can be explained only in part by factors such as age, gender and socioeconomic measures. They highlight the need for determined action with a systematic approach to finding where significant and worthwhile improvements to staff wellbeing can be made.
These factors do not explain all the variation, however, which must also be impacted by differences in the way NHS organisations manage, motivate and support their staff.
Staff engagement
Sickness absence can be measured but this does not give the whole picture. Presenteeism − when staff go to work even if they are not really fit enough to function well − is thought to be an even greater problem, as annual NHS staff surveys attest.
This state of affairs has widened our appreciation of the scope of occupational health, which is not just about protecting staff from known hazards or supporting those who have declared health problems. Safeguarding and promoting the health and wellbeing of all staff should also be included − enlightened employers will recognise, support and facilitate this wider view.
NHS Employers now provides comprehensive information on ways in which organisations can develop staff skills in health and wellbeing management, together with tools and resources to support effective staff engagement. These will facilitate a healthy workforce and positive staff experience.
Ensuring staff health and wellbeing is not the responsibility of employers alone. There is a growing recognition of the importance of staff engagement in these endeavours. Improvement plans and strategies for staff health and wellbeing that involve staff in their development have been identified as being the most successful in achieving long-lasting improvement for both staff and patients.
Professor Dame Carol Black is expert adviser on health and work to the Department of Health