Jennifer Trueland looks at some of the initiatives set up to harness the ingenuity of patients and health service staff and make their bright ideas become a reality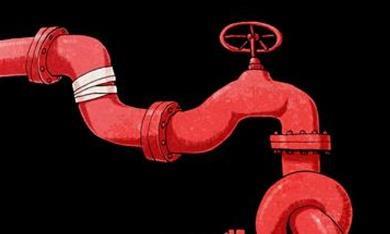 Mark Moran found himself in hospital recovering from spinal surgery. With limited movement, getting enough to drink became a real challenge, putting him at risk of dehydration.
As an endurance athlete, he soon came up with an answer and it was one that would not only slake his thirst but change his life, too.
'Unless you're able to dictate that something will be adopted, you will struggle to make it happen'
"It's difficult when you're in hospital," he says. "Looking for someone to give me a drink was awkward, and it took time.
"So my then girlfriend brought in my CamelBak [a hydration system used by athletes where a bladder is filled with water or another liquid which is delivered via a long drinking tube]. We strapped it to the bed and the reaction was amazing: everyone, including the orthopaedic surgeon, the therapists and the tea lady thought it was great."
Spotting the gap in the market, he decided to develop the idea for healthcare settings – and the Hydrant was born.
Living up to early promise
The benefits are that users can drink unassisted, decreasing their risk of dehydration, and therefore reducing their risk of complications such as serious urinary tract infections.
"I linked to the NHS Innovation Unit in Bristol and they were able to offer me some help. It took a while to come up with the design, by which time I was talking to the NHS supply chain and to places like Stoke Mandeville Hospital," Mr Moran says.
With high level NHS support, the system was rolled out across a number of hospitals and that is where the challenges came in.
'The difficulty getting something adopted nationally is simply people being pulled this way and that'
At the time, Mr Moran had a well paid job with the Ford Motor Group. An experienced senior manager in logistics, he had worked for a variety of companies in 30 different countries.
Despite all this, however, he found it tough going to get his invention from the drawing board to the bedside.
Sadly, uptake in the acute hospital sector did not live up to early promise.
He explains: "We've had some fantastic support from many people across the NHS for this programme. But the difficulty in getting something adopted nationally is simply people being pulled this way and that, and unless you are able to dictate that something will be adopted, and there are penalties if not, you will really struggle to make it happen.
"Heads need to roll, as they would in business."
Staff resistance
Resistance from some members of staff was a barrier to take-up in hospitals, he says.
Some nurses said that it took away from the "social" side of nursing because patients did not need them to take a drink. He also came up against the cultural issue that if something was not invented in a specific place, then there was some reluctance about taking it up.
He is now actively focusing on encouraging care homes to take up the product. "I can't bang my head against hospitals anymore; it'll kill me," he says ruefully.
"The hospitals where it was done properly, with someone actually doing the job they were supposed to, had good results, but that wasn't the case everywhere.
'There's no real penalty if people don't do what they're supposed to'
"There's no real penalty if people don't do what they are supposed to."
Mr Moran is not alone in his experience – and that's why a number of initiatives have been set up to try to harness the ingenuity of patients and health service staff to make it easier for bright ideas to become a reality.
Determined would-be inventors can contact their local NHS Innovations body, or can seek support from the likes of the Small Business Research Initiative for Healthcare.
NHS England is also trying to tap into the inventiveness of the workforce and the population through initiatives such as the Innovation Exchange and Innovation Connect.
The NHS Innovation Challenge
The NHS Innovation Challenge is one way that NHS England is trying to support and promote creativity in the health service.
In November 2013, London Ambulance Service Trust's Cycle Response Unit was one worthy winner.
The brainchild of paramedic Tom Lynch, a former BMX biking champion, he realised when stuck in traffic trying to get to an emergency call out that he would be quicker on his bike and so an idea was born.
Despite initial joshing from his colleagues, his employer agreed that he could trial the idea back in 2000. It proved successful, and the unit has now become an integral part of the trust.
Among an avalanche of excellent results, the unit has been credited with boosting the trust's cardiac arrest survival rate from 12 to 28 per cent in the past five years, saving more than 5,600 ambulance hours per year and making considerable cost savings as well.
About half of all calls are resolved at the scene, helping to reduce pressure on accident and emergency.
Like other inventors and innovators, Mr Lynch says that a change of culture was necessary to convince managers and others that the idea had legs.
His advice for others in a similar position is to engage with all departments early on, to get to know your organisational strategy, and to campaign and create an image or strapline to improve awareness of what you are trying to do.
"You cannot quantify gut feeling or passion if you have the experience of front line but you know what is the right thing to do for patients," he says.
"Look after your staff and your workplace, motivate and encourage them to carry out their duties to their best ability and allow an inspirational and innovation environment to flourish. If you think improvements could be made then have a go."
As NHS bottom-up staff you may or may not think it is your responsibility to make things better or influence change, but you could be a catalyst to improve or innovate something as small as making someone smile or saving someone's life.
"Bearing witness to that is something special and no ordinary challenge."
Harness the whole hospital
Some trusts are making real efforts to harness ideas from frontline staff, among them Nottingham University Hospitals Trust.
Back in 2009, it launched Better For You, a continuous improvement programme which builds on the "productive ward" concept, but on a whole hospital basis.
An important part of this is a scheme that encourages staff who have an idea about how something could be done better to go ahead and make it happen.
"Just do it" essentially gives frontline staff the permission to try out ideas which they believe will improve quality, safety and value for money.
'We piloted it in a number of areas before rolling it out, so people could see it was working; after that, it grew quickly'
According to Tim Guyler, acting chief operating officer and programme lead for Better for You, hundreds of members of staff have been able to try out simple ideas that are making a real difference, from simply putting up better signposting to stop patients getting lost, to introducing a monitoring tool for diabetic eye screening waiting times.
"The whole process didn't happen overnight, which I think is important because if something happens too quickly then people can think it is a fad, and don't really believe in it," he says.
"But we piloted it in a number of areas before rolling it out, so people could see it was working; after that, it grew quickly."
Every attempt has been made to keep the process simple, wherever possible allowing people to simply try out their ideas.
As is usual with any kind of change, not everyone came on board at the same pace.
Indeed, says Mr Guyler, the trust's experience almost exactly maps Rogers' "diffusion of innovation curve", from early adopters to "laggards".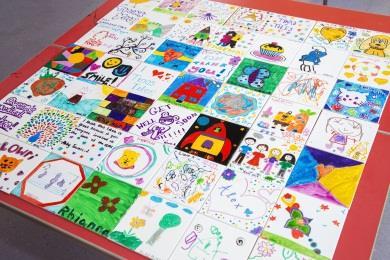 Tina's Tiles
Asked to pick out one idea from the hundreds that have already been implemented as part of Nottingham University Hospitals Trust "Just Do It" project, and programme lead Tim Guyler does not hesitate.
"One of my favourites is Tina's Tiles," he says (see picture, above). "It's a simple idea, but it's had a big impact."
The idea came from Tina Kirk, a housekeeper in the city's children's hospital. She and her husband had completed a DIY project at home, but had found they had some tiles left over.
"They were blank tiles, so she brought them into work for the children to decorate," explains Mr Guyler, acting chief operating officer with the trust.
"The clinical staff have fed back that the children, from the really young to older ones, really enjoy it. It gives them something else to do, something else to think about, and clinical staff have said it helps the children to open up a bit more, so it has clinical benefit too."
The patients are given the opportunity to take the tiles home with them if they want, but many choose to leave them in the hospital.
"All these wonderful tiles have been used to decorate the walls," he says. "It's a great idea."
Bottom-up change welcomed
Getting the word out and encouraging staff and managers to take part was important in itself in helping to create a culture where bottom-up change was not only permitted, but was welcome, he adds.
"We wanted to create a culture where people felt they were allowed to do something risky, and giving people permission to succeed or to fail, but in a safe environment."
The trust discovered early on that ideas that needed a small amount of financial support could sometimes get "stuck"; in the current challenging financial environment, managers sometimes found it difficult to back an idea which required financial support, but for which the impact was uncertain.
So the trust approached Nottingham Hospitals Charity, which saw the value in the programme and provided a Just Do It fund of £50,000 for staff to access to try their ideas out.
One of the tough things for leaders is to agree to back something that they, personally, do not think will succeed, says Mr Guyler.
"I've looked at ideas and thought they wouldn't work – supporting people to do something you don't think will work can be challenging for leaders. But it's arrogant to impose your views when the person who is actually doing the job sees it differently."
'Even ideas that don't work as expected have benefits'
Even ideas that do not work as expected have benefits, he says.
An apparent failure could point the way to a better way of doing things, or, at the very least, the person who thought of it might be more open to other ways of doing things if their own idea has been shown not to work.
"It's allowing them to do that without feeling demotivated," he says.
This programme is specifically intended to look at small, simple changes rather than major projects to, for example, change entire patient pathways.
Nor is it designed for the development of devices or other similar "inventions" that would go through the trust's research and innovation pipeline, run in conjunction with University of Nottingham.
Nevertheless, it has so far thrown up a plethora of changes that are helping to transform the way that patients are cared for across the trust.
Changing attitudes
Making it happen has meant changing attitudes to change, he says, adding that it is important to look at it from a success, rather than a blame, perspective.
"As a senior manager, seeing the suggestions that staff come up with can be humbling, but it can also be embarrassing when some of the things beg the question of why we haven't made that change sooner," he says.
"But if you look at it from a positive perspective you see that if you ask people the right questions then they will come up with quite wonderful answers. They all make things that bit better than they are now for patients and their loved ones and our staff."
Mr Moran, on the other hand is now head of his own company, Hydrate for Health.
'If you ask people the right questions they will come up with quite wonderful answers'
He would like to see more innovation in the NHS, but fears that the culture is not there. One issue is that if something has not been invented in a particular place, then there is less of a sense of ownership, and it is hard to get something new taken seriously.
That is a shame, he says, because it means the health service is losing out.
"This is something that's simple, low cost and high impact," he says, pointing to study results which show a 37 per cent reduction in length of stay, a 22 per cent reduction in use of drugs for urinary issues, and an impressive return on investment.
Nevertheless, he does not regret giving up his well paid job, or, indeed, ploughing his own money into the invention which has won a slew of awards, including a Queen's Award for Enterprise Innovation in 2013.
"I get phonecalls [from patients and carers] that reduce me to tears; I know that proper hydration saves lives. That's what makes it worthwhile."