Patient Opinion is allowing service users to get their views front of mind of healthcare professionals via online comments, warts and all – and the effect is far from the negative one you might expect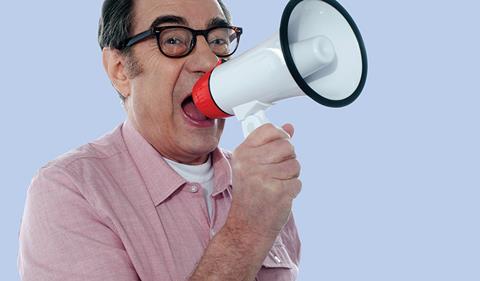 Patient Opinions
Every health system in the world is under pressure to improve effectiveness and efficiency. In the UK, we have seen repeated and costly "re-disorganisations" of the health service as a result, with very limited evidence of benefit.
'Nobody has a stronger incentive for high quality healthcare than the patient'
But what if there was another way that healthcare could be improved? We know top-down change has been costly, disruptive and ultimately disappointing. So, what about not just bottom-up change, but outside-in change, too?
For the past 10 years, that's the vision we've been pursuing at Patient Opinion, a non-profit social enterprise that provides a public online feedback service for patients and carers across the UK, Ireland and Australia.
We start from two premises: that nobody has a stronger incentive for high quality healthcare than the patient, and that nobody else knows some important things that patients know.
Patient pleas
What do I mean by this? Let's look at some examples.
Some years ago, a man recovering from hip surgery in Northampton wrote on Patient Opinion: "What needs improvement are the toilet seats. Those on the wheelchairs and those fitted to the home toilet, they are useless.
"They are only made for women… With a knee/hip replacement operation it becomes like mission impossible. I spoke to eight other men who agreed."
'Most people share their stories on Patient Opinion to encourage and support staff'
Just recently, despite the high profile "Hello, my name is" campaign, a mother wrote of her experience in Edinburgh: "During my daughter's admission not one person introduced themselves to me of their own accord."
Patients and carers know a surprising amount about healthcare. They know how it feels, whether interventions and systems work, and whether care is joined up.
Who knows whether a toilet seat is fit for purpose? Only the patient who is 24 hours post-op from hip surgery. And who knows whether care is "integrated" or "patient centred"? Only the patient.
In our experience, most people who share their stories on Patient Opinion are doing so because they want to encourage and support staff, and help make care better for the next patient.
But can their stories really make a difference? They can, and they do.
Simple prompts
One user of a drug and alcohol service in the North West found that, when his methadone script ran out on a Friday, he did not always manage to get it refilled before the weekend. You can imagine the range of negative consequences, for both user and service.
He asked a simple question online: "Why do we end prescriptions on Fridays?"
'Sometimes patients highlight deficits in clinical care that can be put right'
After some deliberation online and offline, the trust updated its policy: "Our doctors will no longer write prescriptions that end on a Friday. This will mean that no one else will have the difficulties you did."
This simple change, prompted by a simple question, improved life for users, while at the same time reducing Monday morning demand on the service.
On the Isle of Wight, a woman posted about the upset of being contacted by community midwives who knew nothing of her recent miscarriage. In response, the trust made immediate practical changes to communication between sonographers and midwives.
Sometimes patients highlight deficits in clinical care that can be put right.
In Surrey, a patient was sent home from the emergency department, only later discovering they had suffered a stroke. The hospital responded by asking the stroke lead consultant to provide fresh training for emergency department clinicians.
Cheap and cheerful
In these examples, and many more, services are being improved in small but significant ways that make a tangible difference to patients. They are also typically inexpensive to implement.
But how does this rather unstructured, unpredictable and very public process feel to the staff involved? Can this kind of outside-in change fit with clinical priorities and organisational processes?
"Yes, it was a bit nerve wracking to reply publicly to start with, but I think a lot of us have sort of gained confidence and, actually, it's quite enjoyable responding to feedback now," a podiatrist using Patient Opinion in her service admitted.
'Users and carers now have trust in us to know that we do want to hear it, warts and all'
Staff are often fearful that online feedback will increase the "burden of complaints" and lead to blame. But a hospital clinical director told us: "It helps to actually reduce complaints. We can get in touch with a user straight away and so we can avoid a lengthy complaint response… I think it's better for us and it's better for the patient."
When feedback – and just as importantly, the response to feedback – is visible to everyone, the impact can spread beyond the particular issue. Open feedback and response begins to change relationships and even cultures.
"As we've been on a journey, users and carers have been on a journey," explained one service manager. "They now have trust in us to know that we do want to hear it, warts and all, and that we will work on what the issue is."
Credit where due
Perhaps surprisingly to some, at least half of the stories patients post are positive, praising staff who went above and beyond, and saying "thank you" for great care.
These stories can be equally powerful, as the service manager said: "My favourite moments are when you get good feedback about a particular member of staff, which you can then feed back to them. That's always a good feeling."
'It is small, human scale, meaningful yet scalable'
This kind of healthcare change is far from being top-down or policy driven.
It is change that emerges from the ever-developing relationships between people who must rely on services, and those whose vocation is to provide them.
It is small, human scale, meaningful yet scalable right across the system.
And it reminds us that empowering patients does not mean disempowering staff.
James Munro is chief executive of Patient Opinion