Collaboration between NHS and independent ambulance services on vehicle development, training, apprenticeships and lobbying will mean a better experience for patients, proposes David Davis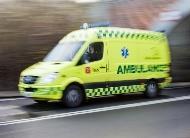 Just a few years ago it would have been unthinkable to even mention the possibility of public-private partnerships to improve the nation's ambulance service.
But a combination of political influences and economic necessities has transformed the whole healthcare landscape to such an extent that the unthinkable has come into the reckoning as possibly doable in the foreseeable future.
A new relationship focusing on innovation and improvement could be built on collaboration, for example, on vehicle development, training and apprenticeships. Joint lobbying could be envisaged.
'Companies are responding positively to the challenge with investment in training, expansion and their fleets'
Those who put forward this optimistic point of view will argue that NHS and trade union opposition to private finance in the healthcare sector is gradually subsiding as a result of financial realities.
Ambulance trusts, faced with budgetary pressure, are struggling to meet the increasing demands on their emergency and non-emergency services, and regularly contract the resources of independent ambulance companies to bridge the gap.
For example, for last year's Olympic and Paralympic games the London Ambulance Service, one of the largest in Europe, worked very successfully with ambulance companies to plan and deliver a complex service. Generally it is estimated that independent providers are responsible for handling around 50 per cent of NHS hospital transfers for dialysis, bariatric and high-dependency patients.
Gradual improvement
This suggests the trusts have new confidence in independent ambulance companies as both are now regulated by the Care Quality Commission on exactly the same basis. As a result there is a level playing field between the two, each being regularly inspected and required to meet the same standards of patient care by qualified staff and safe, properly equipped vehicles.
Admittedly from a low base a few years ago, there has been a gradual improvement in the professionalism and managerial skills of independent companies and the quality of their services.
With the Independent Ambulance Association working closely with the CQC, companies are responding positively to the challenge with more investment in training, expansion and upgrading their fleets and information technology.
'Both sectors need more qualified ambulance people and the best solution would be a single national training qualification'
They recognise there is still much work ahead but now feel sufficient progress has been made for them to work comfortably alongside the NHS ambulance trusts in some important areas of mutual interest.
On the face of it a PPP for the ambulance service is desirable and possibly achievable, assuming any concerns that may still exist on both sides can be finally laid to rest, to enable them to work together to achieve the same goal: a world class ambulance experience for NHS patients.
There are four areas of possible collaboration which come to mind. Each would help to improve the quality, efficiency and cost effectiveness of patient transport services in future.
Vehicle development
A PPP in vehicle development would never be timelier than now. Organisations which have been responsible for such pioneering work have fallen victim to financial pressure and are being closed down this year.
Is now the moment to introduce the skills and resources of independent ambulance companies?
Training
The public and private ambulance sectors need more qualified ambulance people and the best long-term solution would be to pool resources as a step towards a single national training qualification.
The challenge would be picking the way through the daunting maze of different qualifications, titles and training programmes currently offered by various accredited organisations and then come up with an agreed single format.
A practical first step would be a roundtable session involving the Association of Ambulance Chief Executives and the IAA, as well as CQC, the College of Paramedics and representatives from universities that offer ambulance training courses.
'Like it or not, the latest health service reforms will inevitably drive the two sectors even closer together'
Next might be the creation of a PPP training framework that meets the needs of the NHS and the independent ambulance sector. The NHS has an established training modus operandi, while the IAA is working on a framework for its members. Ideally the final outcome would evolve into a single qualification reflecting the changing nature of provision, as well as contractual and regulatory requirements.
Whatever the future holds, independent providers are starting to match up to the training qualifications of the NHS trusts they work for. To do so they are having to accept the financial commitment as the cost of being in business.
Apprenticeships
A logical offshoot of a training PPP would be apprenticeship opportunities for young people who are leaving university with ambulance and management qualifications.
Although apprenticeship schemes in the independent ambulance sector are rare, there is innovative work being undertaken. Trusts such as the Yorkshire Ambulance Service has been nationally recognised for its patient transport service apprenticeship programme, for which it was named employer of the year in the 2011 NHS Yorkshire and the Humber Apprenticeship Awards.
At Yorkshire, many of the apprentices work in the non-emergency PTS road operations and communications divisions.
Undoubtedly, at a local level, there would be genuine benefits for the ambulance service if trusts and companies got together to share experience, knowledge and resources in running apprenticeship schemes.
Lobbying
Public and private ambulance services should be natural lobbying partners because the issues they face largely run in parallel, and more importantly virtually all the people they serve are NHS patients being transported to and from NHS hospitals.
This has not been the case to date but now the opportunity should be taken to establish the principle of collaborative lobbying. It would not be appropriate for all issues but last year there were at least two instances where NHS trusts and the IAA could have mounted joint campaigns:
Throughout England there is a postcode lottery among 400 local authorities that ban ambulances from using bus lanes. The IAA took up this issue via the Local Government Association and the discussions are ongoing. The argument would have carried more weight with NHS support.
The IAA joined forces with the Police Federation in a campaign for a change in the law to protect emergency response drivers from prosecution if they commit an offence while on an official call, such as a pursuit or while transporting patients on behalf of an NHS trust or a human organ for transplant. As a result, the Crown Prosecution Service amended its prosecution guidelines and the Department for Transport is conducting a public consultation exercise on the requested law changes. Again, NHS support would have strengthened the argument.
The reality is that, like it or not, the latest health service reforms will inevitably drive the two sectors even closer together. How much better it would be if they were willing rather than grudging partners.
David Davis is director of communications at the the Independent Ambulance Association.