A visit to Spain in 2003 inspired then health secretary Alan Milburn to create foundation trusts, but the NHS has moved on and we need to revisit the structure of our health system, argues James Wilson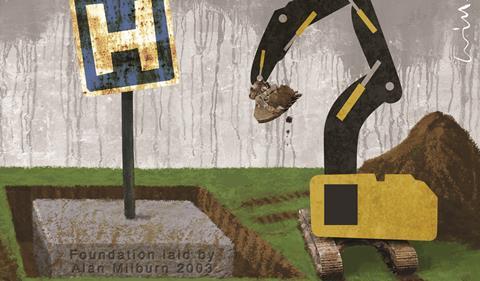 On a recent trip to Madrid, I took some time out to go and visit the Fundación Hospital in Alcorcón, about 15 minutes south west of the capital. It was here in 2003, while on a trip to recruit doctors and nurses for the NHS, that Alan Milburn was inspired to create the concept of foundation trusts.
The hospital was built in 1997 by Insalud, the Spanish national health service, but was almost immediately turned over to private management to run.
Since then it has become an institution that's caused much conjecture. Some commentators have held it up as a beacon of what private involvement in a nationalised health service can achieve. Others have criticised it for cherry picking less complex cases and forwarding more complex, and therefore more expensive, cases to neighbouring nationalised hospitals.
There have also been concerns over its financial management, having defaulted on its property tax in the past.
The hospital's management has the discretion to negotiate with staff groups over working conditions and there is evidence to suggest staff work longer hours than their contemporaries in Spain's nationalised system. Indeed, one survey found that 19 out of 20 nurses were unhappy with the length of their working hours.
Personal ticklist
On my visit to the hospital, I found a facility that was not dissimilar to British hospitals built in the same period. It reminded me a lot, for example, of Liverpool Women's Hospital (built in 1995), with wide spacious corridors and a pleasant environment.
Having worked with more than 100 NHS organisations, I have developed a few rules of thumb when going to a hospital for the first time, and it was interesting to apply them to the Fundación.
'My impression was that the very best foundation trust hospitals in the UK have now overtaken the Fundación'
First, I like to assess how easy it is to park in the car park. If you can find a space within five minutes, it generally indicates a lack of patient throughput and therefore an overly large asset base for the size of the organisation.
At the Fundación there were no spaces, and indeed, cars thronged the surrounding streets. Taxis also seemed to be constantly dropping people off. Not a bad start.
Second, I like to assess the quality of the food at the canteen. If I am prepared to eat there, this generally indicates a level of recent investment within the hospital, albeit in the UK this often means an unaffordable private finance initiative.
At the Fundación, the food was excellent, but I found myself wondering how many of the churros and coffee – which everyone seemed to be eating – you'd be able to sell in a typical NHS hospital.
With 37 specialties, the hospital provides a full range of services encompassing both acute and mental health. But given where we now stand with our foundation trust project in the UK – nine years after the first foundation trust was authorised – are there any lessons the Fundación can still teach us?
I found an impressive facility and the patients that I spoke to were obviously very proud of their local hospital. However, my impression was that the very best foundation trust hospitals in the UK have now overtaken the Fundación in terms of the quality of their facilities and the complex services they offer.
Spanish constraints
So why have foundation trusts performed here, but the idea has not taken off in Spain?
Unlike in the UK, where healthcare spending has to an extent been ringfenced, the Spanish government has had to cut its healthcare budget significantly. The Royal Decree Law 16/2012 was introduced in April 2012, putting into law a severe reduction in the Spanish national health service, with just over 13 per cent cut nationally and 10 per cent locally in 2012 alone.
The legislation also introduced co-payments that patients must make for extra treatments such as drugs, prosthetics and some ambulance trips.
'It does seem likely the foundation trust sector will go into deficit this year, so it is time to re-examine our whole health economy'
Even before the cuts, Spain was one of the lowest spenders on healthcare by GDP in the EU. Added to the financial pressures, as unemployment has risen, Spain has also seen an increase in depression, alcohol related disorders and suicides.
I was left thinking that our health system in the UK has probably now exhausted the ideas that Alan Milburn had after his visit to the Fundación in 2003, given what has happened in Spain since, and also due to the fact that there are still more than 100 trusts that have failed to achieve foundation status.
Do we now need to look to pastures new for inspiration on moving the organisational model of health provision in England forward over the next 10 years? Although we're not quite in the mess that Spain is in, based on Monitor's first quarter report, it does seem likely the foundation trust sector will go into deficit this year, so I think the answer is yes: it is time to re-examine our whole health economy.
Perhaps the next new ideas will be put forward by people like KPMG's chair of global health practice Mark Britnell, based on his work examining healthcare systems around the world. Wherever the answers come from, the dream Mr Milburn had at the Fundación back in 2003 now seems well and truly over.
James Wilson is managing director of Assista Consulting