Duncan Selbie says STPs had "all have made a good stab" at understanding prevention
But some "not where they would want to be", he says
Says main priorities should be adopting interventions consistently and promoting early years' development, education and employment
All sustainability and transformation plans have made "a good stab" on prevention but have further to go, the Public Health England chief executive has told HSJ.
Duncan Selbie is one of the national chief executives who were signatories to the Five Year Forward View and has a role with NHS England and NHS Improvement in overseeing the STP process.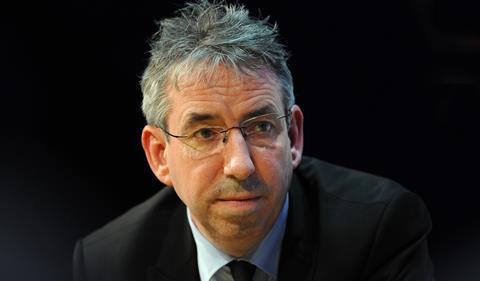 Asked about the progress made in the 44 STPs, all of which submitted their most recent "full" plan on 21 October, Mr Selbie said: "The leading ask or reflection of all 44, every single one of them, was on prevention. They all have made a good stab at understanding this wider context."
He said in an exclusive interview with HSJ: "The STPs were never the answer, the STPs are the next stage on the journey…
"Each of them have kept the faith with a prevention narrative, but they are not all where I would want them to be, nor where they would want to be – this is not marking homework, this is saying there is a range of difficulty out there."
Mr Selbie was Brighton and Sussex University Hospitals Trust chief executive before becoming PHE's first chief executive, and previously worked at the Department of Health, a strategic health authority and a mental health trust.
He suggested prevention was more difficult than other areas for STPs, "in the sense that we're asking the health service for the first time to be asking the question 'why, and what might be done about it?'"
He said: "What we have focused on [in the past] is how do we create, maintain and develop a strong healthcare system. What the forward view is about is a deeper question than that – how do we improve the health of the people? STPs are the first expression of that wider understanding."
Mr Selbie said some of the areas with the biggest NHS financial problems had prioritised that first rather than prevention, and he was "the first to understand" why they had. "It is not a choice you have – you've got to do both. [However] in some places they will be making a bigger stab at the health gap, and in other places it will just be about getting the money sorted out."
He described two approaches STPs had taken to the "health gap" and in which they could go further. First, "to implement at scale and consistency those interventions that we have said, 'if you do these things you can expect to see this impact on admissions'". PHE has published a list of six interventions to be adopted.
The second area is to achieve changes "beyond the health service". "The wider innovation is how do we help every child get a good start in life? The most important measure of all of the life in health is being ready to learn upon starting school at five – and only half of our children have that experience. The next most important thing is a young person having something meaningful to do when they are becoming an adult… the third and most important of all is to have a job," he said.
Mr Selbie highlighted some areas working well on these wider factors, citing the West Midlands' commissioning on the link between mental health and employment; Greater Manchester, where work across public services is considering measures on employment and education alongside health; the North East, where Mr Selbie chaired a commission on "health and wealth"; and parts of London.
Meanwhile, he said PHE too was having a wide impact. "If public health isn't where others aren't, we're in the wrong place. If we're not being bothersome to someone at some point, we're not doing our job," he said.
Asked if he had been bothersome enough in his three and a half years at the organisation, he said: "I think we've published in a way nobody else had hitherto about the health gap. I think the conversation we're having today was because of PHE, the forward view's [focus on the] health gap was because of PHE. We have annoyed half of the world about e-cigarettes, and we have changed the world through our sugar work."
Exclusive: STPs 'made a good stab' on prevention, says public health chief
1

Currently reading

Exclusive: STPs 'made a good stab' on prevention, says public health chief

2

3