Leak shows executive committee and "wider leadership team"
One clinician on executive committee, no current or recent public health directors in structure
The top leadership of NHS Test and Trace includes several senior figures brought in from retail, commerce and industry, but only one public health expert, a leaked structure document reveals.
Its executive committee also includes several senior civil servants and national NHS directors, but only one local authority chief executive, and two local NHS directors. The only clinician or public health expert is Susan Hopkins, an epidemiologist and Public Health England adviser on infection.
The full "wider leadership team", of around 80 posts, includes several other PHE experts, but no current public health directors, and no-one who has recently worked in public health locally.
The NHST&T executive committee is:
Dido Harding – executive chair –NHS Improvement chair since 2017, previously TalkTalk chief executive for seven years
David Pitt – chief operating officer
Sarah-Jane Marsh – testing divisional director - on secondment from being chief executive, Birmingham Women's and Children's Foundation Trust
Haroona Franklin – tracing divisional director – previously the government's director of future borders
Carolyn Wilkins – contain divisional director – on secondment from being Oldham Council chief executive
Clare Gardiner – Joint biosecurity centre director general – on secondment from being director of national resilience and strategy at the National Cyber Security Centre
Simon Bolton – chief information officer – CIO of Jaguar Land Rover until summer 2019
Gareth Williams – chief people officer – previous a senior HR manager for Travelex, a British foreign exchange company, BT, and other firms
Donald Shepherd – chief financial officer – previously finance and commercial director at Public Health England
Ben Dyson – director of policy – previously a senior policy director in NHS England and Improvement
Susan Hopkins – chief medical adviser – epidemiologist and adviser on infectious diseases and microbiology at PHE, with a research interest in outbreak investigation and surveillance, and healthcare associated infections
Jacqui Rock – chief commercial officer – commercial director at the Ministry of Defence 2017-2020, and before that at banks
Ben Stimson – chief customer officer — previously digital director at Waitrose
Raghuv Bhasin – chief of staff to Dido Harding — previously director of operations, Royal Berkshire Foundation Trust
Michael Brodie – interim chief executive, Public Health England — previously chief executive of the NHS Business Service Authority
It shows for the first time the people currently in charge of the programme, part of the Department of Health and Social Care, which has a £10bn budget for 2020-21. It has a vital role in controlling the pandemic in the UK, and is at the centre of current concerns over testing, tracing, and isolation.
A small number of its senior leaders have previously been identified, but the full structure — which has seen rapid turnover since it was established in the spring — has not been published.
The person who is listed as advisor to Baroness Harding, Alex Birtles, worked for TalkTalk as a product and commercial director until spring last year.
One public health director, commenting on the structure to HSJ anonymously, highlighted a lack of local public health expertise or leadership in the full structure. This is despite the disconnect between national track and trace work and live local public health knowledge having been highlighted multiple times as a weakness.
Janet Atherton, listed as a public health adviser in the structure, was previously an experienced local director of public health, but retired from her role in Sefton in 2015.
The person said: "I'm shocked by several things in this structure. The first is why they're being so secretive.
"The second is the size and scale, and presumably cost. The third is the total lack of any current local public health expertise in it. This gives the lie to their desire to work constructively with us locally. This huge structure and they still can't deliver tests. It's shameful."
There are few senior local NHS managers in the full structure. Those that are, in addition to Ms Marsh, include hospital chief executives Suzanne Rankin (from Ashford and St Peters) and Steve McManus (from Royal Berkshire), who are both working on "operations" as part of the "contain" programme; and Imperial College Health Partners managing director Axel Heitmuller, who is T&T innovation and partnerships director.
The government announced last month that it planned to combine NHST&T with the health protection work of PHE to create a new "National Institute for Health Protection".
A DHSC spokeswoman said in a statement: "We have brought together the public health expertise of Public Health England with the scale response capabilities of NHS Test and Trace to tackle covid-19 and protect the public.
"We have always worked very closely with directors of public health, using their expertise and resources to increase the number of people reached by Test and Trace, and since the launch of the service we have more than doubled the size of local health protection teams to mobilise local contact tracing and stop outbreaks."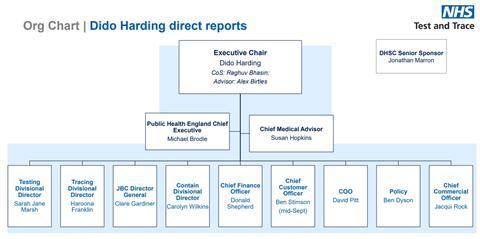 HSJ Digital Strategy Virtual Summit
The HSJ Digital Strategy Virtual Summit will be held on 13-15 October 2020 and will facilitate discussions on learnings from covid-19 responses and how to harness momentum in the longer-term, looking at key themes such as remote consultations and monitoring, sharing data and its accompanying challenges, and improving digital literacy as a means to reduce health inequalities. Delegate places are complimentary for NHS senior leaders. To find out more or to register for your place click here.
Source
Information obtained by HSJ
Source Date
September 2020