The Francis report may have focused on care failings in Mid Staffordshire but the lessons learned apply to commissioners across the country, say Chris Waite and Robert McGough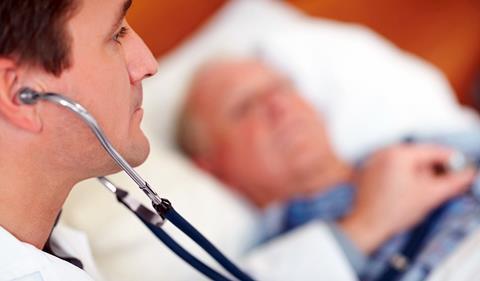 Hospice care
The Francis report is arguably the most influential report in recent years on the state and practice of the NHS. While it focuses on the substandard provision of care by Mid Staffordshire Foundation Trust, it also examines the role played by its commissioners in the resultant patient care failings.
'Accurate, relevant and useable information, from which the safety and quality of a service can be ascertained, is the vital key to effective commissioning'
Since April this year, clinical commissioning groups have been responsible for commissioning secondary care, including those services at the heart of the Francis report. Although there are clearly lessons to be learned by providers, CCGs also need to consider the comments and recommendations made in the report to ensure those lessons are not lost in the aftermath of the NHS's latest reorganisation.
From a commissioner's perspective, the report describes a systemic failure, over the course of several years, to proactively set meaningful quality standards, monitor compliance by the provider and take effective action when standards were breached.
Below, we highlight some of the relevant conclusions reached in the report about commissioning in Mid Staffordshire, including Francis's view of commissioning in the future and a number of actions commissioners can take to address the concerns raised by the Francis inquiry.
The report recommends that, wherever possible, commissioners should lay down a fundamental safety and quality standard or specification for each item of service. In relation to each standard, commissioners should agree a method of measuring compliance and redress for non-compliance.
But which performance indicators and compliance measures should be used? Robert Francis suggests the principal focus should be on what is reasonably necessary to safeguard patients. Commissioners may wish to promote improvement by requiring compliance with, or development towards, higher standards than those set out in the national baseline.
Contract monitoring and management
A number of the report's recommendations highlight that CCGs must have the capacity to monitor the performance of every contract. Francis noted that the commissioning contract was agreed many months after the supposed deadline as a matter of routine. This resulted in commissioners dealing with issues without having any formally agreed reference point in place with regard to what services had been commissioned.
The report says that the possession of accurate, relevant and useable information, from which the safety and quality of a service can be ascertained, is the vital key to effective commissioning.
'Effective local commissioning can only work in combination with effective monitoring'
This requires the provider to generate quality information and the CCG to have the capacity to carry out its own (or independent) audits, inspections and investigations. These should, where appropriate, include investigation of individual cases and reviews of groups of cases.
If CCGs are too small to adequately monitor complex and technical tasks, such as specialist clinical advice and procurement expertise, they should collaborate with others to do so or obtain appropriate support.
Furthermore, if decisions are taken to delegate the monitoring of contract performance (for example, to commissioning support units), CCGs should set out very clear guidance as to what the service comprises and, in particular, how concerns and poor performance is fed back to the CCG and resolved.
Effective local commissioning can only work in combination with effective monitoring − that cannot be done without knowledgeable and skilled local personnel engaging with an informed public.
Contract monitoring should not be limited simply to the provision of information and reporting under the contract, though this is also key. In addition, CCGs need to undertake monitoring on behalf of patients who receive acute hospital treatment and other specialist services and develop internal systems that allow GPs to recognise patterns of concern.
Statutory duties
The Francis report recommends that commissioners need, where possible, to identify and make available alternative sources of provision. This will enable patient choice and, perhaps more importantly, having such alternatives also reduces the commissioner's reliance on one provider.
'Commissioners should develop contingency plans with regard to protecting patients from harm where it is found they are at risk from substandard or unsafe services'
Francis highlighted the reticence of commissioners in Mid Staffordshire to use the contractual sanctions available to them under the commissioning contract, such as performance notices, warning notices and financial penalties. There was a view that the imposition of such sanctions would destabilise the provider.
With a multiplicity of providers, it becomes more practicable to resort to contractual sanctions and enforcing financial penalties on a particular provider if required standards are not met. Multiple providers also reduce the risk of leaving patients without a service.
Commissioners should develop contingency plans with regard to protecting patients from harm where it is found they are at risk from substandard or unsafe services. This may include a consideration of actions such as substitution of staff or referral to Monitor for action or intervention in accordance with the provider's licence.
CCGs have a statutory duty to act with a view to securing continuous improvement to the quality of services. They can incentivise such improvements that are designed to enhance the reputation and standing of clinicians and the organisations for which they work either financially or by other means.
Complaints
The report says that, initially, commissioners were not involved in the complaints process. Francis recommends that they monitor complaints and their outcomes on as near a real time basis as possible.
Francis also advised that commissioners should be entitled to intervene in the management of an individual complaint on behalf of the patient if it appears to them that it is not being dealt with satisfactorily. However, commissioners should also respect the principle that the provider has primary responsibility to process and respond to complaints about its services.
Each substantiated complaint of substandard service could be evidence of a breach of an obligation under the commissioning contract − commissioners should, therefore, be concerned on behalf of their patients if such a failure of performance by the provider occurs.
Actions for CCGs
CCGs should consider the following questions:
How will GPs use their close patient relationships to monitor provider performance?
How will the CCG receive and integrate this feedback with that from patient representative forums and Healthwatch groups to give a more complete picture of provider performance?
What resources are available to CCGs to actively monitor performance of their contracts?
Are there collaborative opportunities with other commissioners contracting with the same providers?
If a CCG manages its own contracts and procurement in house, has it considered using CSUs to provide these services at scale?
What levers are available under existing contracts to manage provider performance issues? What action can be taken to remedy performance issues?
Would the group be willing to impose monetary penalties on providers that may be in a precarious financial situation?
In instances of poor performance, would the CCG be willing to consider the closure of a local service or procuring provision by an alternate provider located elsewhere?
What historic information on local providers' performance of contracts is available from the primary care trust data bank and legacy teams?
Has the CCG considered the quality documents that capture the corporate memory of the primary care trust?
By considering these questions and developing appropriate internal processes, CCGs can take advantage of their position and look to ensure that any failings of patient care are highlighted and appropriately managed by them as commissioners.
Chris Waite is a solicitor and Robert McGough is health partner at DAC Beachcroft