People power is at the heart of campaign group 38 Degrees, which engages members on the issues that matter to them to try and bring about change. Alison Moore reports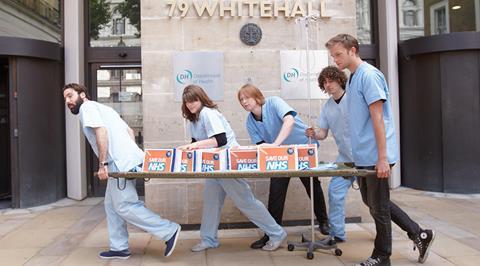 Finnemore - protest1
38 Degrees is the angle at which an avalanche starts. It is a fitting name for a campaigning organisation that relies on people power to influence politics. The 2.5 million "members" of 38 Degrees sign petitions, write to their MPs, organise public meetings and canvass their neighbours on a variety of issues.
'Lots of our members really believe that the political system is broken. They want to change it for the better'
While the organisation says it is not party political, it is generally progressive and inevitably at odds with the government of the day.
Successful campaigns have included the forestry sell-off and the "hospital closure clause" – as well as less well known campaigns such as stopping the sale of bee killing pesticides on eBay. It has also gained a commitment from Labour leader Ed Miliband that he would repeal the lobbying act, passed earlier this year.
Small beginnings
More recently, 38 Degrees has been urging members to "sign up their street" – to ensure people registered to vote for the European elections. It expects to do more on voter registration ahead of the general election.
Not bad for an organisation that was set up just five years ago and is largely funded by small individual donations; the average given is about £10 but a plea to fund a legal challenge to zero hours contracts asked for just £1 and received 11,000 responses within 48 hours.
Members also donated £200,000 for communities affected by flooding this year.
'Lots of our members want to change the political system, whoever is in government'
While it is often seen as an online organisation, 38 Degrees is increasingly involved in offline events. During its campaign against the lobbying bill, members organised 200 meetings, often involving local MPs and charities. Some were standing room only, with members challenging MPs on the details of the bill.
"What you realise working with 38 Degrees is that people are really passionate about things but are just turned off by being a member of a political party," says Blanche Jones, campaign director. "Lots of our members really believe that the political system is broken. They want to change it for the better. They will always want to change it, whoever is in government."
But there have been cases where the organisation has failed to bring about the change it wanted. "Our campaign against the Health and Social Care Act was hugely successful in terms of building the movement but not successful in terms of getting rid of the bill," says Ms Jones.
Win-win
Other NHS campaigns have been more successful. During the formation of clinical commissioning groups, members of 38 Degrees held meetings with CCG members to persuade them to include particular clauses in their constitutions.
Campaign manager Ian Palmer says that at that stage CCGs had "no concept of what genuine consultation meant. It was a total lack of understanding." But the exercises did result in "some tens" of CCGs incorporating the clauses – and 38 Degrees may revisit it when constitutions are next revised.
The organisation was set up while the last Labour government was still in power and insists it would campaign regardless of the colour of the government of the day.
'Speed of communication is essential'
"I think we would want to campaign for the government to do things differently regardless," says Ms Jones. No government is likely to satisfy everyone on the issues of the day, she adds.
Two years ago 38 Degrees launched a platform so members could campaign on purely local issues. These can be parochial – one of the early successes was retaining a tree in the centre of Frome, Somerset - but obviously arouse passions.
So what could the NHS take away from this? One thing has to be the speed with which 38 Degrees can launch a campaign or find out members' views.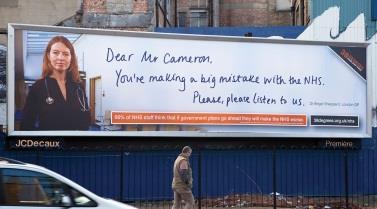 This can be within hours of a major development such as the recent suggestion that HM Revenue and Customs could sell personal tax data to private companies, which got a firm thumbs down from an almost instantaneous poll of 60,000 members.
"We pride ourselves on being able to react in real time," says Ms Jones. "It is really important for our members to be able to see something in the newspaper and think 'that's not right' and then see something in their inbox to show them what they can do about it.
"Having a complex sign off process will really slow things down. It can be too rigid. Speed of communication is essential."
Occasionally this can mean a spelling mistake or two creeps into an email but this is a price worth paying.
Taking action… or not
The organisation will use emails to reach members, suggesting action they can take. Often this is just signing a petition but it might be writing to their MP or even, as in the case of the lobbying bill, asking if they know a member of the House of Lords to approach. A surprising number did, says Ms Jones.
The organisation is careful to ask members for what they can give – which might be money, time spent volunteering in the office in central London, or specific skills.
A Conservative MP who said 38 Degrees had "zombie members" was contacted by many of them to prove they were anything but.
"When they are faced with 200 people in a room who are their constituents, it is harder to write them off," says Mr Palmer.
The priority areas on which the organisation will campaign at any one time are effectively chosen by members. "We are run by our members," says Ms Jones. "They tell us what they want to campaign on."
'By asking members to sign up to a campaign, there is real time feedback on whether it is really a key issue for them'
Each week 50,000 members, chosen at random, will be asked to vote for what they regard as top priorities; only ones where there is a strong consensus will be pushed forward.
So recently, for example, 38 Degrees decided not to campaign against a possible loosening of the law on fox hunting. Although many members feel passionately about the issue, others didn't – and the feedback from the members' poll did not give a clear enough answer to support a campaign. That does not mean the issue cannot be revisited or a campaign is not a possibility in the future.
The NHS is regularly the top issue for members. Ninety-seven per cent of those canvassed wanted to continue fighting on the "hospital closure clause" and 94 per cent opposed the plans for Care.data – 150,000 people pledged to opt out.
"They were not opting out because they feel information to improve healthcare is a bad thing; it was that they wanted more work [to ensure] the information was safe and a lot wanted to choose what it was used for," says Mr Palmer.
By asking members to sign up to a campaign, there is real time feedback on whether it is really a key issue for them: a low sign up can mean the decision to "push" a campaign is revisited and it may be effectively dropped.
A Monday meeting will draw together the results of the members' poll, how current campaigns are doing and any looming issues to guide decisions on what to prioritise in the next week.
Could this approach be used by the NHS or by individual healthcare organisations to guide their priorities and potentially difficult decisions on spending?
The nearest comparison would be foundation trust members who might be used as a sounding board – and could "legitimise" some decisions. Mr Palmer says it would have been easier to do this when spending was growing rather than when hard decisions are having to be made – but that does not invalidate the method.
Effective engagement
It is the two way nature of the conversation that makes 38 Degrees different. This would be a cultural shift for many organisations not used to members being the driving force, suggests Ms Jones.
"A common mistake is thinking that involving people is going to make it harder and more complicated. But once you start to involve people you get a service that people want to use," she says. "There's a difference between broadcasting and having a conversation. When we broadcast we see engagement levels drop."
This could have implications for the NHS as it tries to change people's habits. Will just telling them what they need to do to avoid chronic illnesses in the future be enough or can this contact be made more meaningful?
'There's a difference between broadcasting and having a conversation. When we broadcast engagement levels drop'
Could the NHS be as nimble as 38 Degrees in changing a campaign as feedback comes in? When it found that members felt the lobbying bill was very much a freedom of speech issue, it changed its language and focus to reflect this.
Ms Jones points to members' different reactions when they know their views are going to influence what happens. In NHS terms, this may be as simple as keeping people informed about how their contribution to any debate is to be used.
Engagement of members is also targeted. Sign up to a 38 Degrees campaign on, say, the environment and the chances are you will be emailed about other similar campaigns rather than ones about education and health: your engagement, even on just one issue, will be harnessed. How many NHS organisations do the same?
A brief history of 38 Degrees
March 2009 38 Degrees is born with its first email. It is inspired by similar advocacy groups such as MoveOn in the US and GetUp in Australia. By August it has 10,000 members and by March 2010, 100,000 were on board
July 2010 The "save our forests" campaign is launched with the government backing down from selling woods the following year
March 2012 Membership reaches 1 million and in November it receives a human rights award
May 2014 Membership exceeds 2.5 million. The group campaigns to get people to register to vote and produces an infographic setting out each party's stance on key issues
Spread the word
The emails will be personalised with your name and, if the organisation is asking people to contact MPs, it will include your MP's details. With some issues, it will also identify key MPs to influence – perhaps because they are wavering, or ministers – and mobilise members in their constituencies.
38 Degrees does use social media but its main relationship with members is through this inbox to inbox approach; the evidence suggests this gets a higher level of engagement. It would be easy to characterise its 2.5 million members as student activists, but Ms Jones says there is a very wide demographic spread, including many doctors and nurses.
Invite 38 Degrees to a meeting and it may find out beforehand how its members feel about the nuances of a subject – you may get not only a spokesperson but also a number of ordinary members. Eight members went to a meeting with health minister Norman Lamb on section 75.
"We had members who were service users, who were GPs and sat on CCGs, who could speak about their own experience," says Mr Palmer.
Ms Jones says the organisation does not want to be seen as "insider" – it will meet with government departments but may ask members beforehand whether it should. "This is about bringing tens of thousands of people into the room rather than just me," she says.
'The potential to challenge reconfiguration proposals or decisions is huge'
Members are also great at spreading the word about campaigns and signing up friends and neighbours (as in the voter registration campaign). There are parallels here with the NHS and how people could be mobilised for a "good cause". Being a values based organisation helps with this – but here the NHS might have a headstart with strong public support and affection.
But can there be too much of a good thing? Is there a point when communication, however well aimed and relevant, from an organisation just ends up being ignored?
"We are very careful about that," says Ms Jones. "On a Monday we have a meeting to look at what we can do, but also what we can't do - and try to provide other avenues."
Campaigns by You is a good vehicle for local campaigns that might not fit with a national organisation. Health related campaigns are common and, although some seem based on a misunderstanding of how the system works, others raise genuine issues – calls for a bus stop to serve a new community hospital that is 500 metres from the nearest one, for example.
The potential to challenge reconfiguration proposals or decisions made by the National Institute for Health and Care Excellence is huge. For this, and many other reasons, those involved in NHS communications and public participation ought to watch 38 Degrees carefully – and learn from it.
A new angle on public involvement
1

Currently reading

A new angle on public involvement

2

3