Jennifer Dixon asks how the NHS long-term plan can support efforts to reduce emergency admissions from care homes.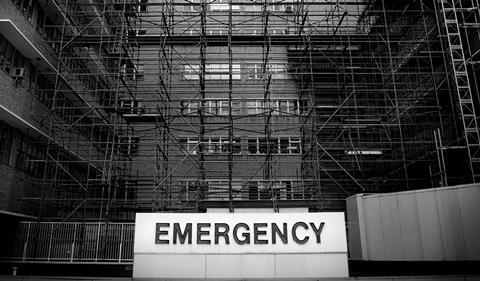 The NHS long-term plan is strong on plans to reduce avoidable ill health and subsequent use of the NHS, with efforts to coordinate care better for individuals at highest risk of emergency admission taking centre stage.
A key element is the enhanced health in care homes initiative, which followed an initial set of NHS vanguard sites announced in the Five year forward view for the NHS in England back in 2014.
Several years on, what's the progress? And what should happen next?
Before progress, some background. The number of older people in the UK population is rising, and more and more of those have chronic illnesses, needing extra support.
Cuts to social care spending mean local authorities have tightened eligibility requirements so only the most needy older people receive publicly funded social care. And cuts in the price paid for care by local authorities has meant belt-tightening by care home providers, impinging on staffing levels and quality of care.
On the NHS side, investment in primary and community services needed to help support older people stay well at home has lagged behind that in hospitals, which the NHS long-term plan aims to address. While the promised green paper on social care hasn't materialised, early comments by Boris Johnson suggest an opportunity for action.
Older people (over 65 years) living in care homes (300,000 to 350,000 people at any one time) are among the highest risk group for avoidable ill health and use of the NHS. About 70 per cent have dementia or severe memory problems. Half live in residential care homes and half – with higher needs – in nursing homes.
Recent analysis
Together they comprise about 3 per cent of the total population aged 65 or older but 7.9 per cent of the overall number of emergency admissions.
Recent analysis by the Improvement Analytics Unit (a partnership between the Health Foundation and NHS England) explored the types of clinical conditions older people are admitted for (such as urinary tract infections, respiratory infections, fractures and sprains), and found that about four in 10 admissions are potentially avoidable with more timely and effective care.
Good evidence of interventions in care homes that reduce emergency admissions is vanishingly small. The IAU analysed four such interventions where enhanced support initiatives associated with the NHS' new care models programme had been implemented – in Rushcliffe, Sutton, Nottingham and Wakefield.
The fear by staff in residential care homes may be due to no experienced support due to staff shortages, a lack of skills in the face of complex needs, staff churn, poor staff development, all compounded by worries about regulation or potential litigation
Using innovative analytical methods they found promising early results: decreases in emergency admissions of up to 23 per cent, in avoidable emergency admissions of up to 27 per cent, and in accident and emergency attendances of up to 29 per cent.
Some of the key elements that contributed to these successes included high quality multidisciplinary teamwork, better access to the same GP, linked information flows between social care and the NHS, and better use of technology in care homes to monitor vital signs and provide care home staff with easier access to clinical advice.
So where next? Rolling out the enhanced care in care homes framework across England must be the right move by NHS England, as is the plan to boost investment in primary and community care to support it.
But unsurprisingly the IAU's analysis, and that by others, shows that results take time to achieve (five years isn't unrealistic) and need constant effort.
If the investment materialises, success – ie a significant dent in the growth of emergency admissions – will still be a heavy lift. Plugging gaps in staff shortages is first in line for attention.
Technology and other kit will help. But the need for top quality management to support teams on the ground is the other big area for attention and investment should be over the next five years. Belatedly the long-term plan and NHS People Plan explicitly recognise this.
Some kind of settlement may be in the offing for social care, let's see. Just meeting demand pressures by 2023-24 will need £2.7bn, or £4.4bn if staff pay is boosted in line with that in the NHS.
Improving access to state-funded social care to the level in 2010 would add another cool £10.3bn or £12.5bn with boosted staff pay. Capping lifetime care costs at £75,000, based on the Dilnot recommendations, another £2bn by 2023-24.
Whatever the immediate solution, the IAU's analysis found that use of NHS emergency care is higher from people in residential care homes than from nursing homes. This is intriguing and deserves further investigation.
When reading a recent online piece on social care I was drawn to the observations of a reader who posted about the care of their father who lived his last few years in a care home: "Neither the managers or the carers were medically trained so at the slightest sign of ill health an ambulance was called. We spent many an hour sitting in casualty because the care home staff were too frightened and reluctant to take on the responsibility of assessing his needs."
This fear by staff in residential care homes may be due to no experienced support due to staff shortages, a lack of skills in the face of complex needs, staff churn, poor staff development, all compounded by worries about regulation or potential litigation.
This is a complex web of issues, which again needs a lot of attention: principally getting in the right numbers of staff, keeping them and skilling them up.
This kind of strategy doesn't make headlines like fancy technology. But it needs to be the prime focus of attention and investment over the next five years if the long-term plan is to deliver.


Dr Jennifer Dixon is chief executive of the Health Foundation.