Jeremy Hunt endorses Andy Burnham's leadership bid but gives Liz Kendall a snub, while one hospital advertises for staff willing to endure 'complaints from irate surgeons'
End Game was momentarily stunned last week when shadow health secretary Andy Burnham said his long time adversary Jeremy Hunt deserved praise for the steps he has taken to improve patient safety in recent years. But the bipartisan spirit did not last long, with the pair trading familiar barbs about whose party left the NHS in a worse financial state.
The returning health secretary did not fail to capitalise on the fact his Labour opponent is vying for his party's leadership against a member of his own health team, shadow care minister Liz Kendall.
"We have seen many feisty disagreements on health policy, and that is just in the shadow health team," he quipped.

"Perhaps he no longer believes his mantra about 'collaboration, not competition' – we know that the shadow care minister has disagreed with that for some time."
Mr Hunt had a "feisty exchange" with Ms Kendall earlier in the debate, who questioned why he "failed" to deliver the Conservatives' 2010 manifesto promise for every patient to get seven day access to a GP.
"I welcome the honourable lady back to her place, although I know she hopes it will be for only a brief time," he jibed.
Mr Hunt also took the opportunity to back Mr Burnham's leadership bid – probably an endorsement the shadow health secretary did not want.
"It is a topsy-turvy world when the shadow health secretary, who was the scourge of private sector involvement in the NHS, now wants to be the entrepreneur's champion," he said.
'I wish him every success in his left wing leadership bid'
"As one entrepreneur to another, can I put our differences to one side and on behalf of the whole Conservative Party wish him every success in his left wing leadership bid. It is perhaps the only occasion in history when our interests and those of Len McCluskey are totally aligned."
He also offered some thoughts on Ms Kendall's chances in the contest: "Not to mention the honourable member for Leicester West, in her own a kind of insurgent entrepreneur, taking on the might of the Labour establishment in a mould of Richard Branson or Anita Roddick.
"Sadly I fear she will demonstrate that pro-business, reform minded, centre ground policies are as crushed inside today's Labour Party as they would have been in the country if Labour had won the election."
A practical joke
End Game sometimes gets criticised for its lack of coverage north of the border, but we were intrigued to hear that one Glasgow hospital was advertising for a nursing support worker who would be willing to take "complaints from irate surgeons due to the pressures and constraints of the environment".
The role, which has a £15,358 starting salary, would also carry the risk of "verbal and physically aggressive behaviour from patients" under the influence of drugs or alcohol or anaesthetic. Bodily fluids, airborne and blood borne viruses, and hazardous fumes were other workplace hazards.
'One Glasgow hospital advertised for a nursing support worker willing to take "complaints from irate surgeons"'
It's not exactly the most appealing job description, so we were more than a little surprised to learn 61 people had applied. It transpires the wording was an apparent "practical joke" that somehow "slipped through HR checks", according to NHS Greater Glasgow and Clyde.
But the "joke" hasn't gone down well among hospital staff. One employee told the Glasgow Evening Times they were "horrified that someone would seek to make fun of lower paid workers being subjected to verbal abuse".
Another said: "There are posters hanging around the hospital stating that we won't accept verbal or physical abuse from patients, but this job description was telling us we should not only expect this from surgeons but that we will also sign a contract agreeing to it."
End Game understands the advert has now been removed.
A new revenue stream
Literally dozens of people went online to watch NHS England's board meeting last month, only to be bombarded with adverts for online poker, Russian vodka, hair dye and upcoming movies.
NHS England apologised for the interruption, which it blamed on a change of terms and conditions with the free streaming service it uses, and insisted it would be "looking at alternatives".
But with money getting ever tighter, perhaps it ought to consider the ads as a new revenue stream?
Lookey-likey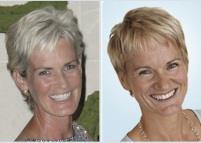 End Game had fleetingly thought that tennis coach and former Strictly Come Dancing contestant Judy Murray had added an unexpected string to her bow, becoming a non-executive director at Birmingham Women's Foundation Trust.
But on second glance, we realised we'd mistaken Andy Murray's mum for leading real estate lawyer Mary Daunt, with whom she bears an uncanny resemblance.