How bank holidays are holding up HSJ's FoI requests and why dog therapy is the future
Hark! What's that End Game hears? Ah… it is the unmistakable sound of the scraping of the excuse barrel.
The desperate owners of said hollow, rusty barrel? Our esteemed friends at the National Institute for Health and Care Excellence, who got in a bit of a funk after HSJ requested documents relating to its safe staffing ratios work via a Freedom of Information request.
NICE's transparency champs told HSJ the 20 working days statutory response period for requests would be delayed by a further 24 hours to take a Scottish bank holiday into account, despite the request having nothing to do with Scotland, and London based NICE having no jurisdiction over our Celtic chums.
'The FoI team missed the chance to try and claim another arbitrary 24 hours by citing National Dog Day'
With more than 140 national holidays around the world to come before the end of September alone, could this just be the thin edge of the wedge? End Game is steeled for calls this week informing us requests have been further held up by Slovak National Uprising Day, Nikini Full Moon Poya in Sri Lanka, and Santa Rosa de Lima Day in Peru.
It is perhaps surprising the FoI team missed the chance to try and claim another arbitrary 24 hours by citing National Dog Day (26 August – as if you had to ask), which was at least celebrated in England even if we didn't get the day off.
Doctors out, dogs in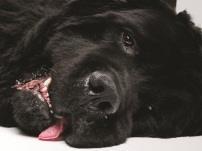 How do we provide high quality, patient centred care at a time when the population is rapidly ageing and the NHS has a multibillion pound funding gap looming?
The finest minds in British health policy have been grappling with this puzzle over the past couple of years, to seemingly no avail. But End Game thinks they have been missing a solution hidden in plain sight: none other than man's best friend, the humble dog.
Danish doctor Milena Penkowa has published a treatise, Dogs and Human Health: the New Science of Dog Therapy and Therapy Dogs (the two should not be mixed up), expounding how Fido can increase your "survival, healthiness, longevity, resilience, fulfilment and happiness".
'Dog Therapy and Therapy Dog should not be mixed up'
Her book looks at the whole range of canine health benefits, including how they can make your immune system more resilient, thereby improving avoidance of allergies and certain cancers when compared with "dog deprived individuals" (otherwise known as "cat people").
As Dr Penkowa notes: "If you aim for a medical treatment, you will need to see a doctor. But if you aim to become truly healed and feel fulfilled, you would want to see a dog."
For once, a straightforward health policy prescription! Doctors out, dogs in.
For a worthy cause
Strange things are afoot in the golden wheat fields of the South West.
A huge crop circle with a bird pattern has appeared in a field near Swindon. According to the Swindon Advertiser, social media pundits have likened the "mysterious creation" to the Egyptian sun god Horus.
Happily, a generous and entrepreneurial farmer has grasped the opportunity to make a few bucks for his local hospital.
James Hussey, who owns the field where the circle appeared, has asked local visitors to donate £3 to visit the formation, with all proceeds going to Great Western Hospital's radiotherapy appeal. He's already raised £5,000 for the worthy cause.
The local paper reported that Mr Hussey has been aided by "long time crop circle researcher" Paul Jacobs, who was temporarily living by the circle in a camper van which doubles as a "crop circle information centre".
'The origin of the vast majority of crop circles remains a complete mystery'
Mr Jacobs said that after studying the signs for 15 years, "I can say with absolute confidence the origin of the vast majority of crop circles remains a complete mystery".
"The biophysical evidence is compelling and really does speak for itself, if you care to do the homework," he added, outdoing even the NHS in the jargon stakes.
End Game proposes commissioning Mr Jacobs to get to the bottom of other mysteries which have evaded human understanding for far too long.
We suggest he starts with the Cottingley Fairies, the 1995 alien autopsy and the national tariff.
The truth is out there.
A fundraising act
An End Game appeal: King's College Hospital Foundation Trust needs money. OK, so does everyone else, but King's has taken the initiative by getting Rony Berrebi, its multi-talented anaesthetist-cum-song-writing heartthrob, to record a fundraising charity song called Strong.
'The purpose is to fund the building of its helipad'
This might just be what happens when a Shelford Group trust's forecast deficit exceeds £60m, but King's insists the purpose is to fund the building of its helipad.
That's a good cause, both in the interests of trauma care across the South East, and for giving new boss Nick Moberly a quick getaway if things don't improve.