Number crunching + social media = "conflicting pressures" at Monitor
End Game has been admiring Monitor's adventurous yet extremely characteristic leap into the world of social media – regular readers will remember a select number of its employees have achieved "trusted tweeter" status. Following an onerous assurance process, of course.
So what have this band of twitterers been up to? Why, algebra, of course.
Monitor's Twitter gnomes came up with the following formulation, expressed and tweeted to the world as an attractive infographic: "Rising number of patients + more complex care needs + costs of safer staffing ≠ budget flat in real terms."
While this is a problem for all of us, for the wonks at Monitor it appeared particularly distressing: "Conflicting pressures result in an equation that cannot balance if funding stays flat and the NHS doesn't change," ran the caption. Arrrghh! Never mind the patients and sod the public finances – we've got an equation here that cannot balance! Dear Lord, somebody do something!
"But the NHS is trying to move the equation back towards balance," concluded the tweet.
Phew! Panic over. Order restored. And we bet it was in no small part down to our heroes at Monitor.
Absolutely fabulous
We applaud Plymouth Hospitals Trust for hosting a conference last week celebrating the often overlooked work of healthcare support services staff.
Less impressive was the curious decision to name it the Academy of Fabulous Support Services Conference.
Whatever next? The School of Marvellous Clinical Commissioning Groups? The College of Tremendous Foundation Trusts?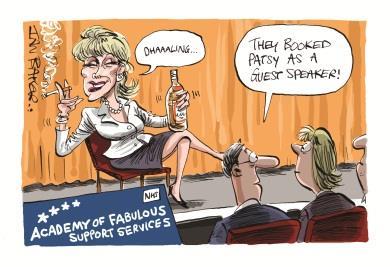 Touching farewell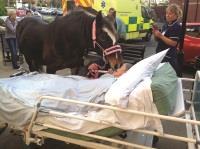 Look at the image left. Is it Wigan's answer to patient transport services? No, it is cancer patient Sheila Marsh, for whom Wrightington, Wigan and Leigh Foundation Trust organised a final farewell visit from her two horses.
Mrs Marsh, who died early the next day, used to work at Haydock Park Racecourse. Well done to the Royal Albert Edward Infirmary staff, news of whose great work has been covered worldwide.
Video nasties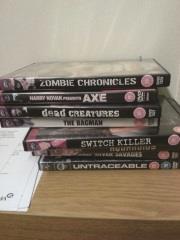 End Game attended a shindig this month at BMA House. On our way to the loos we noticed an improvised library of DVDs, which the British Medical Association collects to sell for charity. As a committed philanthropist (and always on the lookout for a bargain) we took a closer look to see what the cream of British medicine had been watching.
In that august setting, you can understand how shocked we were to discover an extraordinary collection of what can only be described as "video nasties". The collection included blood curdling titles like Zombie Chronicles, Axe and Dead Creatures.
End Game's tastes are way too vanilla for us to admit familiarity with any of them. But after five minutes on the Internet Movie Database we learned Deep River Savages is a key work in the cannibal genre of 1970s Italian exploitation cinema. Meanwhile Switch Killers is an old fashioned love story: after his girlfriend leaves him for a woman, a man has a sex change and kills all of her girlfriends to "win her back", according to the IMDb plot summary.
A career in medicine has long held a certain attraction for individuals with a macabre bent of mind, but little did we realise the profession had plumbed to such levels of bad taste.