Devo Manc prompts searching questions about the "National" Health Service and a nasty case of viral fundraising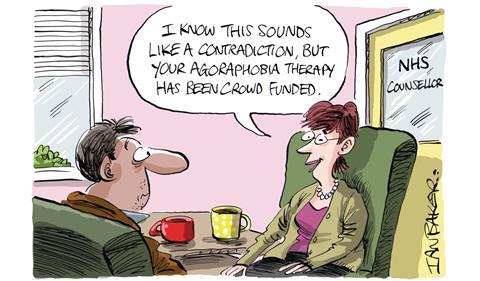 Just what does the "N" in "NHS" stand for?
The unlikely debate continues to rage about the first third of the country's best loved acronym.
'Nasty nimble fingered ninnies will never nick the "N" in NHS if End Game has anything to say about it'
Blame Simon Stevens. Last June the NHS England chief executive said that there were many things the "N" in NHS should stand for, but "uniformity of frequently changing administrative arrangements does not have to be one of them".
Well, at least we got that possibility out of the way early.
The mystery appeared to have been solved when anti-privatisation campaigner Clive Peedell tweeted last week: "The 'N' in NHS used to stand for 'national'; now it stands for 'neoliberal'".
But not long after that proclamation and following the news that Greater Manchester could take control of its health and social care budget, he added: "This government has taken the 'N' out of the NHS. Manchester will now have an 'MHS'."
While everything seems a bit confused, one thing's for sure: nasty nimble fingered ninnies will never nick the "N" in NHS if End Game has anything to say about it.
Spam pilfer
The planning required to lay the groundwork for the much vaunted new models of care, as laid out in the "Four Year Future Vision", or whatever it's called, won't come cheap.
But some cyberspace inhabitants were slightly bemused on receiving email requests for money from none other than Samantha Jones, NHS England's director for new models of care.
'The planning to lay the groundwork for new models of care won't come cheap'
After the rows over specialised services spending, an attempt at crowd funding would not have been unexpected among clinical commissioning groups in particular.
But any worries about Skipton House's apparent new money raising methodology can swiftly be put to rest, as Ms Jones explained to the Twittersphere (pictured): "Er. Sorry to anyone who has received an email from me asking for ££. This is not an official* New Care Model approach. Hacked account! *really."

Testament to gynaecological skills
Sunday school graduates will remember that Herod, king of Judea from 37BC, is portrayed in the Bible as a tyrant who was prepared to kill infants he believed could grow up to challenge his rule.
Spare a thought, then, for his namesake, Jonathan Herod, Liverpool Women's Hospital's former medical director and a gynaecological consultant.
Liverpool Women's Foundation Trust's website describes Dr Herod as being responsible for introducing a procedure to the North West that can help preserve the child bearing ability of women who undergo radical cervical cancer surgery.
End Game is happy that clearly the two Herods are unrelated.
Ghost in the machine
End Game had a near pulmonary cardiac event last week, when the Department of Health informed us that health secretary Andrew Lansley had just extended a flu vaccination programme.
While we have seen our fair share of former political bigwigs being rehabilitated, End Game has never heard of one being catapulted from exile back into the cabinet overnight.
After lying down in a darkened room and breathing into a paper bag, it was gently explained that no such political rebirth had taken place.
It was merely an IT fudge at the department, which resulted in some people's inboxes being deluged with three-year-old press releases.
We hope Jeremy Hunt was warned before checking his emails.