Just 3 per cent of £2.5bn allocated since 2017 has reached the front line
Research undermines impression given by political announcements
Sir Robert Naylor, government capital adviser, says amounts received are "disappointing"
Comes as prime minister Boris Johnson names "hospital upgrades" as early priority
Only a fraction of the £2.5bn of capital funding announced and allocated by the government for the NHS since 2017 has actually been released to the service.
Research by HSJ suggests less than £100m has been distributed to local providers over the last two years – equating to just 3 per cent of the total funding listed in several headline-grabbing media announcements.
The findings are supported by data in published Department of Health and Social Care accounts.
Last week, prime minister Boris Johnson named "20 new hospital upgrades" among the early priorities for his government, although no detail has so far been provided.
HSJ's findings reveal how the impression given by ministers' announcements in recent years contrast with the reality of relatively small amounts actually being released.
For example, the announcement of a "first wave" of funding in July 2017 was headlined "£325m invested in NHS transformation projects". Two years on, only around £48m of that money has so far been received by the bidders, with more than half the organisations still waiting for the money to be released.
Out of 145 schemes approved through all four "waves" of the £2.5bn, just 25 have started receiving the funding.
Some of the projects would not have expected to have received funding by this point, particularly in the latter tranches. But multiple sources in and around the NHS have expressed concern and frustration over the difficulties providers have faced in securing this "allocated" capital investment – for spending on buildings, beds, equipment and technology.
Sir Robert Naylor, the government's own advisor on NHS estates, said he was "disappointed more money hasn't got to the front line".
It comes as the backlog of overdue maintenance work on buildings and infrastructure has dramatically increased in recent years, due to a lack of capital investment.
In 2017, the Department of Health and Social Care set up a new process in which trusts have to submit capital bids through their "sustainability and transformation partnership".
Of the £2.5bn allocated in total, spread across the four "waves" of bidding, a total of around £92m has so far been released, according to responses from local organisations. See attached spreadsheet for the full list of schemes and payments.
Slow process raised by NHS 'multiple times'
While some trusts are able to generate their own cash for capital projects, by saving up budget surpluses, many have to apply for central funding.
When money is allocated, the recipient organisations must submit two business cases to the centre, which then require approval from all the national bodies – NHS England, DHSC and the Treasury. The projects have typically been held up by delays in sign off and requests for further information from these agencies and, in some cases, local problems.
The process has been criticised by multiple NHS chiefs, including Jon Rouse, chief officer of Greater Manchester's devolution team and former DHSC official, and Sir David Dalton, the former chief executive of Salford Royal FT.
Among the approved schemes still going through the sign-off processes are a major reconfiguration of emergency services in Greater Manchester (worth up to £80m), which is expected to save 300 lives per year.
A senior source in Greater Manchester told HSJ that project leaders have been frustrated by multiple requests for more information from various national bodies. They also said government officials were "less concerned about the lives being saved, and more concerned about the economic benefits".
Other projects yet to receive money include;
Reconfiguration of maternity services between Worcester Royal Hospital and Alexandra Hospital in Redditch, which is waiting for Treasury sign-off (£11m announced in July 2017)
Major consolidation of services between Bournemouth and Poole hospitals, which is still in the business case process (£100m announced in July 2017)
An information system for out of hospital care in South Warwickshire, which is waiting for Treasury sign-off (£9m announced in November 2017)
Ultimately, the problem comes back to the fact that any capital investment by NHS organisations scores against the department's capital spending limit, which has been severely constrained for several years.
Sir Robert, the former University College London Hospitals FT chief executive who led a government review of capital in 2017, told HSJ: "Backlog maintenance is spiralling out of control and we have to really focus now on improving the quality of the estate.
"Obviously the spending limit needs to be increased, and the whole question of how it works needs to be very urgently revisited and taken up with the Treasury.
"It's been raised by multiple parts of the NHS and on several occasions at the national property board with the minister. I've no doubt he will talk to the Treasury about it, but obviously other things have been going on."
He said he was "delighted" Mr Johnson had talked about the need to accelerate plans for capital spending, and was optimistic about progress, "but we wait to see the detail".
In a statement, the DHSC said it would consider proposals from the NHS for a multiyear capital plan in the next spending review – the timing of which is unknown.
Business case process 'holding up projects'
Jonathan Stewart, chair of the Health Estates and Facilities Management Association, told HSJ he was "concerned about the apparent lack of funds made available to the first schemes announced in 2017".
"You would expect some action on some of those schemes in the latter half of 2018… It seems like it is the business case process holding things up. HEFMA wants to see a robust business case process – that's a necessary part of this – but it needs to be streamlined."
He suggested developing a process where some projects can be approved by regional regulatory chiefs rather than requiring the green light from national leads.
Research by the Health Foundation recently showed that capital spending on healthcare services in the UK has been significantly lower than in most other developed nations.
The DHSC's current capital budget is around £6bn, and the think tank said this would need to rise by between £3.5bn and £4.5bn each year to reach the Organisation for Economic Cooperation and Development average. This level of increase, when adjusted for the time period considered, would be broadly in line with the uplifts called for by NHS England chair Lord David Prior, and by Sir Robert in his review of NHS estates.
Capital budgets squeezed since 2010
In its statement, the DHSC said it has committed to invest £3.9bn of "new" capital by 2022-23. Its capital budget has increased by 30 per cent in the three years since 2016-17, which equates to £1.3bn in cash terms and £1bn in real terms. The current budget is lower in real terms than it was in 2010-11.
In its response to the Naylor Review, the government suggested more than £6bn of additional funding would come from private investment and land disposals over five years. But last year former chancellor Philip Hammond abolished the private finance initiative, while the relatively modest amounts raised trhough land sales have largely been diverted to revenue budgets.
For this analysis, HSJ looked at the £2.5bn that has so far been allocated and announced through the four waves of STP bidding.
Jonathan Ashworth, Labour's shadow health secretary, told HSJ it was "seriously concerning that promised money hasn't found its way to the front line", and highlighted trusts' backlog maintenance problems which are now reported to cost more than £6bn to fix.
Many hospitals in dire need of investment have not even had funding "allocated":
North Manchester General Hospital
Frequently described as the worst hospital estate in the north west, around 250 of the inpatient beds at North Manchester are in buildings which date back to the mid-19th century.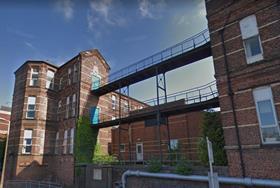 Its Nightingale Wards lack privacy and create heightened infection risks, while staff described repeated issues with air ventilation, overheating, and boiler and electrical failures.
In the event of a fire, patients would need to be evacuated on to old metal walkways connecting the blocks, which would create problems for patients who were unable to get out of bed.
One staff member told HSJ: "It's like we have been forgotten about for a very long time".
Pennine Acute Hospitals Trust, which runs North Manchester, said it has systems in place to manage the fire risks, and staff do an "incredible job" to keep infection rates low.
The hospital is in the process of being acquired by Manchester University FT, which will seek capital investment from the government as part of the deal.
Torbay Hospital - theatres
In 2016, Torbay and South Devon FT applied for £10m of capital funding to address "critical issues", including the ventilation system, within its theatres. The bid was rejected due to a "lack of funding available", according to the trust.
In November 2018, the trust was forced to close three of its 10 theatres temporarily due to air handling problems. One month later, the DHSC announced more than 70 successful bids worth £1bn, but the trust's second bid for theatre refurbishment was not among them.
Two of the theatres remain closed today and fixing them is expected to cost £3.3m. This is being funded through the trust's own capital. The trust said some patients with "lower clinical priority" had to wait longer than planned for treatment as a result of the closure.
St Helier Hospital
A general hospital in south London which gets so hot in summer that thousands of ice cream sorbets are given out to patients.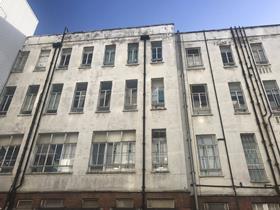 Built in the 1940s, the hospital does not have air conditioning, while beds have to be pushed away from walls when it rains, because water leaks through the brickwork.
The building configuration means some patients needing surgery or diagnostic have to be moved between departments by ambulance, while the ancient steam boilers are at constant risk of failure.
Nearby Epsom Hospital is also outdated and unfit for purpose, and Epsom and St Helier University Hospitals Trust is currently developing reconfiguration plans that would require up to £500m of capital investment.
Hereford County Hospital - hutted wards
Most of the hospital is relatively modern, but there are two general surgery wards still housed in hutted buildings which were built by Canadian troops during the Second World War.
The buildings were only intended to be temporary and cannot be properly maintained because their roofs contain asbestos.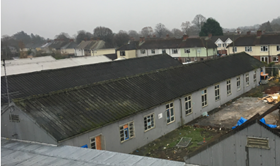 Wye Valley Trust has been trying for years to replace the wards, and the £15m project has now been included on a regional list of priority schemes.
Chief executive Glen Burley told HSJ the process of bidding for funding was "frustrating", and it often felt like the repeated requests for more information and different questions were linked to the availability of investment cash, as opposed to the merits of the project.
Hillingdon Hospital
Built in the 1960s, the hospital in west London has multiple problems with its heating and electrical supplies, while there are serious concerns around legionella risk in the water supply.
There is a huge backlog of maintenance work which the trust cannot afford to fix, and its board has formally escalated the problems to NHS Improvement in recent months.
The trust is in the process of developing plans for a new hospital at nearby Brunel University, which would cost hundreds of millions. It may be confident of securing backing from the new prime minister, Boris Johnson, however, who is also MP for Hillingdon constituency of Uxbridge and South Ruislip.
Source
Information obtained by HSJ and DHSC accounts
Exclusive: Capital billions promised by ministers fail to reach 'front line'
1

Currently reading

Exclusive: Capital billions promised by ministers fail to reach 'front line'

2