Simon Stevens has issued a dramatic warning that the government's spending review may not deliver a 'workable' funding settlement for the NHS.
NHS England chief executive warns funding for next two years may not be "workable".
Says spending reviews "usually come down to the wire"
Backs more "deliverable" tariff for next year and new approach to trust deficits
The NHS England chief executive has told HSJ that negotiations are ongoing ahead of the chancellor's announcement on 25 November, but cautioned that "considerably more progress is needed".
In particular he indicated that, under current plans, the NHS's requirement for enhanced funding in the forthcoming two financial years was not yet met. He has requested that the £8bn real terms spending growth this Parliament, which the government has already committed to, be "frontloaded".
He told HSJ: "As of today, considerably more progress is going to be needed before we can say we have a genuinely workable NHS funding solution for 2016-17 and 2017-18, but spending reviews usually come down to the wire, so hopefully we'll get there by 25 November."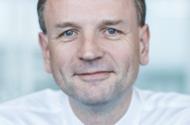 Last month, Mr Stevens set out five tests which he said the spending review must back to meet the requirements of his Five Year Forward View plan, including "front-loaded investment".
Other tests included protection for social care funding and action in relation to public health.
After taking part in the 2015 HSJ Summit event on Friday, Mr Stevens said: "I cannot confidently tell you today that we yet have a clear line of sight to those five tests being met [by the spending review]."
He added: "The Organisation for Economic Co-operation and Development has just reminded everyone that we're already incredibly lean in our country's health funding, overall, and on a per person basis.
"So the government's funding commitment to 2020 was both highly welcome and absolutely necessary.
"But for the NHS, next year and the year after are where the rubber will really hit the road. The Forward View maths was explicit that the health service needed frontloaded investment in 2016-17 and 2017-18 - to manage current pressures, kick-start service redesign, and unleash major savings later in the parliament.
"We were also crystal clear that any further cuts in public health and social care would impose extra costs on the NHS over and above the minimum funding requirement."
The spending review 2015 will cover a four-year period, and the Treasury has stated its intention to "eliminate Britain's deficit by 2019-20".
The other "tests" set out by Mr Stevens in October were that new demands on the NHS – such as seven day services – were timed in line with funding growth; and that there was political support for controversial service changes.
Tariff and deficits
In relation to the national tariff payment system for 2016-17, Mr Stevens indicated he supported moves to set a lower efficiency requirement on providers than in recent years.
He told HSJ he would "prefer a realistic and deliverable tariff efficiency number, one that starts with a 2 not a 3 [per cent]".
Over the past five years, the tariff has been cut by around 4 per cent a year in real terms, in an attempt to drive huge efficiencies out of NHS providers.
The NHS England chief executive also revealed a new approach to NHS provider deficits, which are projected to grow to a net total of around £2bn at the end of 2015-16.
Mr Stevens said regulators would expect them to "fall substantially" next year, as long as there was a "realistic funding settlement" and good progress on reducing agency staff spending, along with savings made through Lord Carter's review of NHS productivity.
However, he said NHS England and NHS Improvement would "not necessarily" expect deficits to be "eliminated altogether". Instead, the organisations are considering agreeing joint "financial sustainability and service transformation plans" with providers and commissioners in each health economy. It is thought these plans could set milestones for deficit reductions, as well as performance and quality improvement, over the coming four or five years.
Exclusive: Stevens issues warning over government's NHS funding deal
1

Currently reading

Exclusive: Stevens issues warning over government's NHS funding deal

2