DHSC gave green light to capital project after Twitter appeal from trust's chair
Two London politicians waiting for formal responses from department
Comes ahead of Parliament being dissolved on Wednesday
Two former ministers and one of the Conservative party's most influential MPs have pressed the government for clarity on funding ahead of the upcoming dissolution of Parliament.
From Wednesday, Parliament will be dissolved and pre-election rules will prevent the government from making announcements that could be seen to influence the vote.
University Hospitals Birmingham Foundation Trust was given the green light to move forward with a major capital project after its chair, and former Labour home secretary, Jacqui Smith, appealed to Matt Hancock on Twitter.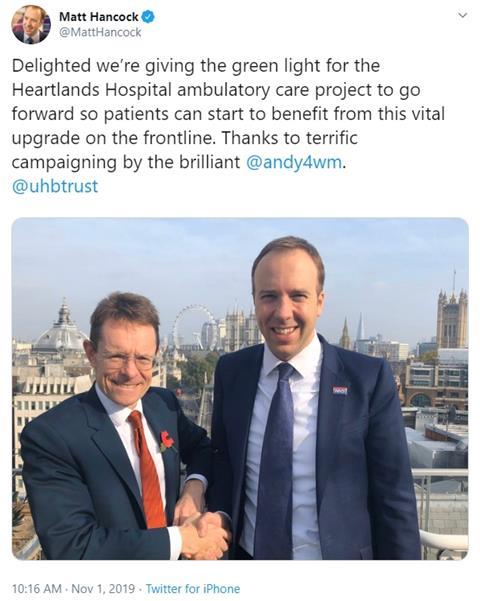 The trust has confirmed to HSJ it had been given the go-ahead for its plans for a £97.1m ambulatory care and diagnostics centre on Thursday.
On Twitter, Ms Smith claimed the Department of Health and Social Care had instructed the trust not to sign a contract for Heartlands Hospital project, which was announced in August. Ms Smith pressed the health and social care secretary to "sort [it] before you hit [the] campaign trail".
Posing with Conservative West Midlands mayor Andy Street, who is up for re-election, Mr Hancock announced on Twitter two days later his department had okayed the project to move forward. He told HSJ: "I'm delighted to give the green light for the Heartlands Hospital project to go forwards to the final approval stage, allowing this vital upgrade to progress so patients can start to benefit from this investment on the frontline."
A trust spokeswoman told HSJ: "This is an exciting step forward for the services we are able to provide to the people of Birmingham and Solihull. It is the result of three years of hard work and careful planning."
She said the centre will provide state-of-the-art facilities and services including day case surgery, endoscopy, interventional radiology, outpatient appointments and imaging.
In Nottinghamshire, Broxtowe MP, leader of the Independent Group for Change and former Tory health minister Anna Soubry asked Matt Hancock on Twitter to clarify proposed "seed funding" for Nottingham University Hospitals Trust. The trust is one of 21 set to receive a slice of £100m of seed funding announced in September.
She suggested Mr Hancock had overstated the extent of proposals to upgrade Queen's Medical Centre in Nottingham.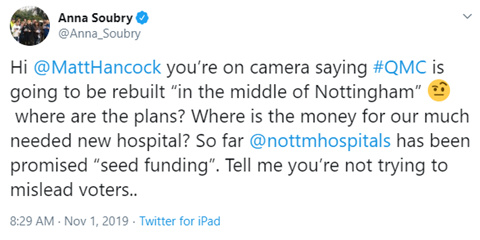 Neither Soubry's office nor the trust have responded to HSJ's request for comment.
As of midday Monday, two London politicians are also waiting on responses to their requests for clarity on funding.
Harrow East MP Bob Blackman pressed the prime minister on Wednesday over funding for a redevelopment of the Royal National Orthopaedic Hospital Trust in Stanmore. The first phase of the project — a new building housing a children and young people's ward, two adult acute wards and a private ward — opened last December.
During last week's prime minister's questions, Mr Blackman, who serves on the powerful 1922 committee, asked prime minister Boris Johnson to "sweep away" bureaucracy he said was holding up the next phase of the major project. In response, the prime minister promised the hospital was in line for required funding.
However, as of Monday, Mr Blackman's office is still waiting for concrete follow-up from the DHSC. The trust told HSJ it has not received any further communication from the government following the PM's verbal commitment.
On Friday, London Assembly member Onkar Sahota asked prime minister Boris Johnson to commit to extra funding to address a serious maintenance backlog at Hillingdon Hospital. The hospital sits in Mr Johnson's Uxbridge and South Ruislip constituency.
The unit, operated by Hillingdon Hospitals Trust, has a maintenance backlog of around £210m, according to The Guardian. It was recently allocated an emergency loan of £16.5m.
Source
Information obtained by HSJ, London Assembly Labour announcement