The entry deadline for the Patient Safety Awards closes today. Enter now for a chance to showcase your project in front of NHS leaders.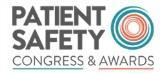 The Patient Safety Awards recognise and reward outstanding practice within the NHS and independent healthcare organisations.
Now in their seventh year, the awards have joined forces with the Patient Safety Congress.
The awards will be announced at the Patient Safety Congress in Birmingham on 6-7 July.
Patient safety is at the forefront of new policies in the health service. It is the business of every individual involved in healthcare, whether they are on the board or on the ward, making this the only event where you will be able to acknowledge your organisation's achievements with your entire team.
If you have any queries regarding your entry or not sure which category is right for you then don't worry, help is at hand. Call Flavio on 020 3033 2350 or email flavio.rispo@EMAP.com