The winners of the 2014 HSJ Awards have been revealed at a ceremony tonight in central London.
Winners included Tower Hamlets Clinical Commissioning Group for CCG of the year, South West Yorkshire Partnership Foundation Trust for compassionate patient care, and Newham CCG for innovation in mental health. Wrightington, Wigan and Leigh Foundation Trust was named provider trust of the year.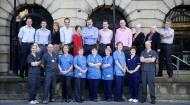 The awards are the largest celebration of healthcare excellence in the UK, highlighting the most innovative and successful people and projects in the sector.
HSJ editor Alastair McLellan said: "The 2014 HSJ Awards will be the largest celebration of healthcare excellence held in this country within living memory. The awards champion innovation and endeavour in over 150 NHS organisations, while the 22 category winners have been chosen by 84 judges working over a total of 500 hours.
"The NHS is constantly in the news – and often for the wrong reasons – but the HSJ Awards are a powerful reminder of why Britain's health services are the envy of much of the world."
Now in its 33rd year, this year's event saw a record number of entries, with over 500 different organisations entering.
The awards were created in 1981 to recognise, on a national platform, the projects and initiatives that deliver healthcare excellence and innovation. By shining a spotlight on cutting-edge innovations and best practice, the awards give impetus to improving the quality of health care in the UK.
The full list of winners is below. Find out more about them and continue the discussion on Twitter using #HSJAwards.
HSJ Awards 2014 winners
Acute Sector Innovation
NHS Greater Glasgow and Clyde and QuEST, Scottish Government
Board Leadership
Hertfordshire Partnership University Foundation Trust
Chief Executive of the Year
Samantha Jones, West Hertfordshire Hospitals Trust
Clinical Commissioning Group of the Year
Tower Hamlets Clinical Commissioning Group
Clinical Leader of the Year
Dr Fergus Jepson, Lancashire Teaching Hospitals Foundation Trust
Clinical Research Impact
Compassionate Patient Care
South West Yorkshire Partnership Foundation Trust
Enhancing Care by Sharing Data and Information
Health and Social Care in Northern Ireland
Improved Partnerships between Health and Local Government
Great Yarmouth and Waveney Clinical Commissioning Group
Improving Care with Technology
Alder Hey Children's Foundation Trust
Improving Efficiency through Technology
NHS Wales Shared Services Partnership
Improving Environmental and Social Sustainability
Wrightington, Wigan and Leigh Foundation Trust
Innovation in Mental Health
Newham Clinical Commissioning Group
Managing Long Term Conditions
Bridgewater Community Healthcare Trust
Patient Safety
Wrightington, Wigan and Leigh Foundation Trust
Primary Care and Community Service Redesign
Bristol Clinical Commissioning Group
Primary Care Innovation
Provider Trust of the Year
Wrightington, Wigan and Leigh Foundation Trust
Rising Star
Dr Anita Jayader, Great Ormond Street Hospital for Children Foundation Trust
Secondary Care Service Redesign
Heart of England Foundation Trust, Birmingham City Council and Solihull Metropolitan Borough Council
Staff Engagement
Wirral University Teaching Hospital Foundation Trust
Workforce