The winners of the HSJ Value in Healthcare Awards have been announced and celebrated at an event in London tonight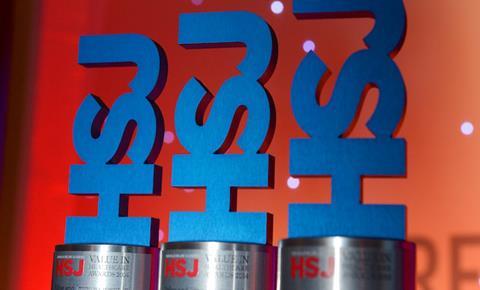 The 20 winners (listed below) and finalists of the new HSJ Value in Healthcare Awards showcase outstanding efficiency and improvement in the NHS.

A successor to the HSJ Efficiency Awards, these awards recognise excellent use of resources and seek out examples of demonstrable improvement in outcomes, both within back office functions and clinical initiatives.
Not only does UK healthcare face unprecedented financial pressures, but there has never been a greater focus on care quality, outcomes and patient experience.
The 2014 winners
Energy Efficiency
Essentia, Guy's and St Thomas' Foundation Trust
Value and Improvement in Acute Service Redesign
Chelsea and Westminster Hospital Foundation Trust and Central London Community Healthcare NHS Trust
Value and Improvement in Clinical Support Services
University Hospital Southampton Foundation Trust
Value and Improvement in Commissioning Support Services
NHS North of England Commissioning Support Unit
Value and Improvement in Communication
Health Education England and North West Thames Foundation School
Value and Improvement in Community Health Service Redesign
Northern Devon Healthcare Trust
Value and Improvement in Estates Management
Hertfordshire Partnership University Foundation Trust
Value and Improvement in Financial Services
Value and Improvement in Information Technology
Value and Improvement in Medical Technology
Health Education England and Mid Cheshire Hospitals Foundation Trust
Value and Improvement in Medicines Management
South Tyneside Foundation Trust
Value and Improvement in Pathology Services
The Royal Wolverhampton Hospitals Trust
Value and Improvement in Patient Information Management
Basildon and Thurrock University Hospitals Foundation Trust
Value and Improvement in Procurement
East of England NHS Collaborative Procurement Hub and East of England Perinatal Network
Value and Improvement in Telehealth
County Durham and Darlington Foundation Trust
Value and Improvement in the use of Diagnostics
Chelsea and Westminster Hospital Foundation Trust
Value and Improvement in Training and Development
Nottingham CityCare Partnership
Value and Improvement in Transportation and Logistics
Value and Improvement through Outsourcing
East Cheshire Trust and arvato UK
Workforce Efficiency
Northern Lincolnshire and Goole Foundation Trust
Value in Healthcare Awards 2014
1

2

Currently reading

HSJ Value in Healthcare Awards winners revealed

3