All week we will investigate the opportunities and obstacles for seven-day working in the NHS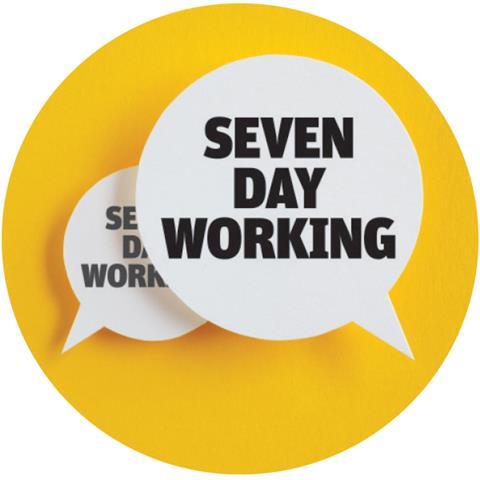 Seven day working
"End of week surgery 'has higher death risk'". "NHS must operate seven days a week in order to be 'compassionate'". "Radical reinvention of hospitals required as challenges mount". These are just some of the recent headlines about seven-day working.
This summer HSJ and our partner Clever Together ran a campaign asking readers what behaviour and process changes they felt were needed to achieve 24/7 working in the NHS. More than 1,000 thousand people took part generating more than 6,000 ideas.
This week in print and online HSJ is giving voice to those ideas by considering some of the suggestions put forward and looking at the practical measures needed to move health and social care towards a seven-day care delivery model.
What can trust leaders do to make a difference locally? What action is needed by policy makers and how do we build future capacity planning around more astute recruitment practices, training, and better utilisation of clinical skills-mix? These are just some of the topics HSJ will be covering throughout the week.
On Monday Michelle Mitchell, charity director general at Age UK, discusses how commissioners could certify initiatives put in place for 24/7 care are working properly; ensuring primary care providers work in unison with social care support teams to guarantee a vulnerable older person's care is managed at home with a clear action plan.
More than three million people in the existing health and social care workforce need to be equipped with new skills in order to meet future challenges. On Tuesday, Candace Imison of the King's Fund discusses the sheer deficit in skills and staff numbers facing health and social care in ten to 15 years, and the plan that must be put in place to address current recruitment shortfalls.
Dr Dominic Shaw, John Blakey and Gemma Housley also discuss how capturing data can improve the efficiency of out of hours care. Using new technological tools to enable tasks to be categorised as red (urgent), amber (soon) and green (non-urgent) based on predefined criteria can help determine which tasks are allocated to members of a team.
Wednesday sees the publication of the findings and analysis from our comprehensive survey into 24/7 working. The report reveals some of the wider implications that may shape future debate.
On Thursday Dr Steve Kell, chair at Bassetlaw CCG and Mike Pinkerton, chief executive at Doncaster and Bassetlaw Hospitals Foundation Trust discuss joint working in the reduction of variation between weekend and weekday mortality rates for medical admissions at Bassetlaw hospital through investment in consultants and service design.
On Friday Robert Watcher talks to HSJ's Shreshtha Trivedi on the role of the hospitalist in the US and how this could be adopted within the NHS.
HSJ's coverage will culminate in a live discussion with NHS England's national director for acute episodes of care Professor Keith Willett and a panel of experts in the field of joint-up working. The live stream will take place on Thursday 26 September from 1pm and will focus on plans to move health and social care towards seven-day working.