The shortlist has been announced for the 2014 Value in Healthcare Awards.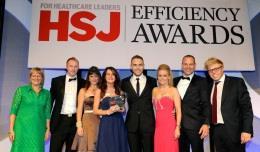 These new awards from HSJ seek to recognise and reward outstanding efficiency and improvement by the NHS.
A successor to the HSJ Efficiency Awards, the Value in Healthcare Awards continue to recognise excellent use of resources. But they also seek out examples of demonstrable improvement in outcomes, both within back office functions and clinical initiatives.
The winners will be announced at a ceremony at the Grosvenor House Hotel in London on 23 September. Book your place here.
The shortlisted organisations, chosen from a record number of entries, will now complete presentations and interviews to a specific judging panel made up senior and influential figures from the health sector. These include:
Charles Alessi, Chairman, National Association of Primary Care
Professor Jonathan Kay, Clinical Informatics Director, NHS England
Val Moore, Implementation Programme Director, NICE
Michael Macdonnell, Head of Strategy, NHS England
The shortlist
Value and Improvement in Acute Service Redesign
Birmingham Women's Foundation Trust
Chelsea and Westminster Hospital Foundation Trust
Heart of England Foundation Trust
NAViGO Health & Social Care
The North West London Hospitals Trust
Tower Hamlets Clinical Commissioning Group
United Lincolnshire Hospitals Trust
Worcestershire Health and Care Trust
Wrightington, Wigan and Leigh Foundation Trust
Value and Improvement in Patient Information Management
Basildon and Thurrock University Hospitals Foundation Trust
Bristol Community Health
Buckinghamshire Healthcare Trust
Connecting Care Partnership
East Lancashire Hospitals Trust and Hospedia
Mersey Care Trust
Portsmouth Hospitals Trust and Newton Europe
The Royal Wolverhampton Trust and Newton Europe
Value and Improvement in Clinical Support Services
Dementia Services Development Centre, University of Stirling
Ealing Hospital Trust
Guy's & St Thomas' Foundation Trust
Pathfinder Healthcare Developments
The Newcastle upon Tyne Hospitals Foundation Trust
University Hospital Southampton Foundation Trust
Wrightington, Wigan and Leigh Foundation Trust, Bereavement initiative
Wrightington, Wigan and Leigh Foundation Trust, Service transformation
Value and Improvement in Commissioning Support Services
Airedale, Wharfedale and Craven Clinical Commissioning Group, Bradford City Clinical Commissioning Group, Bradford Districts Clinical Commissioning Group and West and South Yorkshire and Bassetlaw Commissioning Support Unit
Arden Commissioning Support
Central and North West London Foundation Trust
Dorset Clinical Commissioning Group
North and East London Commissioning Support Unit
North of England Commissioning Support Unit
North West London Commissioning Support Unit
South West Commissioning Support
Value and Improvement in Communication
Dorset Clinical Commissioning Group and Public Health Dorset
Health and Social Services Department, States of Jersey
Health Education England and North West Thames Foundation School
Lincolnshire Partnership Foundation Trust
Northern, Eastern and Western Devon Clinical Commissioning Group
Plymouth Hospitals Trust
Southport and Ormskirk Hospital Trust
University Hospitals Coventry and Warwickshire Trust
Value and Improvement in Community Health Service Redesign
Barking and Dagenham, Havering and Redbridge Clinical Commissioning Groups & North East London Foundation Trust
Bromley Healthcare
Core Care Links
Edinburgh Community Health Partnership
Imperial College Healthcare Trust, Central London, Hammersmith and Fulham & West London Clinical Commissioning Group, North West London Commissioning Support Unit & Health Education North West London
Leicestershire Partnership Trust
Northern Devon Healthcare Trust
Nottingham CityCare Partnership & East Midlands Ambulance Service Trust
Value and Improvement in the use of Diagnostics
Chelsea and Westminster Hospital Foundation Trust
Greater Manchester Clinical Assessment and Treatment Service, Care UK
Health and Social Services Department, States of Jersey
Salford Royal Foundation Trust
University Hospital of North Staffordshire Trust
University Hospitals of Leicester Trust
Windsor, Ascot and Maidenhead Clinical Commissioning Group & Berkshire Healthcare Foundation Trust
Energy Efficiency
Central Manchester University Hospitals Foundation Trust
Cornwall Partnership Foundation Trust
Essentia, Guy's and St Thomas' Foundation Trust
NHS Grampian
The Princess Alexandra Hospital Trust
Value and Improvement in Estates Management
Dementia Services Development Centre, University of Stirling
Hertfordshire Partnership University Foundation Trust
Mid Essex Hospital Services Trust
NHS Grampian
Value and Improvement in Financial Services
King's Health Partners
North East Lincolnshire Clinical Commissioning Group
Northern Devon Healthcare Trust
Value and Improvement in Information Technology
Aintree University Hospital Foundation Trust
Coventry and Warwickshire Partnership Trust
Derby Hospitals Foundation Trust
Emersons Green Treatment Centre, Care UK
Macmillan Cancer Support
St Helens and Knowsley Health Informatics Service
The Hillingdon Hospitals Foundation Trust and Newton Europe
Wrightington, Wigan and Leigh Foundation Trust
Value and Improvement in Medical Technology
AYOGO, Diabetes UK, Oxford Academic Health Science Network & Sanofi Diabetes
Bolton Foundation Trust
Guy's & St Thomas' Foundation Trust
Health Education England and Mid Cheshire Hospitals Foundation Trust
Paul Watson, Independent Practitioner
Value and Improvement in Medicines Management
Aintree University Hospital Foundation Trust
Coventry and Rugby Clinical Commissioning Group
Leeds West Clinical Commissioning Group
Northumbria Healthcare Foundation Trust
Nottingham University Hospitals Trust
Royal Cornwall Hospitals Trust
South Tyneside Foundation Trust
Western Health and Social Care Trust
Value and Improvement in Telehealth
County Durham and Darlington Foundation Trust
Derby Hospitals Foundation Trust
Liverpool Community Health Trust
Nottinghamshire Health and Social Care Community hosted by Mansfield and Ashfield Clinical Commissioning Group
South Staffordshire and Shropshire Healthcare Foundation Trust
South Tyneside Foundation Trust
University Hospital Southampton Foundation Trust
Value and Improvement through Outsourcing
Arden Commissioning Support
East Cheshire Trust and arvato UK
London Procurement Partnership
North Bristol Trust
University Hospital of North Staffordshire Trust
Value and Improvement in Pathology Services
Bolton Foundation Trust
Kent and Medway Commissioning Support Unit
NHS England
Northern, Eastern and Western Devon Clinical Commissioning Group
Sandwell and West Birmingham Hospitals Trust
The Royal Wolverhampton Trust
University Hospital Southampton Foundation Trust
Value and Improvement in Procurement
Burton Hospitals Foundation Trust
Cambridge University Hospitals Foundation Trust
Central Eastern Commissioning Support Unit
Countess of Chester Hospital Foundation Trust
East of England Collaborative Procurement Hub and East of England Perinatal Network
Mid Essex Hospital Services Trust
North East Lincolnshire Clinical Commissioning Group
St George's Healthcare Trust
Value and Improvement in Training and Development
East of England Ambulance Service Trust
Health Education England and Mid Cheshire Hospitals Foundation Trust
Health Education England and University Hospital of South Manchester Foundation Trust
Health Education England in partnership with Royal Berkshire Foundation Trust
Nottingham CityCare Partnership
Plymouth Hospitals Trust
The Royal Wolverhampton Trust
University Hospital Southampton Foundation Trust
University Hospitals Coventry and Warwickshire Trust
Value and Improvement in Transportation and Logistics
Birmingham and Solihull Mental Health Foundation Trust
Cambridge University Hospitals Foundation Trust
Coperforma
ERS Medical
The Rotherham Foundation Trust
Workforce Efficiency
Countess of Chester Hospital Foundation Trust
Health Education England and East Kent Hospitals University Foundation Trust
King's College Hospital Foundation Trust
Northern Lincolnshire and Goole Foundation Trust
Nottingham CityCare Partnership
Partnerships in Care
South Staffordshire and Shropshire Healthcare Foundation Trust
University Hospitals of Leicester Trust
Worcestershire Acute Hospitals Trust