Two pairs of tickets to be claimed

Battle of Ideas
We have two pairs of tickets to give away to the Battle of Ideas festival in London on 19-20 October.
The annual festival, organised by the Institute of Ideas, is "committed to open and robust discussions about key ideas of our time". Participants are invited to argue about the core issues of the day in open-minded, open-ended debates.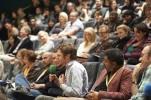 Topics for discussion at this year's Battle of Ideas, taking place at the Barbican in London, include "Cops in crisis", "Great leaders: born or made?", and "Technology and sustainability: kill or cure".
HSJ is supporting two of the discussions: "Institutions on life support", about the breakdown of trust in our public bodies; and "From Shipman to Mid Staffs: does doctor still know best?". Speakers include Clare Gerada, Hamish Meldrum and HSJ editor Alastair McLellan.
To win one of two pairs of weekend, simply tell us in the comments below what you think should be debated at the festival. We'll pick the the best, wittiest or most though-provoking ideas. Don't post anonymously though or we won't know who you are.
To leave comments you need sign in to hsj.co.uk. If you haven't registered for free already you can do so here.
Entries close on 16 October.