Healthcare scientists play a vital role in meeting the NHS's quality, safety and efficiency priorities, yet their contribution is not always recognised. The Chief Scientific Officer Awards are a way of righting that wrong. An annual celebration of healthcare science, this year's awards were presented on 29 February in London and proudly supported by HSJ. We are equally proud to share profiles of the exceptional winners
Rising Star: Life sciences
Lisa Ayers, immunologist, Oxford University Hospitals Foundation Trust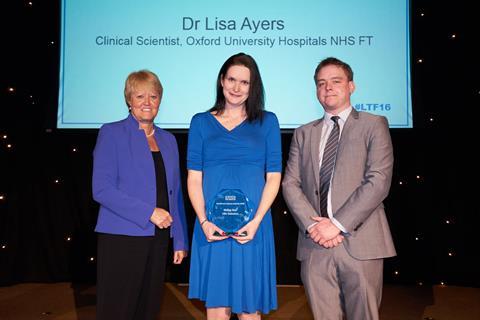 "I believe Lisa is a superb example of just what an enthusiastic, hard working, committed, caring and bright young scientist can achieve for science and for patient welfare by working in the NHS." So said one of those nominating Lisa, who has been a clinical scientist for the past 10 years.
In her work at the trust, she led the initiation, ethical approval and coordination of EVAREST, a multi-centre study for cardiovascular medicine. The project is actively recruiting from six hospitals in the UK with further expansion planned, and is helping to drive strong collaboration between scientists, clinicians and researchers across multiple organisations.
Lisa was one of the first NHS scientists to be awarded a fellowship from the National Institute for Health Research, enabling her to complete her PhD studies while continuing to work as a clinical scientist. She is now supporting the next generation of students, as an associate lecturer at Oxford Brookes University and a tutor to medical students at the University of Oxford. She supervises under- and postgraduate students at both institutions.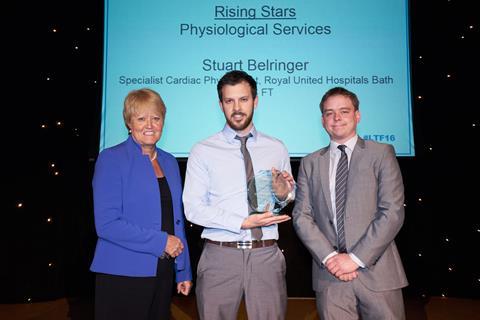 Rising Star: Physiological
Stuart Belringer, specialist cardiac physiologist and final year trainee in the NHS Scientist Training Programme, Royal United Hospitals Bath Foundation Trust
Having qualified as a cardiac physiologist – a period in which his skills are said to have "benefited patients, supported teams and promoted good scientific practices with constructive use of NHS equipment and time alike" – Stuart independently asked to join The NHS Scientist Training Programme.
His naturally intuitive nature and lateral thinking is quite unique, like none I've seen before in my 30 year career
The scheme is typically the reserve of those who have graduated in a science and want to qualify as a clinical scientist, but Stuart is using it to deepen his knowledge of his chosen field. It will conclude in a master's degree and he is focusing his studies on arrhythmia, which is said to be far from the easiest area to opt for.
"Stuart chose the route of greatest resistance to gain his Master's, by choosing the arrhythmia pathway," said one of those nominating him. "It's created almost insurmountable challenges to gather hospital interest for placements, gain opportunities and individuals to support and assess his skills. It's obvious that this process has helped to hone Stuart's natural ability to lead, autonomy for him to nurture and support his colleagues, educate, persuade, passionately teach and promote further learning."
The citation concluded: "His naturally intuitive nature and lateral thinking is quite unique, like none I've seen before in my 30-year career. Combined with his educational drive and research abilities, he's a scientist to lead cardiology into the future."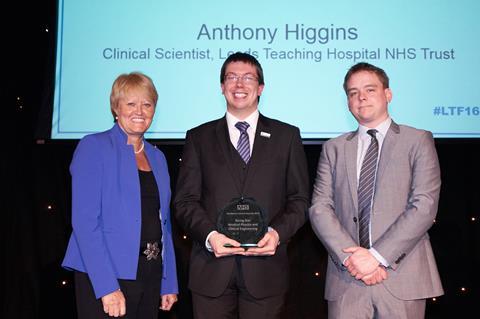 Rising Star: Physics and clinical engineering
Antony Higgins, clinical scientist – medical physics, Leeds Teaching Hospitals Trust
Antony graduated from the NHS Scientist Training Programme last year, having achieved a distinction in his Master's degree. His project has been accepted for publication in the prestigious Journal of Radiological Protection, and his presentation at the Society for Radiological Protection's 2015 annual conference earned him the UK Young Professionals Award.
'He has a long career ahead of him, during which he has the potential to be outstanding'
He is said to have consistently worked to the highest level during his studies and training. He created new trust-level documents that have since been accepted as policy by the board of directors and was instrumental in the planning, organisation and running of a live exercise at St James's University Hospital. This exercise involved the hospital, police and the fire service responding to the explosion of a radiological bomb.
Since completing the NHS Scientist Training Programme, he has taken up a position as a clinical scientist in diagnostic radiology physics. "He has a long career ahead of him, during which he has the potential to be outstanding," said one of those who nominated him for the award.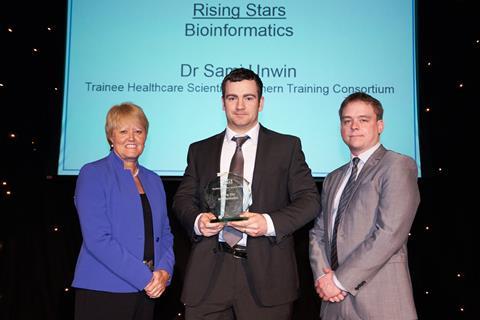 Rising Star: Bioinformatics
Samuel Unwin, trainee healthcare scientist (clinical bioinformatics), Northern Training Consortium, Freeman Hospital, Newcastle upon Tyne Hospitals Foundation Trust
Informatics has long been a part of healthcare science, but the newly established Master's in clinical bioinformatics formally establishes the field. As one of the course's first students, Samuel is a pioneer, helping this nascent field become established as an important branch of healthcare science.
He has achieved consistently high marks in the academic element of his course, but also completed valuable projects as part of his workforce training. This included an audit of the new NHS algorithm for acute kidney injury diagnosis. AKI is a known cause of avoidable deaths and, by running a project that involved linking electronic admission records with biochemistry results for 12,000 patients, Mr Unwin has made a contribution to the validation of the diagnosis algorithm.
Last year, he won first prize in the Health Education North East Scientific Paper Presentation Competition for his work, Health informatics for supporting and developing clinical services, and has been an ambassador for clinical bioinformatics at the last two HENE healthcare science open days.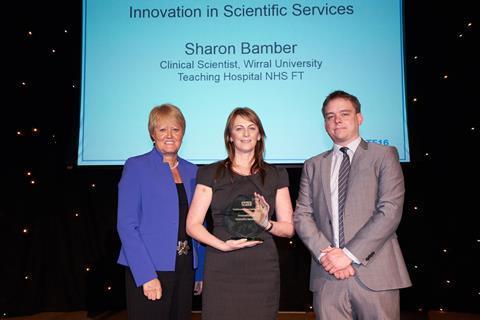 Innovation in scientific services
Sharon Bamber, clinical scientist and manager of the Outpatient Parenteral Antimicrobial Therapy service, Wirral University Teaching Hospital Foundation Trust
Patients with serious or difficult to treat infection – of which there are growing numbers – generally require intravenous antibiotic treatment, and this is typically delivered in hospital. The Outpatient Parenteral Antimicrobial Therapy service, led by Sharon, makes it possible for such treatment to be given in the patient's own home.
This avoids the need for a hospital visit, and also makes it possible for patients to be discharged more speedily.
Developed using better care fund money, the scheme is a partnership between the acute trust, the community trust and the clinical commissioning group. Since its establishment last year, 449 people have benefited from OPAT, saving 3,226 treatment bed days.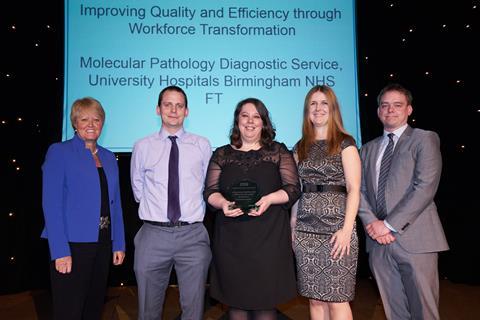 Improving quality and efficiency through workforce transformation
Molecular Pathology Diagnostic Service, University Hospitals Birmingham Foundation Trust
The transformative potential of genomics and personalised medicine has been emphasised by many. At Queen Elizabeth Hospital in Birmingham, the Molecular Pathology Diagnostic Service is helping to deliver on that promise.
The team brings together expertise in both genetics and histopathology, enabling the development and validation of a full range of molecular tests. These tests make it possible to classify cancers based on their genomic profile, and in turn, to deliver personalised treatment for a patient and their disease.
More than 65 NHS trusts now refer tumour samples to the team, with more than 15,000 tests performed last year alone.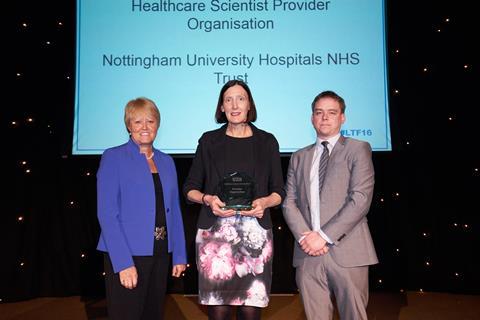 Healthcare scientist – provider organisation
Nottingham University Hospitals Trust
Nottingham University Hospitals Trust was recognised for consistent, high level support of healthcare science across all its specialties.
Senior leaders at the trust – including those on the board – are said to have a keen understanding and full appreciation of the contribution healthcare scientists can make to the quality and efficiency of patient care. Such backing has been crucial to the success of the Centre for Healthcare Equipment and Technology Adoption, which is hosted by the clinical engineering service. The unit helps to bring innovations into practice more speedily.
A chief scientist post has recently been established and healthcare scientists are active members of a number of trust committees, meaning they influence the strategic direction of the organisation.
Meet the next generation of healthcare scientists
1

Currently reading

Meet the next generation of healthcare scientists

2

3

4