STRUCTURE: Oxfordshire Clinical Commissioning Group and the county council have asked the government for powers to jointly commission all the area's specialised services, primary care, social care and public health services in a bid to recreate the commissioning system that existed before the Health Act 2012.
If accepted, the proposals would put the CCG and council in charge of a £1.3bn budget through a new combined governance structure.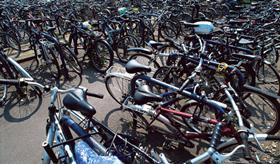 The CCG and council already have a £330m pooled budget, controlled by the local health and wellbeing board.
Under the plans, described by the CCG as a move to return "in many respects" to the commissioning system in place before the "Lansley reforms", the group and local authority would remain responsible for their own financial positions.
The CCG said: "Whilst taking an overview of all the available funding the CCG and county council would remain responsible for their own financial position with a ring fence around the aligned budgets."
The organisation wants ultimately to integrate its allocation, currently worth approximately £700m, with the county council's £270m social care and public health budgets.
Oxfordshire CCG's director of governance Catherine Mountford told HSJ the proposals would involve a "phased" integration, bringing CCG staff together with council commissioners under one management structure.
It is unclear which organisation would be in ultimate control of the management structure.
A CCG spokeswoman said: "In phase one we will maximise what we can do under [existing legislation] but this does not allow us to pool all the funding so we could not [currently] have a single budget for all health and social care."
While the CCG will use its existing legal powers to pool budgets with the county council, the spokeswoman said a devolution agreement was necessary to allow the region to take full control of a single budget.
The CCG is in discussions with the government to determine which organisation would ultimately control the single pooled budget.
Ms Mountford added that there are no plans to create a new local body. Instead the new arrangement would "strengthen" the powers of the area's health and wellbeing board.
The CCG also hopes to obtain control of an additional £250m controlled by NHS England for commissioning some specialised services and non-general practice related primary care services, including optometry and pharmacy provision.
It is already preparing to take on delegated commissioning of GP services from NHS England from April.
Ms Mountford said: "Oxfordshire CCG and Oxfordshire County Council's proposal is to join up the commissioning that is currently done by the CCG, NHS England and the county council and create a single pooled budget of £1.3bn.
"This would include the planning and purchasing of GP services, hospital services, community services, mental health services, public health services and social services.
"It would be a phased integration – in the first stage it is proposed that commissioning staff will remain employed by their original organisation but they will be brought together into one management structure and work in joint teams to commission health and social care services."
Source
CCG board papers and information provided to HSJ
Source date
10 February 2016