One of the original Keogh review special measures trusts, United Lincolnshire, rated inadequate
Concerns raised about quality, safety, leadership and governance
Trust waiting for health secretary's decision on plans for A&E reconfiguration
United Lincolnshire Hospitals Trust has become the second of the original 11 trusts placed in special measures in 2013 to be put back in the programme, after being rated inadequate.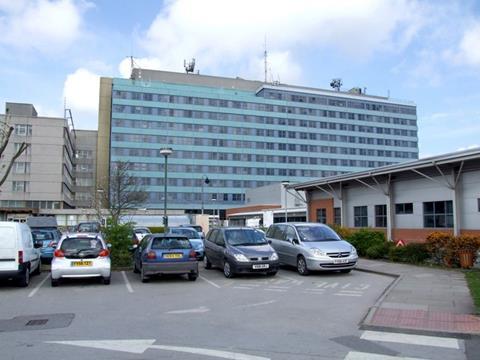 The trust's Pilgrim Hospital in Boston
The Care Quality Commission rated the trust good on how caring staff were at the trust but inspectors found "significant concerns in medical care and outpatients at Pilgrim Hospital".
It also raised significant concerns about the "safety of patient care, leadership and managerial oversight" across the trust, which runs three hospitals.
Governance and risk management arrangements are not robust enough.
Accident and emergency staff at Lincoln County Hospital have not had appropriate supervision and training.
Effective systems and processes to identify and treat patients at risk of sepsis are lacking.
The trust must improve incident reporting protocols.
Pilgrim Hospital did not have appropriate processes to escalate patients with deteriorating conditions.
The trust must take action to ensure they are compliant with the fit and proper person requirement.
The trust was one of 11 placed into special measures by Sir Bruce Keogh in July 2013 after his review of high mortality rates. It exited special measures in February 2015, but its performance has since "deteriorated across a number of services", the CQC said.
Another the 11, nearby Northern Lincolnshire and Goole Hospitals Foundation Trust, was also placed back in special measures last week.
NHS Improvement confirmed United Lincolnshire has been placed in special measures again.
Chief inspector of hospitals Professor Sir Mike Richards said: "Having seen improvements to patient care previously, we are disappointed that our latest inspection of [the trust] found these improvements had not been sustained and there had been an overall deterioration in quality and patient safety."
He added: "We raised a number of issues with the trust that needed urgent attention at the time of the inspection. We were impressed with the response by the chief nurse who sought opportunities to learn from other trusts to improve patient care."
The CQC carried out inspections in October and an unannounced inspection on 19 December at Pilgrim Hospital's emergency department "following information of concern highlighted to the commission".
The trust shut the Grantham Hospital's emergency department, its smallest A&E, at night in August under what it said were "temporary" measures initially intended to last three months.
The A&E remains closed at night, and the trust's chief executive told HSJ in November it intended to reintroduce 24/7 urgent care at the site, but suggested its emergency unit could be reduced to an "urgent care centre-plus".
The trust is awaiting a decision from Jeremy Hunt on whether or not the independent reconfiguration panel will investigate the proposals. A decision is expected after purdah for local elections ends in May.
The IPR is the Department of Health committee that reviews changes to NHS services that are being contested. It is chaired by Lord Ribeiro.
The trust said it was "disappointed [with the rating] with but accepts the findings of the CQC report".
Chief executive Jan Sobieraj said: "The safety and quality of patient care is our number one priority. We're disappointed with some of the findings in the report but we are taking them very seriously. We are sorry to our patients as we know this isn't good enough.
"The trust has already improved on many of the areas of concern that have been raised by the CQC, and we have started to see significant improvements since the inspection last October. Immediate action was taken and many issues raised by the CQC have since been resolved. Further actions are planned to ensure improvements are sustained.
"Following the CQC inspection, many of our services were inspected by the General Medical Council in November. They found a positive patient safety culture at the trust, with learners and educators being encouraged to raise concerns and be open and honest with patients when things go wrong."