Wanted: a published piece of writing with the potential to transform healthcare in the UK over the next three years. The £20,000 Circle Prize for Inspiring Innovation offers the most valuable reward for cutting-edge thought leadership in health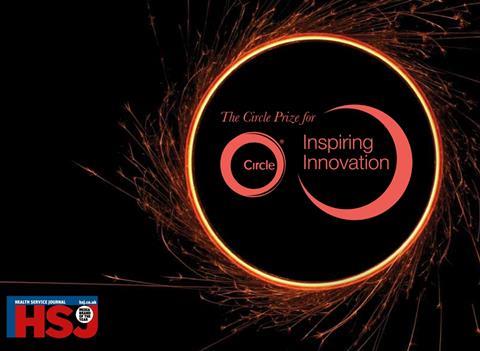 Wanted: an idea or ideas that could transform healthcare within the UK over the next three years. The Circle Prize for Inspiring Innovation offers the most valuable reward for cutting-edge thought leadership in health
HSJ is teaming up with Circle to offer a £20,000 prize for the very best and most promising writing on healthcare.
The prize is open to individuals and groups from anywhere in the world and working in any sector
The Circle Prize for Inspiring Innovation will be awarded to the person or group of people responsible for the piece of writing judged to have the greatest potential to drive change within the UK health system over the next three years.
The prize, which was officially launched at the Conservative Party Conference in Birmingham on Monday, is open to both individuals and groups of individuals from anywhere in the world and working in any sector. The important factor is that the idea is applicable to the UK health system and has the potential to transform it.
The winner will be announced early next year and be decided by a panel of eminent figures within the health sector. Overall, the judges will be looking for the piece of work with the greatest potential to improve patient safety, patient experience, efficiency or cost-effectiveness. They will also consider the ease and speed at which the idea can be implemented.
Each has also outlined their personal thoughts on what they think constitutes a winning idea below.
Entrants may nominate themselves or can be nominated by another party.
The idea must have been published (in a book, journal, magazine, newspaper etc) or reported at a lecture or other open meeting during the last two years.
The circle prize judges
Bill Moyes, former executive chair, Monitor
"Over the next decade, the UK's healthcare system will have potentially conflicting objectives: improving quality of service and clinical outcomes; [providing] information on performance to underpin patient choice and secure better quality; and [increasing] real productivity from progressive reductions in the costs of care and treatment.
This will require innovations in commissioning and delivery of healthcare that go well beyond incremental improvements. It will also require faster and more widespread diffusion of new ideas and practices… I'll be looking for proposals that address these big issues. But I will also want to be convinced by hard evidence that they will have a big impact and be adopted across the system. Good ideas aren't enough. There needs to be a persuasive strategy to turn them into effective action."
Stephen Dorrell MP, chair, health select committee and former health secretary
"When most people think about healthcare, their thought processes begin from one of two starting points:
l Modern techniques allow us to treat, and often cure, conditions that were, until very recently, irreversibly life limiting
l Access to those modern techniques should be available to all those who can benefit from them, on the basis of their clinical need and without regard to their ability to pay.
The challenge for aspiring thought leaders is to find ways of improving our ability to realise the potential of these two ideas - recognising their ability to promote human progress, but at the same time reconciling two of the most powerful human emotions, love and fear, with the constraints of the practical world."
Mike Farrar, chief executive, NHS North West
"I can't imagine a more opportune time to be seeking to identify and recognise great thought leadership than the present. The current context of significant reform against a backdrop of unprecedented financial challenge requires leadership in the NHS that is intelligent, radical and inspirational.
I am thrilled therefore to be invited to judge this award and to identify those individuals who can think beyond the norm to ensure that the NHS responds to all of these challenges in a positive and creative way.
For many years we have underestimated the power of thought and over-valued the skills of doing. Both of course are vital, but knowing how, when and what to do relies critically on the strategy and direction set by thinking clearly and intelligently first. "
Mark Britnell, global head of health, KPMG
"As global head of health, I have the privilege of looking at many international health systems and there is no doubt that reform in the UK is seen by many as a serious and coherent attempt to transform the NHS. It is watched with great interest and our capacity to refresh our policy and practice is a fundamental prerequisite for transformation.
Often, people associate thought leadership with great works of policy, but this is not always the case. Leading practitioners often achieve great service gains through bold, disruptive capability. Equally, disruptive policies which promote innovation are often drawn from different professional sectors.
What unites theory and practice is a mindset which is inquisitive, open and restless. I'm looking forward to see what the best has to offer."
Alan Milburn, government adviser on social mobility and former health secretary
"Healthcare systems worldwide are being rethought and reformed. In the past decade the NHS has become a global reform leader in reshaping both policy and practice.
In the next decade the NHS can cement its position as a worldwide centre of excellence. That relies, of course, on individuals and organisations who demonstrate leadership and innovation. The NHS is blessed with both. The Circle Prize for Inspiring Innovation will not only unearth the best, it will showcase how their efforts are bringing about improvements in patient care.
As a judge I will be looking in particular for ideas and initiatives that prove that the new holy grail of modern healthcare - better outcomes for lower costs - is achievable and sustainable."
Ali Parsa, managing partner, Circle
"When I arrived in the UK as a penniless immigrant, I was so grateful for the support of the welfare system, and the NHS in particular, that helped me to stand on my own two feet. However, in recent years, the NHS has become unsustainable as cost increases have outstripped quality gains. We need new and inspiring thinking to revitalise the NHS that we all value so much.
That's why Circle are partnering with HSJ to seek innovation that transforms the quality and value equation for patients. Our hope is that the Circle Prize will help nurture and celebrate inspiring innovation that brings systemic change to UK healthcare. The country that pioneered the first blood transfusion, antibiotic and universal health service should still be a place where it is irresistible for the best talents to offer the boldest solutions."
Dame Carol Black, national director of health and work
"The challenges to thought leadership in healthcare policy development and planning are to a degree harder than those put to other kinds of organised enterprises. This arises chiefly because of the deeply embedded ethos and expectations both of those charged with delivering healthcare and of those it is designed to serve. Innovative ideas, however strongly felt, must ring with and capture the interest of diverse constituents.
How do we enliven and reshape accepted processes and melt [resistance to] change? Thought leadership without action and results doesn't amount to much. In [judging] the greatest contribution from the candidates I shall have a close eye not to the kind of revelatory scientific advance that captures almost instant recognition and adoption, but rather the courageous example of innovation that calls for sustained and determined effort that leads to success in implementation and realisation of the benefits promised."