Alison Moore talks to Claire Fulller, HSJ's clinical leader of the year, about the impact the award has had on her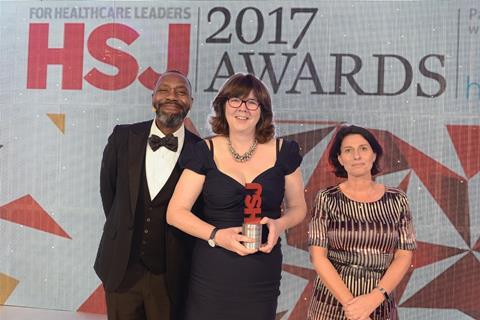 Winning a major HSJ award can be great for an individual but also raises the profile of their organisation – as Claire Fuller, last year's winner of the clinical leader of the year award, found out.
"It is lovely to win and to be nominated but I had not realised at the time what impact it would have. I had emails from people I had not seen for years which was great," says Dr Fuller, who was then the clinical chair of Surrey Downs Clinical Commissioning Group but is now the senior responsible officer for the Surrey Heartlands Health and Care Partnership, the Sustainability and Transformation Partnership covering around 850,000 in Surrey.
"In terms of profile raising for me and for the Surrey Heartlands it has been extraordinary. I'm now regularly asked to speak at national events. The individual bit is nice but does not really matter very much but it is an opportunity to talk about the really good work we have going on and share that."
It has certainly been a busy year for both Dr Fuller and the Surrey Heartlands project. In June last year, the Surrey Heartlands devolution deal – covering the same footprint as the STP – was announced with plans for more devolved commissioning of health services previously done by NHS England and greater integration of health and social care in the area. It is also a first wave integrated care system, although it is waiting for the go ahead to go live.
While the details of devolved commissioning are still being thrashed out, Surrey Heartlands has been leading the way in citizen engagement, thinking about the wider determinants of health and the impact of the first 1,000 days of life, and also developing a clinical academy to support the spread of best practice and reduce unwarranted variation. "It's been full on – a really exciting year," says Dr Fuller.
She still does a day a week in general practice – something she obviously feels keeps her rooted. "It still works in terms of seeing how well services work when you need to access them and to really understand what is important to patients," she says.
So what would she say to those mulling over whether to enter the awards – whether from primary care or secondary care? "I would say if you have a really good story to tell and you want to be able to tell that story to more people, it is an incredible opportunity," she says.
Judges' comments
The judges said Dr Fuller's clear vision and charisma shone through and praised the "intelligent building of clinical capability" within the CCG and the emphasis on sustainable spread to other areas. They said she saw the bigger picture and policy drivers, had a very clear visions of change levers and showed a good application of tried and tested models while also recognising there was a need to flex styles. She had presented clear and solid evidence on outcomes and financial benefits, and they could see how she had influenced clinical leadership without going down the path of "heroic individual effort".
The HSJ Awards 2018 are now open for entries. Click here for more information or contact Chris Edwards, Awards Director, HSJ.