Chronic conditions account for about 50 per cent of all GP appointments. Tailored care can help lift the burden on frontline services and improve patients' lives but only if their feedback is taken into account, Amy Tallett and colleagues say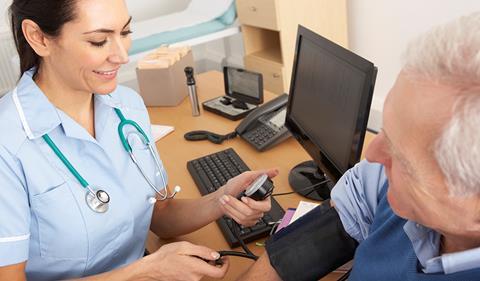 "diagnose, intervene, live with chronic condition"
There are currently more than 15 million people in the UK with chronic conditions, and they account for up to 50 per cent of general practice appointments.
This needs to be addressed if we are to both relieve the burden on GP and emergency services, and improve the quality of these patients' lives.
People with chronic conditions tend to have very specific healthcare needs and can receive a fragmented service as a result, which directly impacts the quality of their care experience.
At the various levels of health service interaction - GP, community nurse, accident and emergency and specialist clinics - patients can receive conflicting advice and variable standards of care.
Patient perceptions
Patients may perceive and experience care very differently from the health professionals providing it, which is sometimes due to social and cultural gaps that separate them.
Understanding patients' perceptions is important in order to minimise barriers and provide person centred care.
'Feedback relating to specific patient group preferences and views is essential'
The national survey programme regularly gathers the views of patients about the care they receive - data that is highly useful for assessing national trends.
However, it does not focus on the specific needs of people with chronic health conditions. For targeted improvement to be achieved in this area, feedback relating to specific patient group preferences and views is essential. The integrated and complex nature of their care pathway must therefore be factored into the design of any feedback tool, rather than relying on a "one size fits all" approach.
Questions should be tailored to and communicated in a way that is both appropriate and sensitive to the needs of the audience.
Making feedback effective
Patient reported experience measures (PREMs) are tools designed to measure the quality of healthcare by assessing the experiences of patients, their relatives and carers.
They move away from widely used satisfaction measures, instead asking about specific events and experiences that have occurred during a person's care and treatment.
Unless developed with and tailored specifically to the target audience, there is a chance that respondents may misinterpret the meaning of the questions, be unable to answer them and - in a worst case scenario - decline to share their feedback at all, completely undermining the purpose of patient experience research.
Therefore, the only way to create an inclusive PREM tool is to involve the target audience from the outset.
'PREMs can play a key role in informing providers' and commissioners' decisions'
Their perspectives should be continuously woven into the development process - for example, using focus groups and in-depth interviews to explore their views.
Depending on the service user's age, learning/cognitive ability and whether English is their first language, variations of text wording, response options and supporting imagery may need to be offered.
The measures can play a key role in informing providers' and commissioners' decisions about service planning and allocation of resources.
By focusing on very specific events, it is easy to identify exactly which aspects of care need improvement, rather than only assessing satisfaction.
Adult SCD patient's focus group feedback
"Percentage wise it's 50/50 whether they know about [SCD]… if they don't know too much about it, they're scared to give you adequate analgesia, you have to build the relationship up first."
Patient engagement
Conducting condition specific research engages patients and service users on a personal level, and in a way that large scale national surveys do not.
For care to ever be truly improvement oriented and person centred, it must have a patient's own thoughts and preferences at the heart of it. If they are disengaged and unwilling to share their feedback this becomes impossible.
Therefore tools need to be developed with patients, for patients.
Staff experience
Although patients and service users can report on "what could be improved/how could your care experience be better?" questions, it is clinical staff who will need to act on this feedback to initiate change and drive improvement.
Patient experience is optimised when staff work collaboratively with patients to build these solutions.
Gathering a holistic view using robustly developed PREMs gives staff the confidence to collect information on people's experiences of care, and the insight to take positive action.
Sickle cell disease
As part of a project funded by the National Institute for Health Research Collaboration for Leadership in Applied Health Research and Care Northwest London and the Picker Institute Europe, in collaboration with Imperial College London and the Sickle Cell Society, has developed a series of PREMs to examine the experiences of people with sickle cell disease.
Formerly a childhood illness due to the life limiting nature of the disease, as many as 50 per cent of patients now live into their 50s thanks to developments such as screening in newborns, increased knowledge of lifestyle factors that can reduce incidences of sickle cell crisis, and medications preventing complications.
Though the disease is relatively rare - affecting about 15,000 people in the UK - it is the UK's most prevalent genetic blood disorder.
It is characterised by episodes of intense pain, vulnerability to infection and increased risk of stroke.
'Affecting about 15,000 people, it is the UK's most prevalent genetic blood disorder'
People with the disease are often in contact with healthcare services and have specific needs, with a particular need for intensive pain relief.
The research aimed to identify the most important aspects of living with, accessing and receiving care for the disease from the viewpoints of those with the condition, including adults, children and their parents.
To achieve this, we convened three focus groups: children with sickle cell aged 8 to 11 years; parents of children; and adults aged 16 to 47 years living with the condition.
Participants were recruited through the Sickle Cell Society, and all of the participants were from an African-Caribbean ethnic group.
There were more female participants than male, particularly among the parent group, which was entirely composed of female participants (mothers).
Findings from the focus groups highlighted that one of the biggest concerns of people living with sickle cell was how little was known about the condition by many people in their lives.
From medical professionals to colleagues and friends, there was an overall feeling that the disease was little understood and viewed unsympathetically by some people.
Invisible disease
The fact that the disease is often "invisible" - no external signs of illness - and unpredictable contributed to feelings of social isolation, exclusion and "feeling different" from others, particularly among children.
Many reported that health professionals were often unaware of the needs of those patients, particularly around managing their pain.
Participants commented on the lack of understanding and sympathy they encountered both with GPs and in A&E.
'Services could be improved by fostering better understanding of the condition'
There was positive feedback from some participants who had managed to build a good relationship with a GP or consultant, but they were not always able to see this doctor at short notice or in an emergency.
Social and psychological support was highly valued but not widely available.
Children in particular felt that they would enjoy having more opportunities to meet up with and talk to other children with the condition.
This support had two main functions:
learning more about living with the disease and managing symptoms; and
sharing experiences with others in the same situation.
The findings suggested that healthcare services could be improved for people with the disease by fostering better understanding of the condition by GPs and A&E staff, as well as better facilities for accessing GPs with whom they have a good relationship, or specialist SCD services.
More consistent provision of psychological support and peer led support for people with the disease was also recommended, as was increased awareness and understanding among teachers, employers and the wider public.
PREM tools
Focus group findings were used to inform the development of a PREM that service providers can use to identify how well they are meeting the needs of people with sickle cell.
The PREMs are currently being piloted using an online and paper survey methodology, and findings will allow patient and carer perspectives to inform the delivery, design and commissioning of services for people with the condition.
'PREMs are currently being piloted using an online and paper survey methodology'
This research also informed the development of a community support worker in north west London and led to a successful NIHR research grant to study the transition from paediatrics to adult services.
These developments are just the start.
As the tool becomes more widely used during the course of 2015, the feedback gained will be able to be used to inform service and care quality improvements on a much broader scale.
Amy Tallett is associate director of health experiences, Harriet Hay is senior project manager and Helen Bohan is project manager, all at the Picker Institute Europe
More information
If you would like more information about the questionnaire, or if you can help with asking sickle cell patients to complete a survey during August, email Amy or Harriet at the Picker Institute scdsurvey@pickereurope.ac.uk