Specialist hospitals are crucial if the NHS is to overcome the challenges and take the opportunities it faces in the post-reform environment, says Rob Hurd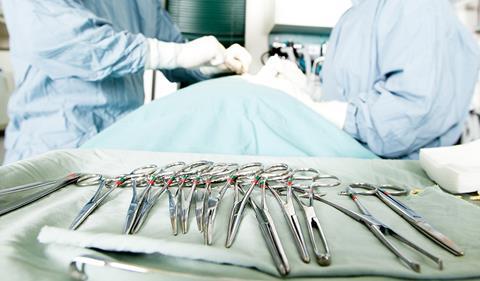 Specialist hospitals play a vital role in the delivery of excellence in healthcare
The NHS is in a period of major change: economic austerity, a changing commissioning environment and new funding models mean the job of trust leaders has never been more complex.
Specialist hospitals play a vital role in the delivery of excellence in healthcare and must support the clinical and financial viability challenges of the wider NHS.
The UK has an ageing population and an increasing burden of musculoskeletal disease. If you consider the cost implications for the country in getting people back into work and mobility issues associated with orthopaedic problems, the long term economic benefits of quality orthopaedic care across the country are clear. If you add to this burden by providing services that result in poor quality outcomes in orthopaedics, the case for specialist hospitals is even clearer.
'A timely and cost effective improvement in the standard of orthopaedic care across England – this is the role specialist hospitals should play'
At the Royal National Orthopaedic Hospital, we are carrying out a whole series of new projects, including a new £25m University College London academic centre, and a proposed site redevelopment of NHS clinical services worth £90m.
Traditional solutions for hospital sustainability have led to provision of care in multiple providers in many health economies across the country. This is beginning to change with competing provider organisations already creating partnerships to integrate care in the best interests of the patient – this should continue and specialist centres need to play a significant role in these partnerships across the country by setting best practice standards and providing evidence on how this is achieved.
Quality, innovation and research must be top priorities in a specialist hospital with overall clinical safety at number one. We are currently in partnership with the British Orthopaedic Association leading a review of England's orthopaedic surgery provision as part of the Getting It Right First Time report.
The focus is on immediate initiatives that will improve pathways of care, patient experience and outcomes, with significant cost savings. For example, initiatives to reduce revision rates and deep wound infection rates in hip and knee surgery could save billions. We believe we can help deliver a timely and cost effective improvement in the standard of orthopaedic care across England. This is the role specialist hospitals should continue to play.
Changing commissioning landscape
In April 2013, the commissioning landscape changed dramatically. Anyone in the NHS will know just as well as I do the impact of such a change on creating uncertainty in our environment through a period of turbulence and transition. In essence we had to go back to basics.
The "nuts and bolts" of the activity and the financial assumptions we had made with our commissioners had to be reviewed and agreed afresh with our new paymasters, NHS England. In this environment it was interesting to play a dual role as a specialist centre – on the one hand advising on service specifications in specialised orthopaedics and, on the other, being held to account on how these are delivered.
In truth, the changing commissioning environment set us back in our redevelopment process by 9-12 months, as we needed to refresh our approach and offer proof that we were still well equipped to be a leading specialist tertiary centre within the new NHS environment.
An uncertain environment
In the NHS we are frequently at the mercy of forces outside our control, as many will have seen recently in the case of Papworth Hospital's proposed redevelopment. The hospital, which was due to move to a new centre of medical excellence in Cambridge, may now be required to review a move of some or all of its services to support Peterborough City Hospital.
Sometimes successful hospitals can become a victim of their own success. This case shows that plans can and do change late in the day and in an instant, which is a lesson for all of us.
'All chief executives will be living the daily challenge of managing multiple partners within a complex framework'
The arguments for a new approach to private finance initiatives are well rehearsed elsewhere but it is clearly an advantage in the current environment to minimise underlying debt through land sales and minimising risk and retaining long term flexibility through phasing redevelopment and spreading the portfolio of funding sources.
A one-off, single funding solution to resolve our infrastructure issues would have created a complex deal structure – difficult or impossible to deliver in an environment where there is understandably limited appetite for risk and a need for flexibility.
Daily challenge
We have had to generate a portfolio of capital funding sources. We have had to become much more outward focused to help ourselves, and the NHS more widely, understand our contribution as a national specialist centre.
We support clinical innovation through an internal fund as encouragement and reward for clinical engagement. This is supported by "listening events" and investment in research and development in partnership with our academic partner UCL. Clinical leadership starts at the top with a clinical trust chair and filters through the clinical triumvirate (medical director, director of nursing and chief operating officer) running the hospital day to day, through to clinical leads in every unit.
Evidence is everything in this environment; evidence to convince partners, stakeholders, external decision makers, staff and, of course, patients and their families that your plans are clinically and financially sustainable, and overcome barriers that prevent changes that make sense for patients.
All chief executives will be living the daily challenge of managing multiple partners within a complex framework and ultimately having to make an evidence based case for change that is not always easy to deliver politically.
The future
Solutions lie in our own hands as much as others and that we cannot and must not add to the financial burden of the NHS as a whole.
Specialised centres are here to offer clinical services, training, innovation and research that cannot be provided everywhere. They can also use their role to provide solutions and support to the clinical and financial challenges faced by the NHS and therefore help the service provide high quality outcomes at lower cost.
'We will do what we have been doing for decades: provide excellent treatment and care for our patients'
Like any major building programme, this whole process is not without its challenges. While we await final approval on the next phases of our redevelopment we will do what we have been doing for decades: provide excellent treatment and care for our patients.
There is no doubt these changes will mean a lot for our patients and staff. To be truly successful, specialist hospitals need to retain independence and ensure they are financially and clinically sustainable. They need to be able to stand on their own two feet in an ever changing NHS environment. This has been our vision, which I am delighted to say is becoming a reality.
Rob Hurd is chief executive at Royal National Orthopaedic Hospital Trust