With the right mindset, belief and positive action almost anything is possible when it comes to changing your career, writes Steve Preston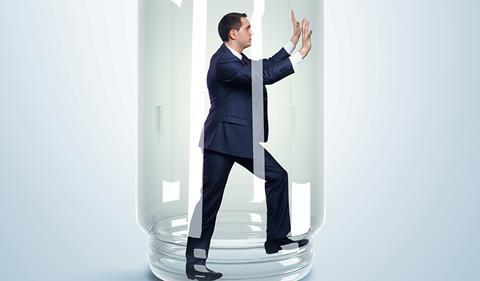 Fear and procrastination can be a barrier to career change
Are you facing reorganisation or redundancy but are fearful of making a career change? Successful career transition is not just about changing your job. It requires a mindset shift, challenging beliefs, developing new skills, tapping into your natural talents, personal values and attributes. This may sound daunting but I can guarantee that with the right mindset, belief and positive action, almost anything is possible.
What are you fearful of?
Fear of change;
fear of the unknown;
fear of rejection;
fear of failure.
'I can guarantee that with the right mindset, belief and positive action, almost anything is possible'
Whatever your fears, even worse is when procrastination takes over or your become impatient to achieve your transition without following any real game plan. Either way is a recipe for disaster.
How do you make your transition happen?
Following my own redundancy over a decade ago, and since becoming a career coach, I have analysed success factors in career transition. People want structure, a sense of purpose, focus and clarity and to rebuild depleted confidence. The result is my six-step career navigation cycle.
Be warned, shortcutting the process is likely to result in a scattergun approach and frustration. This is why you should forget your CV at this stage. Regardless of whether you are looking at changing career or doing similar work, by achieving greater self awareness you will have a greater chance of success. Your job applications will then be targeted and you can sell yourself in the best light on your CV and in any networking situations or interviews.
Career navigation cycle overview
Step 1: Let go and look forward Many people find this difficult, especially the guilt associated with your years of training, knowledge and experience you will leave behind. By reframing your thinking to see your situation as an opportunity, and taking the learning from your past experiences, you can start to see things differently.
Step 2: Re-evaluate Even if you know what you want to do, re-evaluation underpins the whole career transition process. Establishing what is important in your career and life and why is incredibly empowering and can open up a whole new world of opportunity.
Step 3: Establish your true marketability This key step is at the heart of the cycle as most people have little awareness of what they have to offer and how to sell themselves. Sound familiar? The solution is to get to know yourself, who you are and what you have to offer. This is much more than just your skills but your attributes, attitude, strengths, passions, interests, knowledge, connections and your personal brand. This is about unlocking your potential as self awareness is one of the keys to effective self marketing.
Step 4: Explore opportunities Having done the soul searching, you can now research and establish possible options and see how you can combine your true marketability with your values and needs to find the ideal work for you.
Step 5: Decide what to do There are many ways to earn a living nowadays - and not just by having a traditional job. Be bold and open to new thinking to ultimately know what you want and where to find it.
Step 6: Take positive action The future may look exciting or scary. Either way you must follow through with your career action plan to succeed! 'Success goes where your energy flows!'
'Establishing what is important in your career and life and why is incredibly empowering'
People often fall at the final hurdle or can lose motivation along the way, if working alone. Seeking professional career support will get you motivated, keep you on track and increase your chances of success and also reduce the time it takes to make your change. Here are some examples of lifelong health service professionals who did and are now thriving:
Example 1: senior manager who took voluntary redundancy two years ago Set up his own consultancy and is now successfully selling his services into the NHS and other organisations. He has also achieved an excellent work-life balance and healthier lifestyle.
Example 2: executive, victim of redundancy selection process, last year Now carving out a very successful niche as a senior operations manager, loving life and feeling valued again.
Example 3: senior executive, seconded during reorganisation, eventually taking redundancy Involved with a range of projects, using skills and knowledge gained from within the health service. Now focused on downsizing their career, developing a portfolio career of work they love and achieving their ideal working lifestyle.
Steve Preston is director at SMP Solutions