Achieving parity of esteem for mental health in a sustainable way requires a change in attitudes towards attention, value and expectations, argues Michael West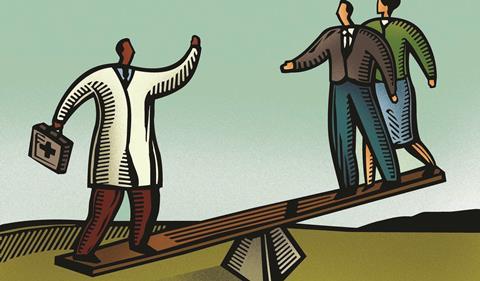 Much has been written about the need for "parity of esteem" between physical and mental health. Suggested solutions often focus on practical steps to improve mental health services.
As welcome and important as these are, they run the risk of addressing the symptoms rather than the causes of disparities.
Achieving parity in a sustainable way will only be possible if these improvements are accompanied by a change in attitudes with the effect that:
commissioners, providers and system leaders devote the same time, energy and resources to improving mental health as they do to physical health (parity of attention);
good mental health and the treatment of mental illness is valued in and of itself, as well as for the contribution that it makes to people's physical health, the economy or any other area (parity of value); and
patients, professionals and organisations have the same high standards and expectations of mental healthcare as for physical healthcare (parity of expectations).
There are encouraging signs from both national and local leaders that attitudes are changing in all of these areas. But further change is needed if we are to guard against progress slipping back once mental health is no longer in the policy spotlight.
Parity of attention
Attention has been rightly focused on the need for "parity of funding" between mental and physical health. Mental health receives less than half the level of funding that might be expected, given the relative morbidity of mental illness, so it is unsurprising that parity is still some way off.
As the Royal College of Psychiatrists and others have identified, closing this gap is an essential prerequisite of parity.
However, the need for parity of resources relates to far more than just funding. In fact, it relates to the full range of time and effort that NHS organisations - from the Department of Health and NHS England downwards - devote to mental health, relative to other areas of healthcare.
'Parity will only be possible when CCGs devote the same level of commissioning expertise to mental health services as they do for physical health'
At a local level, parity will only be possible when, for example, clinical commissioning groups devote the same level of commissioning expertise - in terms of both numbers of people, and expertise and seniority - to commissioning mental health services as they do for services for people with physical health problems.
And at national level, parity will only be achieved when mental health is routinely incorporated into important policy developments on equal terms with physical health.
It is, of course, understandable that national organisations - including, but not limited to, the government - that are eager for change would design policy innovations with acute care in mind, and think only later about how they might be adapted for mental health patients or settings.
However, as efficient as this might be from a policy development perspective, it perpetuates the notion that the acute care model is the main paradigm of NHS care, and that mental healthcare is an adjunct.
Nothing could be more damaging to the concept of parity. This was clearly demonstrated when tariff uplifts exposed this way of thinking, leading to a high profile row between ministers, NHS England and Monitor.
Data paucity
Recent developments in this area are encouraging, for example, the rollout of the friends and family test into mental health settings, and the extension of patient choice.
But there is still a long way to go. For example, many of the (non-condition-specific) measures in the NHS outcomes framework continue to exclude mental health.
There are good reasons for this - often relating to data availability - but parity will not be achieved while mental health providers and services are unable to contribute to and be held accountable for measures that are intended
to gauge the performance of the NHS as a whole.
Parity of value
The bald facts of the impact of poor mental health are now starting to take hold. But many of these stress the impact of poor mental health on other areas - be it people's physical health, employment, welfare spending or NHS finances.
Much of the discussion in relation to parity of esteem talks not about mental health, but the physical health of people with mental health problems (including diagnostic overshadowing).
While showing the devastating impact of mental illness, such arguments are in danger of creating the impression that mental illness is worthy of attention only in so far as it contributes to other issues, rather than being an issues in itself.
'There remains a moral imperative to improve mental health'
There is clearly a fine line here. With the NHS's greatest challenges being financial, emphasising the economic impact of challenges will always lend them extra weight - all the more so if they also have an impact on employment, welfare and the wider economy.
But we must also ensure that there remains a moral imperative to improve mental health - that good mental health and treating mental illness, continues to be seen as good in and of itself, and that it is as much part of the core purpose of the NHS as the promotion of physical health.
All mental health organisations have a role to play in ensuring the continued prominence of this "moral case" for mental health.
Parity of expectations
Finally, and perhaps most importantly, organisations and individuals at all levels of the system should have the same expectations of mental health services as they would for physical health services.
Mental health practitioners are sometimes accused of a poverty of ambition for their patients. Such attitudes are also evident at organisational and system level.
The government and NHS England should ensure that they are able to hold both commissioners and providers of mental health services to the same standards and with the same rigour as they apply in physical healthcare.
'Real and sustained progress will come not from individual service changes but from a continuing change in attitudes'
To that end, the development of waiting times standards for mental health treatment is welcome, not just as a prelude to improving services, but also as an indicator that expectations of data collection and performance focus are being extended to mental health on "equal terms" with acute specialities.
For the same reason, it is vital that mental health leaders continue to push forward with the development of robust outcome measures and, importantly, that mental health providers bring them into use, both to drive internal service change and performance improvement, and to inform and shape their discussions with commissioners.
Current outcome measures are far from perfect, and it is important to recognise the complexity of measuring mental health treatment and outcomes.
But parity of esteem will only be possible when we can measure, manage and commission services on the basis of the outcomes that service users value.
Whole service
Measures will evolve quickly if clinicians, managers and service users work together to develop them, and put them to meaningful use.
Recent progress towards parity is encouraging. However, as with so many other issues, real and sustained progress will come not from individual service changes but from a continuing change in attitudes.
Parity of esteem for mental health needs to run right through our thinking about health services as a whole - from the effort we put into them to the outcomes we expect from them.
Michael West is a consultant to GE Healthcare Finnamore and former mental health policy lead at the Department of Health. Contact m.west@ge.com