NLAG was served with CQC warning notice over maternity care in January
Unannounced inspection discovered a quarter of shifts did not have planned staffing levels
New trust chief executive says "significant improvements" have been made
An acute trust in quality and financial special measures has received a "letter of concern" from the Care Quality Commission after a quarter of maternity shifts had the lower than planned number of midwives.
The CQC carried out an unannounced visit to Northern Lincolnshire and Goole Foundation Trust to check its progress following a warning notice in January over maternity care, including concerns over delays in foetal heart monitoring, patient assessments and staffing levels.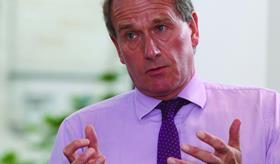 Inspectors reviewed midwifery staffing levels between 22 May and 16 July and discovered a quarter of all shifts still had fewer qualified midwives than planned.
They also discovered senior midwives could not say what the staffing levels should be at the Scunthorpe General Hospital maternity unit.
New chief executive Peter Reading wrote to the CQC to assure the regulator its concerns are being taking "very seriously".
His letter, included in papers for the trust's board meeting today, said: "As the new chief executive, I was concerned to read your letter, in particular to note that earlier issues had not been fully addressed."
He said the trust was addressing the CQC's concerns and had made "significant improvements in the areas outlined, whilst also fully acknowledging there is further work to do".
None of the staff at Scunthorpe the CQC spoke to during the unannounced visit on 15 June were aware of the planned implementation of the electronic maternity early obstetric warning score, set to go live on 1 October.
Dr Reading said staff were not fully aware of the MEOWS rollout because the trust had only become aware of the availability of handheld devices the system uses days before the CQC visit.
An interim head of midwifery started on 4 September, reviewing rotation of midwives across Diana, Princess of Wales Hospital in Grimsby and Scunthorpe General Hospital.
A ward based staffing model will be in place from 9 October with bank and agency employees used until new staff, recruited in August, take up their posts at Scunthorpe's maternity unit.
In its letter, the CQC highlighted the lack of support for band five midwives. A "care camp" for all new band five midwives was taking place on 27 November with a development plan involving clinical skills staff and patient safety midwives.
The trust was placed in financial special measures in March and quality special measures in April after being rated inadequate by the CQC.
With accident and emergency four hour performance at 82.5 per cent in June and 109 patients waiting more than a year for treatment, Dr Reading attended the performance meeting called by health secretary Jeremy Hunt, Simon Stevens and Jim Mackey in London earlier this month.
The trust is facing a £23m deficit in 2017-18 and recorded a £10.5m deficit by the end of the first quarter.
The CQC also raised concerns about the Scunthorpe hospital related to the sepsis pathway, recording pain scores and safe storage of controlled drugs.
While data shows the A&E department is 98 per cent compliant with national sepsis recommendations, a new screening tool was introduced in May. Policies connected to the safe storage of drugs have been updated.
Source date
26 September 2017