NHS England's net zero commitment to decarbonise must extend beyond technology. The efforts to combat greenhouse gas emissions in the healthcare sector exceed sustainable road transportation, with drivers' behaviours and data utilisation playing a pivotal role in achieving sustainability goals
It's easy to see why transport is the fastest growing source of emissions worldwide, accounting for 17 per cent of global greenhouse gas emissions and is second only to the power sector. Road freight vehicles are responsible for 23.5 per cent of the transport sector's CO2 emissions. And with that comes great challenges, but also considerable opportunities to make a positive impact on the environment.
Sponsored by

In healthcare logistics, these challenges are recognised by NHS England's net zero commitment to decarbonise, with early steps identified to replace its entire ambulance fleet with zero-emission vehicles by 2032.
But while electrification, technology and data grab the headlines, perhaps the least heralded element of sustainable road transportation is the role that people play.
Drivers are a key part of the solution. Alongside the new technologies they can use, such as adaptive cruise, aerodynamic vehicle and trailer designs and alternative drivetrains, it is the way a vehicle is driven which has a major impact today and becomes increasingly important with new cleaner fuels.
Even seemingly minor aspects like reducing top speeds to 55mph, reducing idling, and braking and accelerating more smoothly can make a major combined difference to emissions without the need for major financial investments.
And beyond the driver's cab, the extensive data we have access to must be fully utilised to maximise operational performance and sustainability. This includes comparing planned vs actual route performance or seeking out additional opportunities to optimise vehicle fills. All this information can be used to help trainers and managers to educate the driver to make better decisions.
DHL Group is investing €7bn (£6.07bn) to reduce carbon dioxide equivalent emissions. This includes the expansion of our zero-emission e-vehicle fleet to 60 per cent for the last mile as well as increasing the use of sustainable fuels in line-haul to more than 30 per cent by 2030.
Electric vehicles will play a significant role in transport decarbonisation as technology and capabilities continue to develop. DHL Group has recently introduced the UK's first fully electric Volvo heavy duty tractor units. The four Volvo FM electric trucks are designed for high-capacity deliveries operating at 40 tonnes. It is an exciting development which has allowed the direct replacement of diesel trucks on the road.
While EV technology is a key solution in the long term, it still has quite a road to travel to achieve further suitability and scalability in long-haul freight transport. Here, alternative fuels come into the picture as a powerful bridging technology. Sustainable low-carbon fuels have the potential to make big differences to emissions. Low carbon fuels such as Bio-CNG (Compressed Natural Gas), Bio-LNG (Liquified Natural Gas) and HVO (Hydrotreated Vegetable Oil) can offer 70 per cent minimum CO2e reductions.
Alternative fuels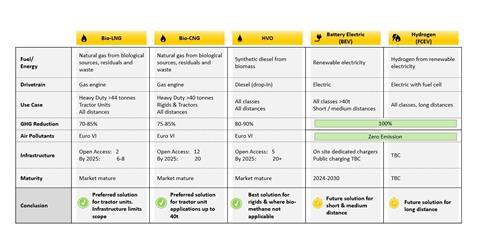 Even newer trucks which are compliant with the latest Euro emissions standards create excess CO2e in a supply chain if the vehicle's load capacity is not well utilised. Network optimisation and better fleet utilisation play a key role in reducing emissions. Transport data in an effective system, such as using weather, traffic conditions, maintenance schedules and more, means transport and shipping assets can be more effectively and efficiently routed and planned. This can increase delivery performance while significantly reducing delivery times and reducing CO2e emissions.
Reducing greenhouse gas emissions is a complex task with no easy fix, so using every tool available is vital to achieving results. It takes a united effort across multiple stakeholders to do what needs to be done – a combination of innovative technology and traditional experience. Operators, customers, planners, landlords, vehicle manufacturers and fuel providers need to work together to really unlock the future of low-impact transport.
While the vehicles of the future hold tremendous promise, the drivers of today also have an essential role to play in building a more sustainable freight ecosystem. With their experience and new assistive technologies at their fingertips, they have the power to drive real change – one efficient, optimised trip at a time. The road ahead may well be a long one, but even the smallest change in direction has the potential to make a big difference.
To keep up to date with the latest supply chain insights, subscribe here.