Newcastle upon Tyne takes three awards at ceremony tonight
Special recognition awards given to patient safety campaigners Julie Bailey and James Titcombe
Birmingham Children's Hospital Foundation Trust wins provider trust of the year
The Newcastle upon Tyne Hospitals Foundation Trust has scooped three prizes at the HSJ Awards 2015.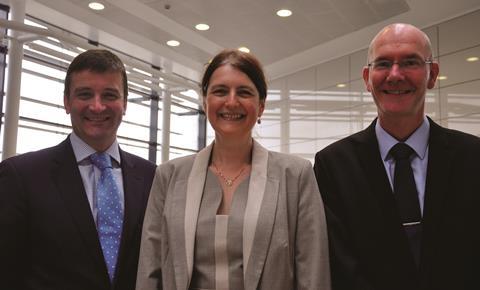 Newcastle upon Tyne Hospitals won three HSJ Awards


The North East provider won the awards for Enhancing Care by Sharing Data and Information, Most Effective Adoption and Diffusion of Best Practice, and Workforce.
Special recognition awards were presented to patient safety campaigners Julie Bailey and James Titcombe at the ceremony in London.
Ms Bailey helped establish and has led campaign group Cure the NHS after observing poor standards of care at Mid Staffordshire FT, where her mother Bella died in November 2007. The scandal at Stafford Hospital exposed widespread failings in the trust and wider NHS system leading to far reaching recommendations in the Francis report and changes that are still being implemented today.
Mr Titcombe's persistence to get to the truth about what happened to his baby son Joshua, who died in October 2008, led to years of failures in maternity care at the University Hospitals of Morecambe Bay FT being exposed. The Morecambe Bay inquiry, by Bill Kirkup, led to widespread recommendations on how to improve maternity care and patient safety more widely.
Other winners included Birmingham Children's Hospital FT, which was named Provider Trust of the Year, and Sheena Cumiskey of Cheshire and Wirral Partnership Foundation Trust was named chief executive of the year.
The HSJ Awards were created in 1981 to recognise, on a national platform, the projects and initiatives that deliver healthcare excellence and innovation. This year saw a record number of entries, with over 600 organisations entering.
HSJ editor Alastair McLellan said: "There is not a similar healthcare awards the world over which is so fiercely contested. Now, more than ever, we must work harder to encourage, recognise and celebrate excellence in the NHS. The service has chosen the HSJ Awards as the vehicle for this mission. We are very proud of that and of all our shortlisted and winning entrants."
The full list of winners is below.
| Category | Winner |
| --- | --- |
| Acute Sector Innovation | University College London Hospitals Foundation Trust |
| Acute, Community and/or Primary Care Services Redesign | The Dudley Group Foundation Trust |
| Board Leadership | Northumbria Healthcare Foundation Trust |
| CCG Commissioning for Carers | Guildford and Waverley Clinical Commissioning Group, East Surrey Clinical Commissioning Group & Surrey Downs Clinical Commissioning Group |
| Chief Executive of the Year | Sheena Cumiskey, Cheshire and Wirral Partnership Foundation Trust |
| Clinical Commissioning Group of the Year | Sandwell and West Birmingham Clinical Commissioning Group |
| Clinical Leader of the Year | Beverly Oates, Wirral University Teaching Hospital Foundation Trust |
| Clinical Research Impact | Surrey and Borders Partnership Foundation Trust |
| Compassionate Patient Care | South Eastern Health and Social Care Trust |
| Enhancing Care by Sharing Data and Information | The Newcastle upon Tyne Hospitals Foundation Trust |
| Improved Partnerships between Health and Local Government | Leeds North Clinical Commissioning Group |
| Improving Care with Technology | Portsmouth Hospitals Trust |
| Improving Environmental and Social Sustainability | University Hospitals Bristol Foundation Trust |
| Improving Outcomes through Learning and Development | Dorset and Somerset Air Ambulance |
| Innovation in Mental Health | Haringey Adolescent Outreach Team at Barnet Enfield and Haringey Mental Health Trust and Partners |
| Most Effective Adoption and Diffusion of Best Practice | The Newcastle upon Tyne Hospitals Foundation Trust |
| Patient Safety | West Hertfordshire Hospitals Trust |
| Primary Care Innovation | Halton Clinical Commissioning Group and Wellbeing Enterprises CIC |
| Provider Trust of the Year | Birmingham Children's Hospital Foundation Trust |
| Rising Star | Jonathan Evans, Royal Devon and Exeter Trust |
| Specialised Services Redesign | The Walton Centre Foundation Trust |
| Staff Engagement | East London Foundation Trust |
| Using Technology to Improve Efficiency | Modality Partnership |
| Workforce | The Newcastle upon Tyne Hospitals Foundation Trust |