The shortlist for the HSJ Awards 2017 has been announced.
The awards are one of largest celebrations of healthcare excellence in the world, recognising and promoting the finest achievements in the NHS, and showcasing them to the service's most influential leaders.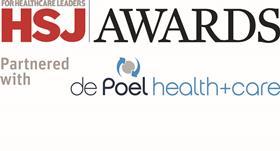 With 23 categories, the awards, held in partnership with de Poel health+care, reflect the full spectrum of the sector's services and challenges.
HSJ editor Alastair McLellan said: "As the NHS stands on the brink of its 70th birthday, it faces the biggest financial challenge of its lifetime. Yet despite this, and ever growing demand, it continues to innovate and excel, as the 36th HSJ Awards clearly demonstrates. The NHS has many claims to fame, and one of them is that its restless desire to improve provides the inspirational content for the world's biggest celebration of healthcare excellence. Competition to be shortlisted has once again been fierce. Congratulations to all that have made the grade."
Entrants demonstrated outstanding practice and innovation, which help to safeguard and improve patient care, improve value and efficiency in healthcare and have been judged to be leading the way in this increasingly important area. The awards received more than 1,500 entries.
The shortlisted organisations will now complete presentations and interviews to a specific judging panel made up of senior and influential figures from the health sector.
The winners will be announced at a ceremony on 22 November at the Intercontinental O2, London.
The HSJ Awards 2017 shortlist
Acute sector innovation, sponsored by Cardinal Health
A quality service development aimed at reducing the risk of adverse events post-surgically, Heart of England Foundation Trust
Acute Admissions Pathway reducing out-of-area bed usage for acute mental health care, Cumbria Partnership Foundation Trust
Developing a patient-centred approach to cancer care, Guy's and St Thomas' Foundation Trust
East London Community Kidney Service, Barts Health Trust
Helping patients stay at home, Royal Devon and Exeter Foundation Trust
Information Services RADAR, Royal Cornwall Hospital Trust
Lewisham and Greenwich Trust
Play preparation to reduce the need for general anaesthetic in children undergoing MRI scans, Poole Hospital Foundation Trust
The Diabetes Inpatient Care and Education project improving diabetes inpatient care and experience, Ipswich Hospital Trust
The NoSH Project, Imperial College Healthcare Trust
Acute, community and/or primary care services redesign
Acute Hospital Services Delivered at Home: Patient @ Home, The Princess Alexandra Hospital Trust
Addressing Complex Persistent Pain: A novel team initiative, University College London Hospitals Foundation Trust
Development of An Integrated Frailty Pathway, North Cumbria University Hospital Trust
eConsult
High Intensity Users Project, Staffordshire and Stoke-on-Trent Partnership Trust and University Hospital of North Midlands
i-HEART Barnsley, Barnsley Healthcare Federation
Macmillan Cancer Improvement Partnership Programme Success, Macmillan Cancer Improvement Partnership
Primary Care Paediatrics, Taunton and Somerset Foundation Trust
The new faecal calprotectin pathway, Yorkshire and Humber Academic Health Science Network
The redesign of Community Spinal Services to an Integrated Pain and Spinal Service, Berkshire West Federated Clinical Commissioning Groups
CCG and local authority integrated commissioning for carers, sponsored by NHS England
Carers Leeds Dementia Hub, Carers Leeds with the Leeds Clinical Commissioning Groups and Leeds City Council
Dementia Together, Sue Ryder
North East Hampshire Support for Carers, North East Hampshire and Farnham Clinical Commissioning Group
Worcestershire Integrated Carers Hub, Worcestershire County Council, Worcestershire Clinical Commissioning Groups and Association of Carers
Chief executive of the year
Jackie Bene, Bolton Foundation Trust
Jackie Daniel, University Hospitals of Morecambe Bay FT
Joe Rafferty, Mersey Care FT
John Lawlor, Northumberland, Tyne and Wear FT
Mark Brandreth, Robert Jones and Agnes Hunt Orthopaedic FT
Peter Herring, Sherwood Forest Hospitals FT
Sir Andrew Cash, Sheffield Teaching Hospitals FT
Toby Lewis, Sandwell and West Birmingham Hospitals Trust
Tom Cahill, Hertfordshire Partnership University FT
CCG of the year
Barnsley CCG
Dudley CCG
North East Hampshire and Farnham CCG
East Lancashire CCG
Hull CCG
Newham CCG
Salford CCG
Norwich CCG
Tower Hamlets CCG
Wolverhampton CCG
Clinical leader of the year
Anne-Maria Olphert, Lincolnshire Partnership FT
Caroline Senior, Leeds Community Healthcare Trust
Amit Arora, University Hospital of North Midlands
Claire Fuller, Surrey Downs CCG
Claire Royston, Four Seasons Health Care
Neil Kukreja, Medway FT
Julia Ford, CAMHS in Schools Leader, North Staffordshire Combined Healthcare Trust
Mary Mumvuri, executive director of Nursing and Governance, Kent and Medway NHS and Social Care Partnership Trust
Rachael Moses, Lancashire Teaching Hospitals
Sue Ranger, Leeds Community Healthcare Trust
Compassionate patient care
An innovative model to improve end of life care in care homes in a London Borough (Supportive Care Home Team Sutton), Royal Marsden FT Community Services
An Integrated Neighbourhood Team Approach to Improving Palliative Care for Patients and Carers, Leeds Community Healthcare Trust
Care and Treatment Reviews – South Tees CCG, South Tees CCG
Commissioning for Choice at End of Life, Warrington CCG
Designing the first Children's Rare Disease Centre (and Service) in the World, Birmingham Women's and Children's FT
Homeward Bound, a Play about Relationships, Love, Empathy and Compassion at End of Life, Hospice UK
Outstanding breast feeding standards, Leeds Community Healthcare Trust
Palliative Care Symptom Observation Chart, Yeovil District Hospital FT
Prime75+ Tackling Loneliness, Delivering Change, Prime GP
Purple Bow Scheme, University Hospital of North Midlands
Enhancing care by sharing data and information, sponsored by NHS Digital
Big data for newborn health, Chelsea and Westminster FT and Imperial College London
Common Approach to Children's Health, Damibu
Connected Care: Intelligent, Personal, Data Driven Care: The Berkshire Digital Ecosystem, Frimley Accountable Care System, West Berkshire ACS and South Central and West Commissioning Support Unit
Coordinate My Care and InterSystems, reducing unplanned admissions with digital urgent care planning, Coordinate My Care and InterSystems UK
Creating the first England Polypharmacy Prescribing Comparators, Wessex AHSN and NHS Business Services Authority
East London Patient Record, East London Health and Care Partnership
Electronic sharing of data at CUH, Cambridge University Hospitals FT
Enhancing Care by Sharing Data and Information Electronic Holistic Needs Assessments Impacts, Nottingham University Hospitals Trust and East Midlands AHSN
General Practice Data Hub, NHS Digital
Mechanical Thrombectomy in Stroke – Sharing data and Information for its national application and development, University Hospitals of North Midlands
Solving the problem of coordinated care with the Care Integrated Digital Record, Orion Health and Camden CCG
Improved partnerships between health and local government
Care Together, Tameside Council and Tameside and Glossop Single Commissioning Function and Integrated Care Foundation Trust
Discharge to Assess Project, London Borough of Bexley, Oxleas FT, Bexley CCG, Lewisham and Greenwich Trust
Discharge to assess, Bexley CCG and London Borough of Bexley
East Sussex Better Together, The ESBT partners: Eastbourne, Hailsham and Seaford CCG; Hastings and Rother CCG; East Sussex County Council; East Sussex HealthcareTrust; Sussex Partnership FT
From "Can't Do" to "Can Do" – putting patients first and collaborating to improve discharge planning and reduce length of stay, Dartford and Gravesham Trust
Haven Court, South Tyneside Foundation Trust and P+HS Architects
Patient app used to link NHS, Local Government and Voluntary Sector Services, Harrow CCG
Project Search – NHS Learning Disability Employment Programme, East Sussex Healthcare Trust
The Buckinghamshire ACS, Aylesbury Vale and Chiltern CCGs, Buckinghamshire County Council, Buckinghamshire Healthcare Trust, Oxford Health FT and partners
Using a health coaching approach across the Leeds health and care system, Leeds Health and Care System
Improving care with technology
#WhyWeDoResearch Twitter Campaign, James Paget University Hospitals FT
BedFinder – Solving the problems associated with delayed discharges of care, OLM Systems
Care Home Digital NEWS Tablet – Transforming Healthcare in Care Homes, Sunderland CCG
Lancashire Person Record Exchange Service, Lancashire and South Cumbria Organisations
Making life better: My IBD Portal, Salford Royal Hospitals Trust in collaboration with Crohn's Colitis UK
MaPPs. Medicines: A Patient Profile Summary, Mistura Informatics
NHS111 direct booking to GP practices, North East Ambulance Service
Surrey Downs Teledermoscopy Service, Communitas Clinics
TAP: Technology Assisted Psychiatry. Introducing telepsychiatry into an Emergency Department psychiatric service, Oxford Health FT
The Development of an Online Self-referral Portal, Allied Health Professionals Suffolk
Weymouth and Portland Integrated Care Hub, Dorset HealthCare University FT
Improving environmental and social sustainability
Carbon Reduction, Barnsley Hospital FT
Delivering Modern Communication between GPs and the NHS, Oxleas FT
Environmental Sustainability at Sandwell and West Birmingham Hospitals Trust, Sandwell and West Birmingham Hospitals Trust
Improving Environmental and Social Sustainability – Sheffield Teaching Hospitals' Catering Department, Sheffield Teaching Hospitals FT
Public Health Wales – Our Space, Public Health Wales
Southmead Hospital Re-Development – the Brunel Building, North Bristol Trust
Sustainable Food Project – Taste not Waste, Nottinghamshire Healthcare FT
The Natural Health Service Project – Managing our natural estate to enhance the environment and improve patient care, Mid Essex Hospital Services Trust
Improving outcomes through learning and development
Bringing Genomics into Mainstream Medicine, Health Education England
Empowerment of Primary Care Through Education and Mentorship, Sandwell and West Midlands CCG
Future Hospital chief registrar scheme, Royal College of Physicians
Gateway-C; online gateway to primary care cancer education, The Christie School of Oncology
Labour Ward Leaders – working together for safer care, The Royal College of Midwives, NHS Improvement/Atain, Royal College of Obstetricians and Gynaecologists
Pioneering mental health simulation training to improve health and social care, Maudsley Simulation
Restart a Heart – Yorkshire Ambulance Service, Yorkshire Ambulance Service Trust
"Tea trolley" training programme: a novel approach to multidisciplinary training in the workplace, Royal United Hospitals Bath FT
The MAMA Pathway, Tameside and Glossop Integrated Care FT
Time for Dementia, Brighton and Sussex Medical School
Innovation in mental health
Acute Therapy Service, Lancashire Care FT
Cardiff and Vale Young Onset Dementia Service, Cardiff and Vale University Health Board
Creating a National Virtual Ambulance Service for Mental Health Transfers, 365 Response
Healios – reducing harm and empowering patients using a unique digital family intervention experience, Healios
Innovative online psychotherapy programmes for people suffering from low mood, anxiety and workplace stress, Headsted
i-Rock Youth Mental Health Service, Sussex Partnership FT
LINKS project, Barnet Enfield and Haringey Mental Health Trust
Mental Health Choose and Book, Royal Cornwall Hospital Trust
Mental Health Nurses model in the London Ambulance Service, London Ambulance Service
Mentalisation Based Treatment for violent offenders with Antisocial Personality Disorder, Tavistock and Portman FT
International health partnership, sponsored by NHS Employers and THET
Developing Multidisciplinary Stroke Care in Accra, Ghana, Wessex Ghana Stroke Partnership
FaM-LEAP – Family Medicine Leadership, Education and Assesment Programme, Royal College of General Practitioners, UK and Stellenbosch University, South Africa
Gulu-Man Link – sustainable approaches to educational programme delivery, Gulu – Man Link – University Hospital of South Manchester
Improving Global Health through Leadership Development, NHS Thames Valley and Wessex Leadership Academy
King's Sierra Leone Partnership, King's Health Partners Academic Health Sciences Centre
King's Somaliland Partnership, King's Somaliland Partnership
Making a difference to healthcare outcomes in Tanzania, Northumbria Healthcare FT
NHS Grampian/Felege Hiwot knowledge exchange partnership, NHS Grampian
Paediatric Surgery in Uganda, ARCHIE – Wood Foundation Global Surgery
Partnership for Excellence, The Butabika – East London Link
Most effective adoption and diffusion of existing best practice
Epilepsy and You – online supported self-management programme, Epilepsy Action
Wellbeing Exeter, Integrated Care for Exeter Strategic Alliance
Langworth Ward Innovation Project, Langworth Ward, Lincolnshire Partnership FT
Providing a whole system flow in Motor Neurone Disease Care in rural South West England, Peninsula Motor Neurone Disease Care Network hosted by Plymouth Hospital Trust
Psychology in Hostels Project, South London and Maudsley FT and Thames Reach Charity Partnership
Red2Green in Mental Health, Worcestershire Health and Care Trust
Revitalising the General Practice Nurse Workforce in City & Hackney, City and Hackney GP Confederation CIC
Serenity Integrated Mentoring Project, Hampshire Constabulary and Isle of Wight Trust with Wessex AHSN
The London Mental Health Dashboard: Promoting System Transformation and Transparency through the use of data, Healthy London Partnership and NHS Benchmarking Network
Urgent and Emergency Care Programme, Hull and East Yorkshire Hospitals Trust
Patient safety, sponsored by GS1
A quality service development aimed at reducing the risk of adverse events post surgically, Heart of England FT
Collaborative Learning Labs, South of England Mental Health Quality and Patient Safety Improvement Collaborative
Emotional Well Being Mentoring Wing, Inreach, Oxleas FT, HMP Swaleside
Kissing Goodbye to Sepsis, James Paget University Hospital
Nervecentre out-of-hours task management system, The Dudley Group FT
New Improved Fluid Balance Chart, University Hospitals of Morecambe Bay FT
Scan4Safety – Improving traceability in the NHS, Salisbury FT
STEP-up to Patient Safety: Engaging all staff in harm reduction, Aspen Healthcare
Translated dispensing labels increase patient safety, Written Medicine
Triple modular redundancy: Translating airline safety to healthcare, Betsi Cadwaladr University Health Board
Primary care innovation
A stroke prevention review in patients with atrial fibrillation across 2,122 primary care practices, Interface Clinical Services
Ask NHS – Empowering Tomorrow's Patient – Supporting Primary Care through a Digital Solution, West Midlands Integrated Urgent Care Alliance – Ask NHS powered by Sensely with Odyssey Clinical Content
Better in Practice, The Jubilee Street Practice
CHOP (Compression Hosiery Ordering Project), Lymphoedema Specialist Services
eConsult, eConsult
High Quality Extended Primary and Community Access at Scale, South Doc Services MyHealthcare Federation in Partnership with Birmingham Community Healthcare Trust and the 3rd Sector
Integrated Pharmacy and how it's making a difference, West Hampshire CCG and West New Forest Vanguard
Making Frailty a Priority – Transition of Care, Coventry and Rugby GP Alliance
The Dementia Golden Ticket, High Weald Lewes Havens CCG
Transforming Diabetes Care at Scale in North West London, North West London Collaboration of CCGs
Weymouth and Portland Integrated Care Hub, Dorset HealthCare University FT
Provider trust of the year, sponsored by Celesio
Northern Devon Healthcare Trust
Alder Hey Children's FT
The Robert Jones and Agnes Hunt Orthopaedic Hospital FT
Central London Community Healthcare
Northamptonshire Healthcare Provider Trust
Northumberland, Tyne and Wear FT
Moorfields Eye Hospital FT
Bradford District Care FT
Specialised services redesign
Beating Leg Ulcers is a competitive sport!, Livewell Southwest CIC
Crisis and Intensive Home Treatment Team, Lincolnshire Partnership FT
Lessons from Sandwell and West Birmingham diabetes model regarding future of Diabetes services – the way forward?, Sandwell and West Birmingham Trust and Sandwell and West Birmingham CCG
London Pathways Partnership: services for people with personality disorder who are at high risk of serious offending, The London Pathways Partnership
Modality Partnership Community Rheumatology Service, Modality Partnership
North West Severe Asthma Service, North West Severe Asthma Operational Delivery Network
Redesign of the Criminal Justice Liaison and Diversion Service in combination with Street Triage, Dorset HealthCare University FT and Dorset Police
Specialist Dementia Team (An Enhanced Model of Care), Hampshire Hospitals FT
The Croydon Respiratory Team, Croydon Health Services Trust
The Largest UK Series – Mechanical Thrombectomy in acute ischaemic stroke produces improved clinical outcomes and cost benefits, University Hospitals of North Midlands
Staff engagement
An asset based approach to staff health and wellbeing, West Suffolk FT
AskHR App, Kingston Hospital FT
"Be The Change" – Building and Sustaining the Will for Quality Improvement, Ashford and St Peters FT
Change Champions delivering culture change at Royal Bournemouth & Christchurch Hospitals, Royal Bournemouth and Christchurch Hospitals FT
Dialogue not dictate, Sheffield Teaching Hospitals FT
Engaging with care home staff to improve outcomes for vulnerable care home residents, Nottinghamshire Healthcare FT
From "Can't Do" to "Can Do" – putting patients first and organisational boundaries second, Dartford and Gravesham Trust
Improving Staff Engagement from Bottom to Top!, Manchester Royal Eye and University Dental Hospitals, Central Manchester FT
Speak Up… We're listening!, Wirral University Teaching Hospital FT
Staff Engagement at SSSFT, South Staffordshire and Shropshire Healthcare FT
Wellbeing@Work Festival, Sussex Community FT
Supported self-care, sponsored by NHS England
Bringing the Community in: Supporting transition from hospital to home utilising voluntary sector organisation expertise, Southern Health FT
Cancer, Older People and Advocacy, Older People's Advocacy Alliance UK
Empowering patients with epilepsy, Epilepsy Care Alliance
Empowering renal patients to be in control, giving them their freedom back through home therapies and shared care programme, The Royal Wolverhampton Trust
Hearing Aid Support in Bath and North East Somerset, Virgin Care
Information Prescriptions: The Key to Unlocking Behaviour Change, Diabetes UK
New model of breast cancer aftercare, Macmillan Cancer Improvement Partnership
Online Befriending Service, First Steps Derbyshire
Social Prescribing – Mental Health, Rotherham CCG
Transforming Care After Treatment in NHS Ayrshire and Arran, NHS Ayrshire and Arran
TrueNTH Supported Self-Management, University of Southampton
Using technology to improve efficiency, sponsored by de Poel health+care
BigHand help streamline the clinical correspondence process for the NHS, BigHand
Efficient interventions: spotting deteriorating patients quickly through eMEWS, St Helens and Knowsley Teaching Hospitals Trust
eHospital digital transformation improving efficiency at CUH, Cambridge University Hospitals Foundation Trust
End-to-end digital patient journey: Transforming patient experience, Dr Doctor
ePAQ-PO: Pre-operative assessment "one-stop", Sheffield Teaching Hospitals FT
Home monitoring of hypertension in pregnancy (HaMPtoN), St George's Hospital
Ieso Digital Health
Improving ambulance service safety, response times and patient experience through optimising Hear and Treat performance, East Midlands Ambulance Service Trust
Information Sharing Gateway, Hosted by University Hospitals of Morecambe Bay
Telemedicine, Southern Derbyshire CCG and Derby Hospital FT
Workforce, sponsored by NHS Employers
Community Specialist Paramedics, North West Ambulance Service Trust
Developing the Integrated Urgent Care NHS Workforce for the Future, HEE and NHS England
Doctors' Assistants' – Developing Band 3 non-registered staff to work alongside ward/on-call doctors, East Sussex HealthCare Trust
Growing our own!, Livewell Southwest CIC
Hidden Talents, Leeds Teaching Hospitals Trust
Maternity unit turnaround, West Hertfordshire Hospitals Trust
NHSBT's Innovative Shine Programme for Leadership Development, NHS Blood and Transplant
Pharmicus Hub @ CBC Health, CBC Health
Talent Management Programme roll-out, Norfolk Community Health and Care Trust
Transforming accident and emergency Medical staffing, using annualisation, self-rostering and novel clinical fellow posts, Brighton and Sussex University Hospitals Trust
Chief executive of the year contenders announced
1

2

Currently reading

Shortlist for HSJ Awards 2017 revealed