Three Birmingham CCGs to merge by April 2018
CCGs will form a "joint commissioning board" from October
The board will appoint a single "transitional chair"
Three Birmingham clinical commissioning groups are planning to merge in April 2018, HSJ understands.
The merger of Birmingham CrossCity, Birmingham South and Central, and Solihull CCGs would create a group covering a 1.2 million population – larger than any existing CCG.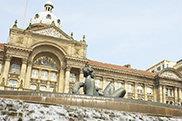 In advance of the proposed change, the groups plan to set up a "joint commissioning board" from October, with commissioning powers devolved to it, HSJ understands.
The current CCG chairs will remain in post – as well as taking part in the joint board – until the proposed full merger in April 2018. However, the board will have its own part-time "transitional chair".
HSJ understands the proposal to merge is backed by the Birmingham and Solihull sustainability and transformation plan leaders. The overall STP lead is Birmingham City Council chief executive Mark Rogers.
Birmingham Local Medical Committee, which represents GPs in the area, has raised concerns that the formation of a joint board and subsequent merger could compromise GP led commissioning.
BLMC executive secretary Robert Morley said: "In effect the CCGs will be completely emasculated in respect of their ability to make any independent commissioning decisions or investment plans and any pretence that there is still clinically led commissioning is farcical.
"In fact, I expect the new joint commissioning body will be pretty impotent too, beholden as it will be to whatever the STP agenda tells it to do.
"This is simply a quick and dirty mechanism to override the issues around the statutory status of CCGs and to ensure GP led commissioning in Birmingham and Solihull is consigned to history as soon as possible."
A spokesman for the three CCGs said: "To ensure that we are commissioning health services for Birmingham and Solihull people effectively, the three Birmingham and Solihull CCGs have agreed to look at creating a new commissioning organisation by April 2018.
"This development will be essential in the context of the Five Year Forward View, with clinical commissioning remaining the driver of service improvement for local health and social care, through our sustainability and transformation plan and beyond.
"We are also working closely with NHS England to ensure that due process is followed and that, in shaping the new organisation, we adhere to our legal and constitutional duties."