As hospitals look beyond their own institutions and partner with other organisations and alliances, Ben Horner, Stephen Sutherland and Jonathan Scott explore the benefits and how leaders can develop the right combination strategies
The NHS is shifting from competition towards collaboration. With increasing focus on system working, hospitals leaders must play a significant role to make this a success. However, the organisational structures of many hospitals are not fit for this new environment. Leaders need to be prepared for this shift.
Sponsored by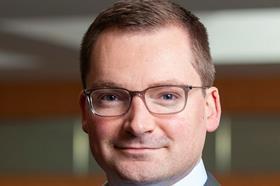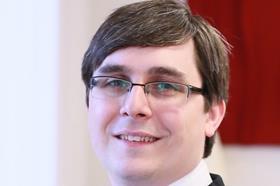 Globally, hospitals are looking beyond their own institutions by exploring strategies of combination in which they partner with other hospitals, on the path to creating health systems. This can range from looser collaborations to more formal ones such as mergers. This combination trend will become increasingly important as organisations try to balance financial sustainability with quality through system working.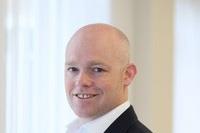 So what are the benefits of hospital combination?
Quality: First, hospitals can improve care by consolidating volume for specialised procedures; supporting new, more distributed care delivery models; creating the necessary scale to invest in research and innovation; and retaining top talent through the development of more varied career paths.
Financial sustainability: Hospital combination delivers care sustainably by reaping cost savings from economies of scale. In the UK, BCG estimates doubling hospital size reduces costs by up to 28 per cent.
System alignment: Finally, regulatory changes mean that organisations' finances will be more interdependent, making combination working vital.
For these reasons, it is likely the trend toward combination will continue and become increasingly focused on health-system rationalisation and integration.
Three varieties of combination
There are a variety of combination models, the appropriateness of which depends on a hospital's context, capabilities, and strategic goals.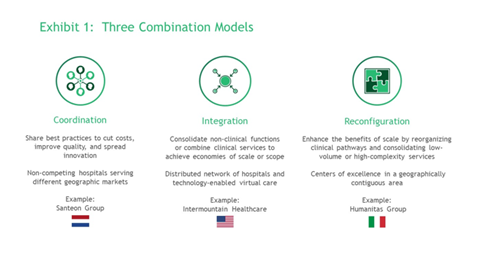 Coordination: This involves independent organisations sharing best practices to cut costs, improve quality, and spread care delivery innovations. In the Netherlands, seven Dutch teaching hospitals have joined together in an association known as Santeon to foster inter-hospital cooperation. Evidence suggests a major positive impact on health outcomes and total system costs.
Coordination works well for services with different geographic markets. The advantage of the model is that it can deliver benefits with relatively limited investment. However, successful coordination requires strong common leadership and shared budgets, and the pace of change can be relatively slow.
Integration: This involves consolidation of non-clinical functions such as IT, or the combination of clinical services to create more fully integrated care delivery systems. The emphasis is on achieving economies of scale.
For example, Intermountain Healthcare is a not-for-profit health hospital group of 24 hospitals and 215 clinics that deliver care across a six-state area in the US. Intermountain is a leader in clinical quality improvement and efficient healthcare delivery and is exceptionally good at the longitudinal management of patients across sites of care.
Integration can be effective in supporting the delivery of distributed care and population-health management through better coordination between secondary and primary care. However, hospitals can gain the benefits without necessarily merging ownership. For back-office integration, scale economies can be achieved simply through shared governance. Clinical-services integration, by contrast, typically requires merging operational leadership at the tertiary level, although not necessarily at the secondary level.
Reconfiguration: This involves rationalisation of specialist centres across an integrated network of hospitals. The approach enhances the benefits of scale by reorganising clinical pathways, in particular, consolidating low-volume or high-complexity services. In Italy, private hospital group Humanitas reorganised 54 separate clinical units into seven disease-based centres of excellence. Humanitas optimised capacity across the entire care pathway, eliminated unnecessary care, and attracted patients due to superior health outcomes. This improved their bottom line in an Italian health system where spending has been essentially flat.
Reconfiguration is especially appropriate for services in a geographically contiguous area, and provides an opportunity to shift to distributed models of care with centres of excellence supporting networks of providers. However, it requires significant investment in infrastructure, a relentless focus on change management, and strong community and political support.
Developing a robust combination strategy
To develop the right combination strategy for their own institution, hospital leaders need to address three questions: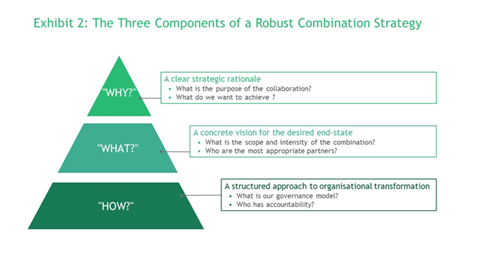 "Why should we pursue combination?" Develop a clear strategic rationale. What are you trying to accomplish? Is the goal to achieve economies of scale in terms of cost or quality? To assemble a critical mass of resources to invest in biomedical innovation or digital technology? To create career pathways appealing to clinicians? In addition to identifying likely financial benefits, ensure your rationale demonstrably impacts on patient outcomes and population health.
"What is the desired end-state?" What form of combination makes sense given your strategic goals? What intermediate steps will help the organisation achieve the necessary buy-in or build required capabilities? What is the most appropriate governance model and who are the most likely partners?
"How do we get from here to there?" Develop a structured approach to organisational change. Judiciously select pilot projects that achieve quick wins and demonstrate the value of combination to all participants. Establish top-down governance with clarity about who has accountability for decisions. Finally, emphasise the benefit to patients, rather than focusing exclusively on the benefits to the bottom line.
In the future, most hospitals will be part of larger hospital groups, alliances, or networked systems. Leaders need to act now to get their combination strategy right.
Dr Ben Horner is a managing director and partner in the London office of Boston Consulting Group and a leader of their NHS practice.
Stephen Sutherland is a partner in the firm's London office and a core member of the Health Care practice.

Dr Jonathan Scott is a managing director and partner in BCG's New York office and a core member of the firm's Health Care practice.
Find out more