The inconsistency in stroke care across England shows that although some issues have been addressed, there is still room for improvement, says Damian Jenkinson.
In 2005, the National Audit Office published a highly critical appraisal of the state of England's stroke services, highlighting an annual consumption of £7bn but relatively poor clinical outcomes.
The national stroke strategy was published in 2007 to address these criticisms. It contained 20 quality markers along the care pathway, against which local services could secure improvements and address health inequalities over 10 years.
A range of system levers were put in place to foster implementation of the strategy. These included:
stroke being rated as an NHS tier 1 priority for development to commissioners;
updated clinical guidance on stroke from both the National Institute for Health and Clinical Excellence and the Royal College of Physicians;
a new tariff to foster best practice in acute stroke and in the care of people with transient ischaemic attack;
creation of two new national metrics (Vital Signs), one reporting access to stroke units and the other measuring rapidity of treatment for TIA;
an evaluation of the quality of post acute stroke care by the Care Quality Commission.
Since 2008 the uplift to primary care trust financial baselines has taken the costs of implementing the strategy into account, and national funding was ringfenced for stroke to help incentivise developments in health and social care. A new national programme was created to coordinate the activity of 28 regional stroke networks, each tasked with implementing the strategy's standards.
A major new public awareness campaign was widespread in the media and not only modified acute illness behaviour but also raised levels of understanding that stroke is preventable and treatable.
Real progress
So, did all of these measures improve stroke care? A range of performance indicators show significant progress in implementing the strategy. Most rapid developments have been in awareness and acute care, and further accelerated work is under way in prevention and long term care. The graph illustrates a doubling of performance between 2008 and 2012 for the two Vital Signs metrics measured nationally.
There have also been clear improvements in outcomes, with 30 day mortality falling from 24 per cent to 16 per cent between 2004 and 2010, a rise from 44 per cent to 53 per cent in the proportion of people returning to their usual place of residence, and length of stay cut from 18 to 10 days over the same period.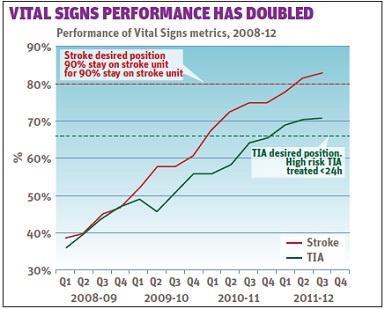 The proportion of sites that offer clot-busting thrombolysis for acute stroke has risen from 18 to 80 per cent of all sites and the rate of thrombolysis has grown from less than 1 per cent of all people with stroke to over 5 per cent. This compares favourably with North American and European rates but remains only about half of those eligible.
So which areas still require attention? Is it the variation of care nationwide that can result in people from adjacent localities experiencing very different quality of care? Post acute stroke care needs are an ongoing major focus for improvement.
A comprehensive review of such services was published last year by the CQC. Supporting Life After Stroke demonstrated a wide variation in availability and quality of longer term care nationwide. The report found the best services are built around the individual, with care planned to take account of the needs, circumstances and preferences of the person who has had a stroke, their carers and family.
Services in other areas have great room for improvement. For example, 32 per cent of primary care trusts did not commission specialist stroke physiotherapy in the community across the whole of their area, and in 48 per cent of areas people had to wait two weeks on average until they received community based speech and language therapy.
Access to services can also be complex and confusing at a time of huge emotional upheaval. For example, 38 per cent of local services did not train helpline staff to deal with people who have communications problems caused by stroke, and only 9 per cent of people were offered individual budgets or direct payments within the first six weeks of their returning home.
Health and social care reforms offer a chance to further improve stroke care – commissioning care closer to home promises more localised tailoring of services, and closer collaboration between health, social care and public health should benefit stroke pathways.