A mental health trust chief has been appointed interim leader of a new joint executive team between acute and mental health and community trusts in the South West.
Nick Broughton, chief executive of Somerset Partnership Foundation Trust, will be seconded to the role to oversee closer working between his trust and Taunton and Somerset FT.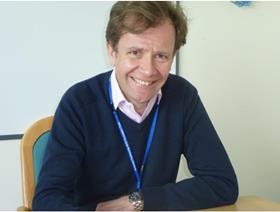 Meanwhile, Taunton and Somerset FT's deputy chief executive Peter Lewis will replace current leader Samantha Barrell in September. Dr Barrell is leaving to become chief operating officer of the Francis Crick Institute.
Dr Broughton's appointment follows the announcement last month that the two trusts had agreed to "formal collaboration" – though they remain individual legal entities and both organisations have stressed the move is not a merger.
Mr Lewis will be deputy chief executive of the joint team.
Local leaders hope the collaboration will reduce unnecessary duplication in some services and improve patient pathways.
The trusts, which are both rated good overall by the Care Quality Commission, have a combined turnover of £455m.
The new joint team is likely to include directors from both trusts' existing boards, and its decisions cannot be stopped by the individual trusts' boards.
Mr Lewis has worked at Taunton and Somerset FT, based at Musgrove Park Hospital in Taunton, since 2005 and has carried out several leadership roles including finance director and chief operating officer.
In a trust statement Mr Lewis is credited with "leading the use of cutting edge digital technology".
The trust is among the16 acute trust digital "exemplars" and is receiving its first tranche of money from the programme this summer.
Mr Lewis said: "We have some very exciting innovations coming up, not least our global digital exemplar programme, which puts us at the forefront of advancements in technology.
"Our closer link with Somerset Partnership FT is also something I passionately believe in. By better integrating our services we can provide patients with more streamlined care and improve their experience."
Both trusts are planning to record surpluses in 2017-18.