This latest HSJ supplement looks at how the new commissioning landscape can transform patient services and public health, as well as how independent providers can help commissioners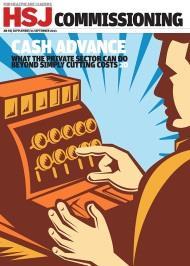 Integration
Giving patients seamless, integrated care has long been a goal for health and social services. A "super contract" signed by all the different providers in one area that incentivises working together could help deliver it, as well as helping care organisations avoid breaching competition and other regulations.
Service improvement
Despite compelling evidence, "enhanced recovery" measures to help patients after surgery are under used in the NHS and private sector. One independent provider has shown how they can be successfully implemented − by involving all staff and considering every aspect of the patient pathway.
Asthma
The new commissioning environment offers a chance to transform care for asthmatics − using data analysis to target high risk patients, promoting self care, and helping sufferers use inhalers more effectively.
Urology
Huge numbers of people suffer incontinence each year, yet it has historically been a low priority for the NHS. Now a series of pilot projects are showing how patient pathways can be improved and more people treated in primary or community care.
Smoking
The changing public health landscape is forcing smoking cessation services to adapt, and to make a renewed case for funding. Meanwhile, they must also respond to landmark new NICE guidance that endorses use of products containing nicotine to help people reduce the amount they smoke, alongside traditional "abrupt quit" approaches.
External providers
University College London Hospitals' privately run patient hotel − where patients and carers can stay while being treated − is being cited as a model example of how the private sector could help commissioners of the future come up with new ways of thinking and working across boundaries.
Service redesign
Too often the elderly end up in hospital beds when they could be supported at home. The British Red Cross now has a portfolio of services that can help, including escorting patients home after discharge, checking on them, ensuring they have meals, and helping them achieve personal goals.